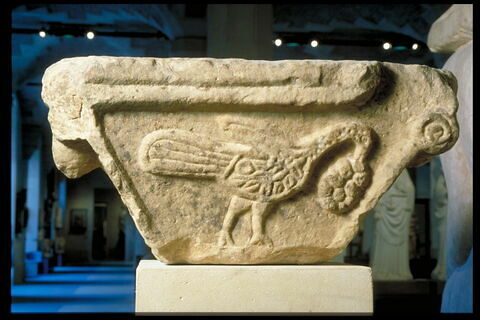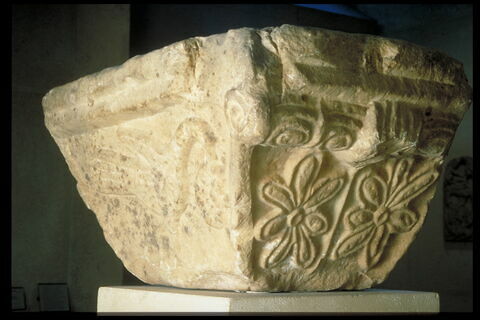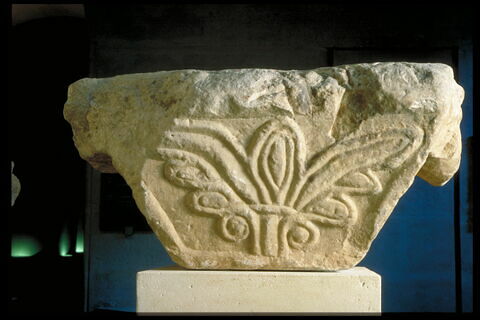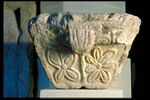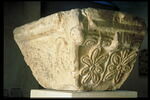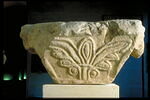 Chapiteau (du type "a stampella") orné d'un arbre et d'un oiseau stylisé
900 / 1100 (Xe siècle - XIe siècle)
Département des Sculptures du Moyen Age, de la Renaissance et des temps modernes
Actuellement visible au Louvre
Inventory number
Numéro principal :
RF 2028
Artist/maker / School / Artistic centre
Description
Object name/Title
Titre : Chapiteau (du type "a stampella") orné d'un arbre et d'un oiseau stylisé
Description/Features
Chapiteau du type "a stampella" (car sa forme évoque la partie supérieure trapézoïdale d'une béquille) dont le décor emprunte ses motifs à la sculpture dite "lombarde".
Physical characteristics
Dimensions
Hauteur : 0,23 m ; Largeur : 0,485 m ; Profondeur : 0,355 m
Materials and techniques
marbre
History
Object history
Don de l'antiquaire Joseph Altounian (Constantinople, 1889 - Mâcon, 1954), 1930 (comité du 3 avril, conseil du 7 avril, décret du 23 mai 1930)
Collector / Previous owner / Commissioner / Archaeologist / Dedicatee
Acquisition date
date de comité/commission : 03/04/1930
date du conseil : 07/04/1930
date du décret : 23/05/1930
Held by
Musée du Louvre, Département des Sculptures du Moyen Age, de la Renaissance et des temps modernes
Location of object
Current location
Denon, [SCULPT] Salle 160 - Galerie Donatello
Bibliography
- Schulte-Umberg, Ulf, Die langobardischen Hofkirchen in Capua : ein aus dem Blick geratenes Fürstentum im Spiegel seiner Sakralbauten, Bochum, falx-Verlag, 2020, p. 247, photo, n° 997
- Bresc-Bautier, Geneviève, sous la direction de (dir.), Bormand, Marc ; Gaborit, Jean-René ; Guillot de Suduiraut, Sophie ; Lafabrie, Michèle ; Le Pogam, Pierre-Yves ; Tupinier-Barrillon, Béatrice ; Leroy-Jay Lemaistre, Isabelle ; Scherf, Guilhem, Les Sculptures européennes du Musée du Louvre: Byzance, Espagne, îles Britanniques, Italie, Anciens Pays-Bas et Belgique, pays germaniques et de l'Europe de l'Est, pays scandinaves, Antiques restaurées et copies d'antiques, Paris, Somogy, éditions d'art ; Musée du Louvre éditions, 2006, p. 209, ill. 209
- Gaborit, Jean-René ; Baron, Françoise ; Guillot de Suduiraut, Sophie (dir.), Chapiteaux romans, cat. exp. (Paris, Musée d'Art et d'Essai (Palais de Tokyo), 1983-1984), Paris, Réunion des musées nationaux, 1983, n° 46
- Vitry, Paul, Musée national du Louvre. Catalogue des sculptures du Moyen Âge, de la Renaissance et des Temps modernes. Supplément avec notice historique sur les collections de Sculptures modernes, Paris, 1933, n° 1879
Last updated on 04.05.2022
The contents of this entry do not necessarily take account of the latest data.