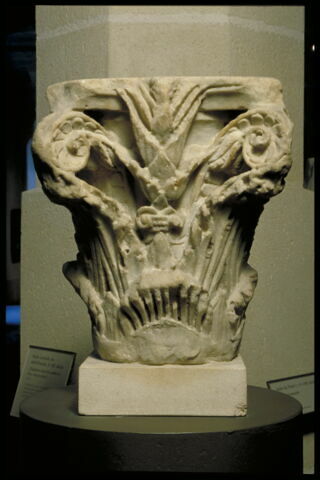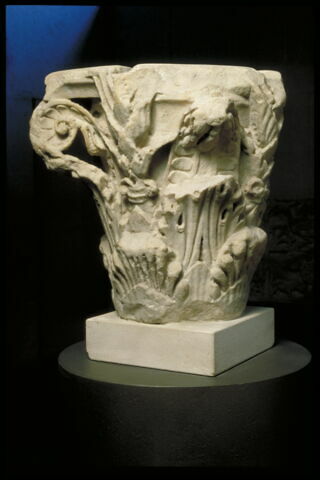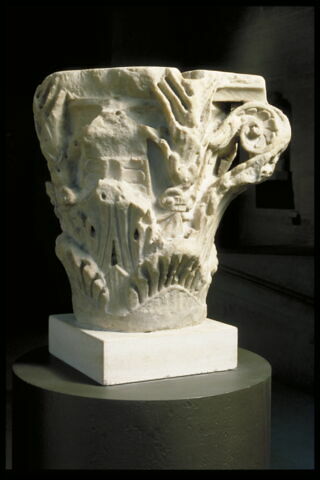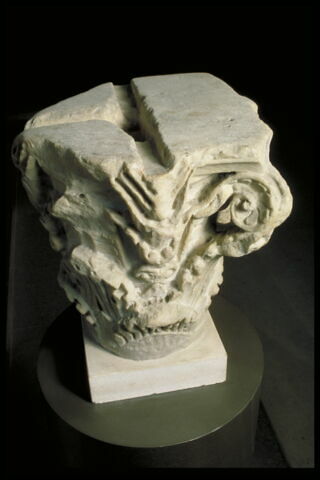 Actuellement visible au Louvre
Inventory number
Numéro principal : RF 3017
Autre numéro d'inventaire : MNE 618
Autre numéro d'inventaire : AC 882
Autre numéro d'inventaire : Ma 3681
Artist/maker / School / Artistic centre
Description
Object name/Title
Titre : Chapiteau composite
Physical characteristics
Dimensions
Hauteur : 0,275 m ; Largeur : 0,255 m ; Profondeur : 0,26 m
Materials and techniques
marbre
History
Object history
Legs verbal de Mme Paul Collinet, remis par son neveu le général François Le Roux à la section des Antiquités chrétiennes, inv. AC 882 (comité du 4 mars, conseil du 10 mars 1965). Versé au département des sculptures lors de la suppression de cette section (arrêté du 19 novembre 1971).
Collector / Previous owner / Commissioner / Archaeologist / Dedicatee
Acquisition details
legs verbal
Acquisition date
date de comité/commission : 04/03/1965
date du conseil : 10/03/1965
Held by
Musée du Louvre, Département des Sculptures du Moyen Age, de la Renaissance et des temps modernes
Location of object
Current location
Denon, [SCULPT] Salle 160 - Galerie Donatello
Bibliography
- Bresc-Bautier, Geneviève, sous la direction de (dir.), Bormand, Marc ; Gaborit, Jean-René ; Guillot de Suduiraut, Sophie ; Lafabrie, Michèle ; Le Pogam, Pierre-Yves ; Tupinier-Barrillon, Béatrice ; Leroy-Jay Lemaistre, Isabelle ; Scherf, Guilhem, Les Sculptures européennes du Musée du Louvre: Byzance, Espagne, îles Britanniques, Italie, Anciens Pays-Bas et Belgique, pays germaniques et de l'Europe de l'Est, pays scandinaves, Antiques restaurées et copies d'antiques, Paris, Somogy, éditions d'art ; Musée du Louvre éditions, 2006, p. 208, ill. 208
- Gaborit, Jean-René ; Baron, Françoise ; Guillot de Suduiraut, Sophie (dir.), Chapiteaux romans, cat. exp. (Paris, Musée d'Art et d'Essai (Palais de Tokyo), 1983-1984), Paris, Réunion des Musées Nationaux, 1983, n° 2
Last updated on 17.12.2018
The contents of this entry do not necessarily take account of the latest data.