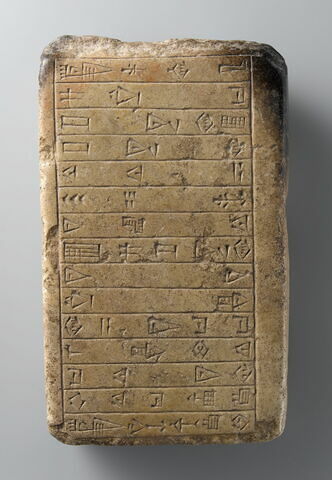 plaque ; objet votif
Lieu de découverte : Djokha = Umma
Département des Antiquités orientales
Actuellement visible au Louvre
Inventory number
Numéro principal :
AO 4783
Description
Object name/Title
Dénomination : plaque ; objet votif
Description/Features
Décor : inscription
Précision sur l'objet : Inscription de Lugalanatum, prince d'Umma au temps des Guti (Qutû)
Inscriptions
Écriture :
écriture cunéiforme mésopotamienne
Inscription :
"Lugalanatum, prince d'Umma.... bâtit le temple E.gidri d'Umma, enfouit son dépôt de fondation (et) en réglementa les ordonnances. En ce temps là, Sium était roi de Qutûm (ou Gutium)"
Nature du texte :
texte votif
Physical characteristics
Dimensions
Hauteur : 19,5 cm ; Epaisseur : 5,5 cm ; Largeur : 11,5 cm
Materials and techniques
Matériau : calcaire
Places and dates
Date
2e moitié IIIe mill av. J.-C. (Vers 2130 av. J. - C.) (vers -2130)
Place of discovery
Djokha = Umma
History
Acquisition details
achat
Acquisition date
date : 1911
Held by
Musée du Louvre, Département des Antiquités orientales
Location of object
Current location
Richelieu, [AO] Salle 228 - Mésopotamie, Vitrine 2 Empire d'Akkad
Bibliography
- Azara, Pedro (dir.), La fondación de la ciudad. Mesopotamia, Grecia, Roma, cat. exp. (Barcelone, Centre de Culture Contemporaine, 6 avril au 23 juillet 2000), Barcelona, Institut d'Edicions, Diputació de Barcelona, 2000, p. 181, n° 51
- Frayne, Douglas Ralph, The royal inscriptions of Mesopotamia. Early periods, Vol. 2. Sargonic and Gutian Periods (2334-2113) (RIME 2), Toronto, University of Toronto press, 1993, E2.11.13.1
Last updated on 18.02.2021
The contents of this entry do not necessarily take account of the latest data.