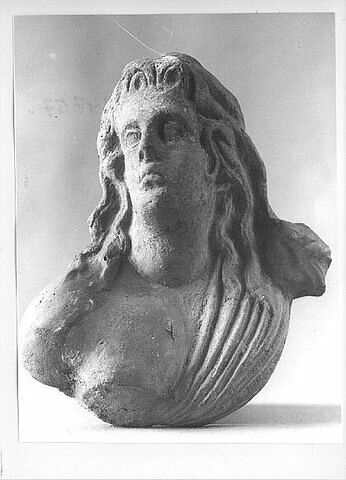 figurine
-150 / -100 (2e moitié IIe s. av. J.-C.)
Lieu de création : Amisos = Samsun (?)
Lieu de découverte : Bursa (Brousse) = Prusa
Département des Antiquités grecques, étrusques et romaines
Actuellement visible au Louvre
Inventory number
Numéro d'entrée :
CA 1644
Description
Object name/Title
Dénomination : figurine
Description/Features
amazone (protomé, cheveux, long, main, tenant, mèche, draperie) ; au sommet ; trou

Etat de l'oeuvre : entier ; plusieurs fragments ont été recollés
Physical characteristics
Dimensions
Hauteur : 16 cm ; Largeur : 12 cm ; Profondeur : 4 cm
Materials and techniques
Matériau : argile (argile rougeâtre)
Technique : moulé, peinture (traces de peinture noire sur les cheveux), dorure (traces sur chairs)
Places and dates
Date
Epoque / période : hellénistique

Date de création/fabrication : 2e moitié IIe s. av. J.-C. (-150 - -100)
Place of origin
Amisos = Samsun (?)
Place of discovery
Bursa (Brousse) = Prusa
History
Collector / Previous owner / Commissioner / Archaeologist / Dedicatee
Acquisition details
achat
Acquisition date
date : 1905
Held by
Musée du Louvre, Département des Antiquités grecques, étrusques et romaines
Location of object
Current location
Sully, [AGER] Salle 646 - Figurines en terre cuite grecques - Époques hellénistique et romaine (Myrina), Vitrine 1 murale
Bibliography
- Summerer, Lâtife, Hellenistische Terrakotten aus Amisos : ein Beitrag zur Kunstgeschichte des Pontosgebietes, 1999, p. 53, 140, 177, n° PVI10
- Besques, Simone, Catalogue raisonné des figurines et reliefs en terre-cuite grecs, étrusques et romains III. Epoques hellénistique et romaine, Grèce et Asie Mineure, Paris, Editions des Musées Nationaux, 1972, p. 90, pl. 115B, D531
Comparative literature
- Burn, Lucilla ; Higgins, Reynold Alleyne, Catalogue of Greek terracottas in the British Museum. Volume III, [British Museum], London, The British Museum, 2001, p. 92-93, pl. 37, n° 2202
- Schmidt, Evamaria, Martin von Wagner Museum der Universität Wurzburg. Katalog der antikenTerrakotten, 1994, p. 183, pl. 56, n° 309
Last updated on 17.02.2023
The contents of this entry do not necessarily take account of the latest data.