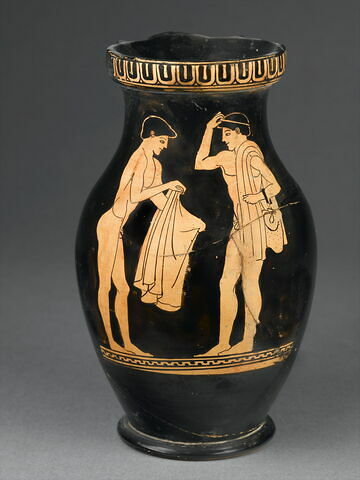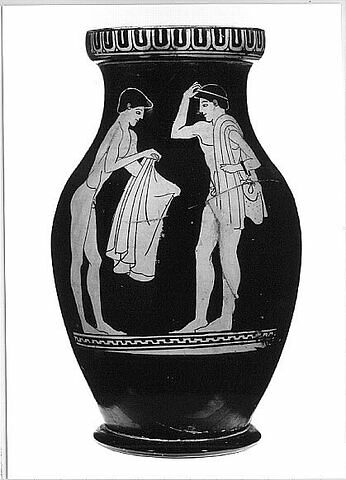 œnochoé
Epoque / période : classique ; figures rouges

Date de création/fabrication : 2e quart Ve s. av. J.-C. (vers -470)
Lieu de création : Athènes

Actuellement visible au Louvre
Inventory number
G 242
ED 220
N 3347
Artist/maker / School / Artistic centre
Description
Object name/Title
Dénomination : œnochoé
Typologie : œnochoé forme 5A
Description/Features
Décor : sur embouchure (devant) ; languettes ; sur panse (devant) ; scène de palestre ; jeune homme (nu, draperie, sur, bras, en face de) ; jeune homme (nu, bandeau, draperie, sur, épaule, tenant, aryballe, paquetage d'athlète) ; bande de sol (ligne, crénelé)

Etat de l'oeuvre : le vase est entier, recollé et les cassures ont été bouchées.
Inscriptions
Inscription :
gravé sous le pied
Nature du texte :
graffite (contenu du texte->marque)
Physical characteristics
Materials and techniques
Matériau : argile
Technique : peinture brillante (peinture), dessin au trait
Places and dates
Date
Epoque / période : classique ; figures rouges

Date de création/fabrication : 2e quart Ve s. av. J.-C. (vers -470)
History
Collector / Previous owner / Commissioner / Archaeologist / Dedicatee
Acquisition details
achat
Acquisition date
Date : 1825
Held by
Musée du Louvre, Département des Antiquités grecques, étrusques et romaines
Location of object
Current location
Sully, [AGER] Salle 652 - Galerie Campana IV, Vitrine 7 murale
Bibliography
- Carpenter, Thomas ; Mannack, Thomas ; Mendonca, M., Beazley addenda : additional references to ABV, ARV² & Paralipomena, Oxford, British Academy by Oxford University Press, 1989, p. 94
- Johnston, Alan W., Trademarks on Greek vases, Berlin, Archäologisches Institut des Deutschen Reiches, 1979, p. 133, fig. 8G, n° 76
- Gialoúrīs, Nikólaos, Athletics in ancient Greece : ancient Olympia and the Olympic games, 1977, p. 200, fig. 104A
- Lezzi-Hafter, Adrienne, Der Schuwalow-Maler : eine Kannenwerkstatt der Parthenonzeit, Londres, Oxford University press, 1976, p. 10, n. 58, p.16, n. 88
- Beazley, John D., Attic red-figure vase-painters, Oxford, Clarendon Press, 1963, p. 193, n° 1
- Pottier, Edmond, Catalogue des vases antiques de terre cuite: Etudes sur l'histoire de la peinture et du dessin dans l'Antiquité, III, L'école attique, 1906, Disponible sur : https://archive.org/details/vasesantiques03muse , p. 1028
Last updated on 26.05.2021
The contents of this entry do not necessarily take account of the latest data.