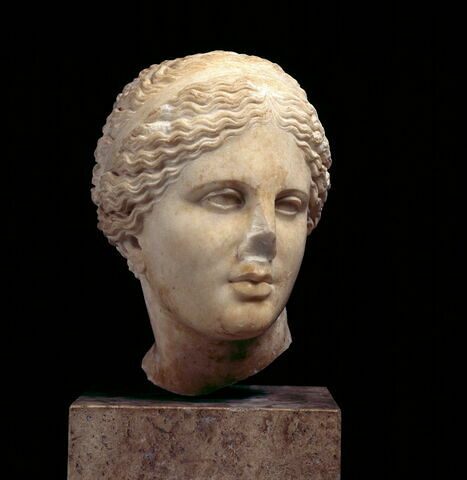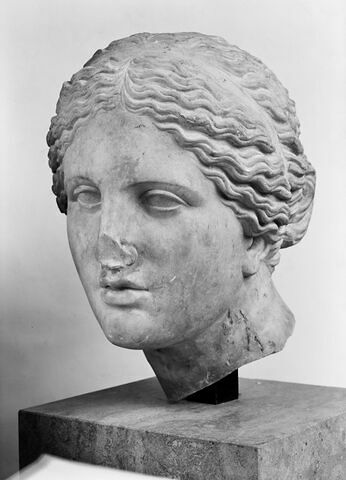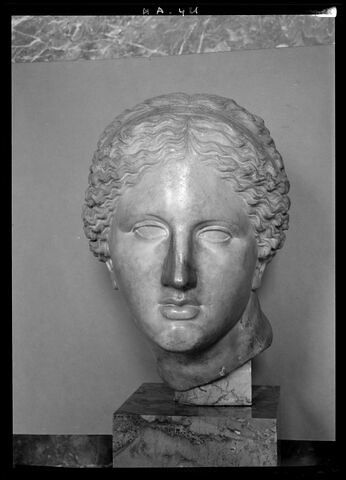 Actuellement visible au Louvre
Inventory number
Ma 421.1
MR 675
N 1324
Description
Object name/Title
Dénomination : statue (fragment, tête)
Original artwork
Aphrodite de Cnide ; Praxitèle ; 2e quart IVe s. av. J.-C. (vers 360 Av Jc)
Description/Features
Aphrodite (cheveux, en bandeau, ondulé, chignon, bas, ruban, double)

Etat de l'oeuvre : une partie du nez manque.
Physical characteristics
Materials and techniques
Matériau : marbre
Technique : ronde-bosse (sculpture)
Places and dates
Date
Epoque / période : romain impérial
Place of origin
Italie (?)
Place of discovery
Italie
History
Collector / Previous owner / Commissioner / Archaeologist / Dedicatee
Acquisition details
achat
Acquisition date
date d'arrivée au Musée : 1807
Held by
Musée du Louvre, Département des Antiquités grecques, étrusques et romaines
Location of object
Current location
Sully, [AGER] Salle 344 - Art grec classique et hellénistique, Salle 344 - Dieux et héros : Aphrodite et Eros), Hors vitrine
Bibliography
- Praxitèle, Paris, Musée du Louvre éditions : Somogy éditions d'art, 2007, p. 188-189, n° 42
- Martinez, Jean-Luc, Les antiques du Musée Napoléon. Edition illustrée et commentée des volumes V et VI de l'inventaire du Louvre en 1810, Paris, RMN, 2004, p. 347, n° 0674
- Rolley, Claude, La sculpture grecque. 2. La période classique, Paris, Picard, 1999, p. 258-259, 410, fig. 261
- Eros grec : Amour des dieux et des hommes, cat. exp. (Galeries nationales du Grand Palais, Paris, 6 nov. 1989 5 fév. 1990 et Athènes, 5 mars 5 mai 1990), Paris, Musées nationaux, 1989, p. 62-63, n° 13
- Pasquier, Alain, La Vénus de Milo et les Aphrodites du Louvre, Paris, Editions de la Réunion des musées nationaux, 1985, p. 59, fig.
- Delivorrias, Angelos, « Aphrodite », dans Lexicon Iconographicum Mythologiae Classicae, II, Zurich ; Munich, Artemis Verlag, 1984, p. 51, pl. 37, n° 394
- Charbonneaux, Jean, La sculpture grecque et romaine au Musée du Louvre, 3, La sculpture grecque et romaine au Musée du Louvre, Paris, Editions des Musées nationaux, (Collection des Guides du visiteur), 1963, p. 41
- Picard, Charles, Manuel d'archéologie grecque : la sculpture, III.1, Période classique- IVème siècle, Paris, A. et J. Picard, 1948, p. 584-585, fig. 250, 251
- Blinkenberg, Christian Sorensen, Knidia: Beiträge zur Kenntnis der Praxitelischen Aphrodite, Copenhage, Levin & Munksgaard, 1933, p. 166-167, n° IV3
- Rizzo, Giulio Emanuele, Prassitele, 1932, p. 52, pl. 78, 79
- Froehner, Wilhelm, Notice de la sculpture antique du Musée impérial du Louvre, Paris, 1869, p. 197, n° 164
- Clarac, Charles Othon Frédéric Jean-Baptiste de (Comte de), Musée de Sculpture antique et moderne. Planches, le Louvre et les Tuileries, VI, Paris, 1853, pl. 1105
- Clarac, Charles Othon Frédéric Jean-Baptiste de (Comte de), Musée de sculpture antique et moderne ou description historique et graphique du Louvre, les bas-reliefs, inscriptions, autels, cippes, etc. du Musée du Louvre, VI, Paris, 1853, p. 15, n° 2794A
- Clarac, Charles Othon Frédéric Jean-Baptiste de (Comte de), Description du Musée Royal des Antiques du Louvre, Paris, 1830, Disponible sur : ark:/12148/bpt6k6552349p , p. 30, n° 59
Comparative literature
- Hoff, Ralf von den ; Queyrel, François ; Perrin-Saminadayar, Eric (dir.), Eikones. Portraits en contexte. Recherches nouvelles sur les portraits grecs du Ve au Ier s. av. J.-C., Venosa, Osanna, 2016, p. 112
- Schröder, Stephan, Catálogo de la escultura clásica del Museo del Prado,  Escultura mitológica, 2004, p. 114-118, n° 116
- Ajootian, Aileen, « Praxiteles », dans Palagia, Olga ; Pollitt, Jerome Jordan (dir.), Personal styles in Greek sculpture, Cambridge, Cambridge University Press, 1996, p. 98-103
- Vierneisel-Schlörb, Barbara, Glyptothek München. Skulpturen II, Klassische Skulpturen des 5. und 4. J. v. Chr., Munich, C. H. Beck, 1979, p. 323-348
Last updated on 26.07.2021
The contents of this entry do not necessarily take account of the latest data.