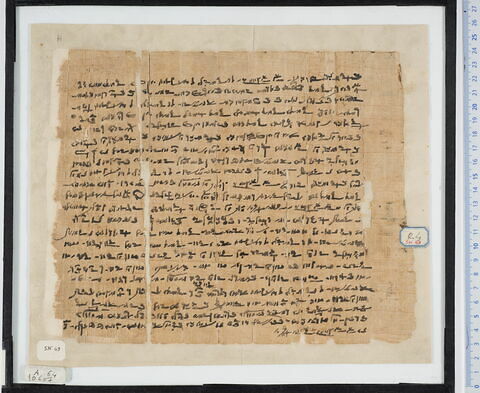 papyrus magique
Lieu de découverte : Akhmîm = Panopolis (rive est d'Assiout à Thèbes->d'Assiout à Thèbes->Haute Égypte) (d'après style)
Département des Antiquités égyptiennes
Actuellement visible au Louvre
Inventory number
Numéro principal :
E 10607
Description
Object name/Title
Dénomination : papyrus magique
Description/Features
Etat de l'oeuvre : fragment
Inscriptions
Écriture :
démotique
Nature du texte :
texte rituel (rituel d'ouverture de la bouche pour respirer)
Names and titles
Tatarepyt ; Keloudj (père)
Physical characteristics
Dimensions
Hauteur : 18,4 cm ; Largeur : 21,5 cm
Materials and techniques
Matériau : papyrus
Places and dates
Date
Haut Empire (attribution d'après style) (0 - 99)
Place of discovery
Akhmîm = Panopolis (rive est d'Assiout à Thèbes->d'Assiout à Thèbes->Haute Égypte) (d'après style)
History
Collector / Previous owner / Commissioner / Archaeologist / Dedicatee
Acquisition details
achat
Acquisition date
date de l'inscription sur l'inventaire : 1893
Held by
Musée du Louvre, Département des Antiquités égyptiennes
Location of object
Current location
Sully, [AE] Salle 335 - L'écriture et les scribes, Vitrine 4
Bibliography
- Ayad, Mariam, « The Selection and Layout of the Opening of the Mouth Scenes in the Chapel of Amenirdis I at Medinet Habu », Journal of the American Research Center in Egypt (JARCE), 41, 2004, p. 113-133, p. 128 note 73
- Quirke, Stephen G., « The last Books of the Dead ? », dans Davies, W. Vivian (dir.), Studies in Egyptian antiquities: a tribute to T. G. H. James, Londres, British Museum, (British Museum Occasional Paper 123), 1999, p. 83-98, p. 90
- Chauveau, Michel, « Les cultes d'Edfa à l'époque romaine », Revue d'Égyptologie (RdE), 37, 1986, p. 31-43, p. 32
- Lüddeckens, Erich, « Papyri, Demotische », dans Lexikon der Ägyptologie, IV, Meggido-Pyramiden, Wiesbaden, Otto Harrassowitz, 1982, p. 750-898, p. 864, n° B.4
Last updated on 12.05.2022
The contents of this entry do not necessarily take account of the latest data.