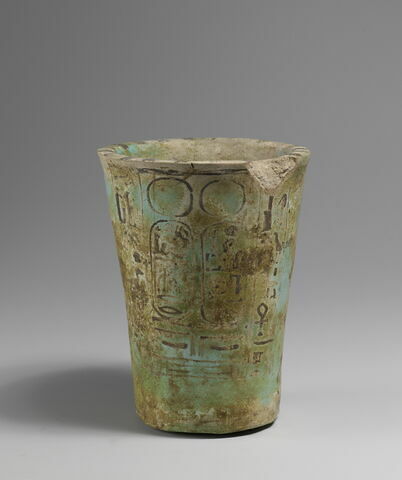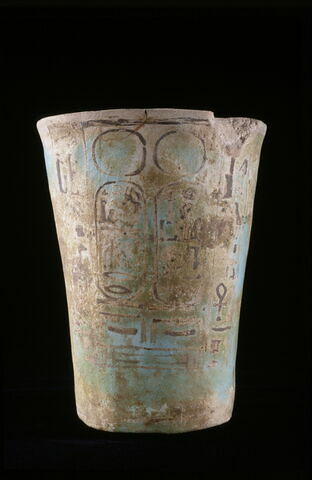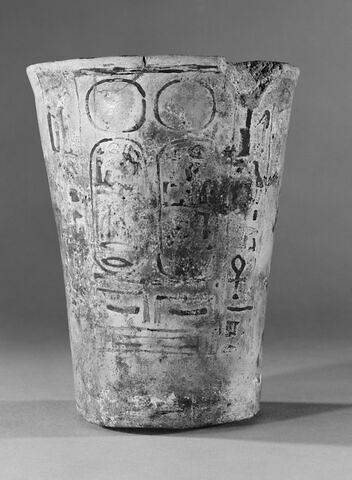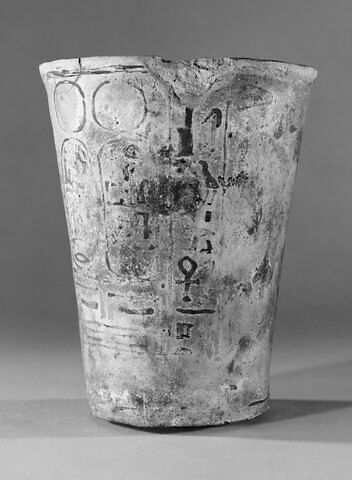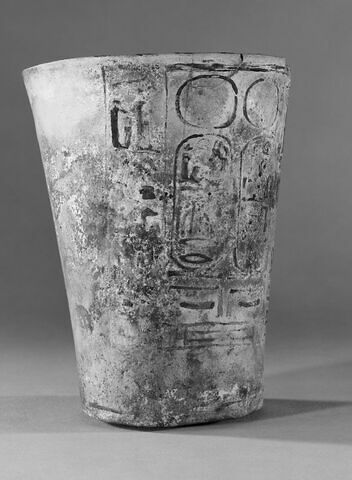 gobelet évasé
-1126 / -1108 (Ramsès IX)
Lieu de découverte : petits souterrains (Sérapéum = Sérapéum de Memphis->Saqqara-Nord->Saqqara) (A sa place antique, dans une niche de la chambre de Ramsès VIII (20e dyn. Apis X). / Ce vase était placé dans l'autre vase qui porte le n° 3693.)
N 442 B ; IM 3692 ; S 1735
Département des Antiquités égyptiennes
Actuellement visible au Louvre
Inventory number
Numéro principal :
N 442 B
Autre numéro d'inventaire :
IM 3692
Numéro d'usage :
S 1735
Description
Object name/Title
Dénomination : gobelet évasé
Description/Features
Décor : cartouche royal (2) ; disque solaire (2) ; signe de l'or (2)
Inscriptions
Écriture :
hiéroglyphique
Nature du texte :
nom
nom de couronnement
nom de naissance
Names and titles
Ramsès IX ; Osiris-Apis ; Ptah
Physical characteristics
Dimensions
Hauteur : 16,7 cm ; Diamètre : 12,8 cm
Materials and techniques
Matériau : faïence siliceuse
Couleur : bleu vert-brun-décoloré en beige
Places and dates
Date
Ramsès IX (mention de règne) (-1126 - -1108)
Date of discovery
8 avril 1852
Place of discovery
petits souterrains (Sérapéum = Sérapéum de Memphis->Saqqara-Nord->Saqqara) (A sa place antique, dans une niche de la chambre de Ramsès VIII (20e dyn. Apis X). / Ce vase était placé dans l'autre vase qui porte le n° 3693.)
History
Collector / Previous owner / Commissioner / Archaeologist / Dedicatee
Acquisition details
partage après fouilles
Acquisition date
date de l'inscription sur l'inventaire : 1855
Held by
Musée du Louvre, Département des Antiquités égyptiennes
Location of object
Current location
Sully, [AE] Salle 640 - Le Nouvel Empire - Toutankhamon et ses successeurs, [AE] Galerie d'études, Vitrine ge 3
Bibliography
- Porter, Bertha ; Moss, Rosalind L.B., Topographical Bibliography of Ancient Egyptian Hieroglyphic Texts, Reliefs, and Paintings, 3.2, Memphis. Saqqâra to Dahshûr, Oxford, Griffith Institute, Ashmolean Museum, 1979, p. 785
- Pierret, Paul, Catalogue de la Salle historique de la galerie égyptienne, Paris, 1882, p. 91, N° 376
- Mariette, Auguste, Le Sérapéum de Memphis, Paris, Gide, 1857, p. 16, pl. 22 n° 5
Last updated on 26.12.2020
The contents of this entry do not necessarily take account of the latest data.