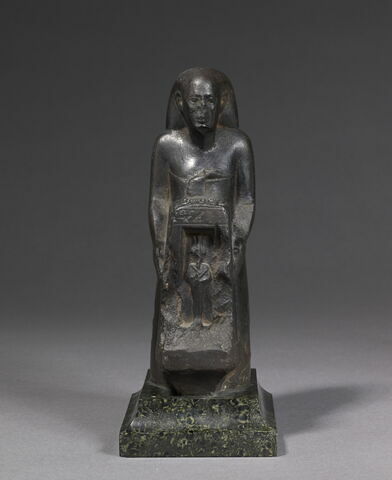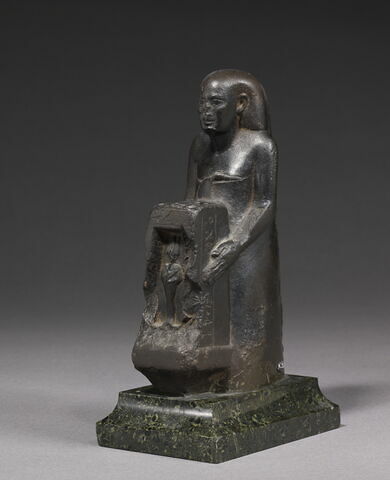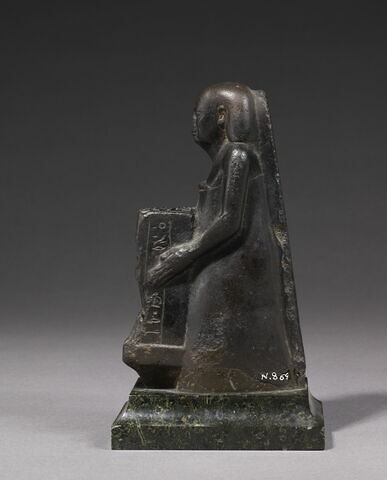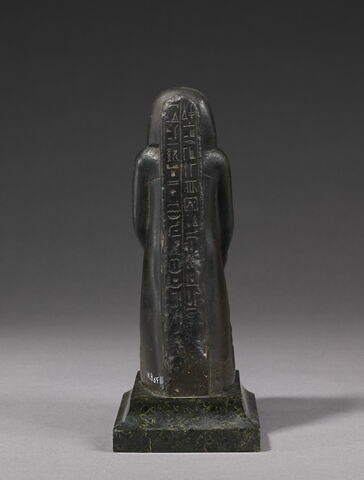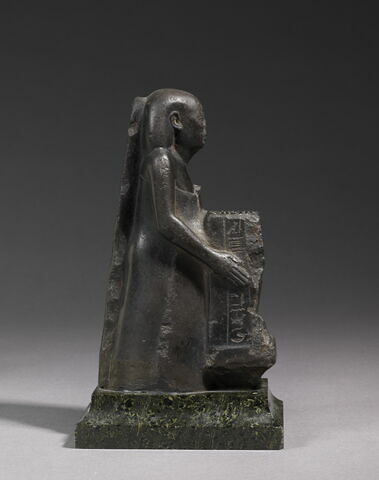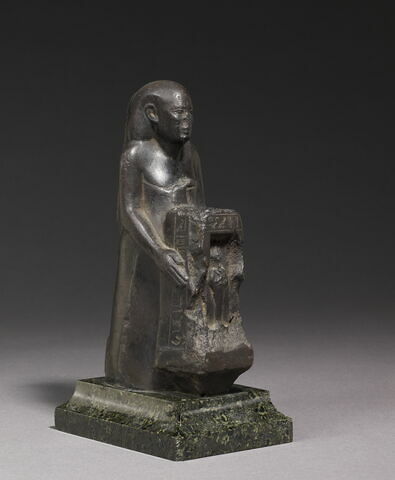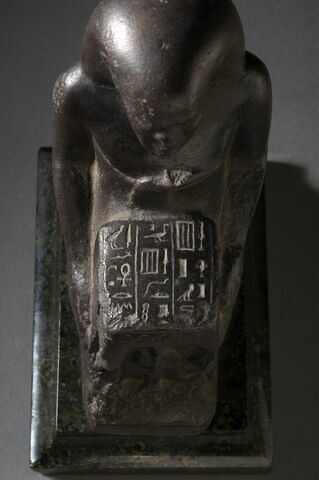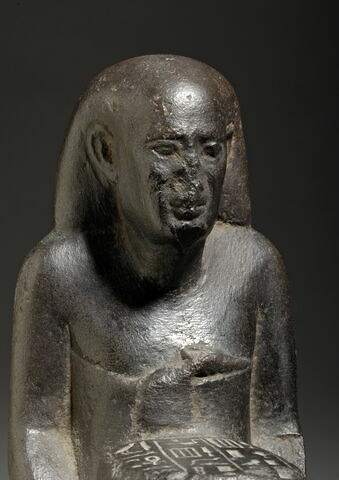 statue naophore
-595 / -525 (fin XXVIe dyn)
Lieu de découverte : Sais = Sa el-Hagar (Basse Égypte->Delta central)
Département des Antiquités égyptiennes
Actuellement visible au Louvre
Inventory number
N 864
Durand n°29 ?
Description
Object name/Title
Dénomination : statue naophore
Description/Features
homme (debout, jupe haute, perruque en poches, présentant, naos) ; Osiris (debout, dans, naos)

Etat de l'oeuvre : presque complet
Inscriptions
Écriture :
hiéroglyphique
Nature du texte :
formule d'offrande
Names and titles
Psametik ; Djedptahiouefânkh (père) ; Saïs
Physical characteristics
Materials and techniques
Matériau : basalte
Technique : gravure, haut-relief, ronde-bosse
Places and dates
Date
fin XXVIe dyn (attribution d'après style) (-595 - -525)
Place of discovery
Sais = Sa el-Hagar (Basse Égypte->Delta central)
History
Collector / Previous owner / Commissioner / Archaeologist / Dedicatee
Acquisition details
achat
Acquisition date
date de l'inscription sur l'inventaire : 02/03/1825
Held by
Musée du Louvre, Département des Antiquités égyptiennes
Location of object
Current location
Sully, [AE] Salle 643 - De l'an mille à la première domination perse, Vitrine 20
Bibliography
- Perdu, Olivier, « Compléments au dossier des prêtres renep et des autres prêtrises d'Imaou », Bulletin de l'Institut français d'archéologie orientale (BIFAO), 120, 2020, p. 265-303, p. 279 note 75
- Rendre visite aux Dieux : pélerinage dans l'Egypte pharaonique, cat. exp. (Puy-en-Velay, Hôtel-Dieu, 6 juillet-11 novembre 2013), Puy-en-Velay, Un, Deux... Quatre, 2013, p. 113, ill. p. 113, n° 57
- Guichard, Sylvie (dir.), Champollion, Jean-François, Notice descriptive des monuments égyptiens du Musée Charles X, Paris, Louvre éditions / éditions Khéops, 2013, p. 181, ill. p. 181, G. 39
- Malek, Jaromir, Topographical Bibliography of Ancient Egyptian Hieroglyphic Texts, Reliefs, and Paintings, 8.2, Objects of Provenance not known. Private Statues (Dynasty XVIII to the Roman Period). Statues of Deities, Oxford, Griffith Institute, Ashmolean Museum, 1999, p. 815, n° 801-748-370
- Bothmer, Bernard Willehlm von, Egyptian sculpture of the Late Period 700 B.C. to A.D. 100, New York, The Brooklyn Museum, 1960, p. 74, 75
- Champollion, Jean-François, Notice descriptive des monumens égyptiens du Musée Charles X, Paris, Imprimerie de Crapelet, 1827, p. 66, G. 39
Exhibition history
- Egypte pharaonique: trésors cachés du Louvre. Pèlerinage au temps des Egyptiens: rendre visite aux dieux, Le Puy-en-Velay (Externe, France), Hôtel Dieu, 06/07/2013 - 11/11/2013
Last updated on 13.12.2020
The contents of this entry do not necessarily take account of the latest data.