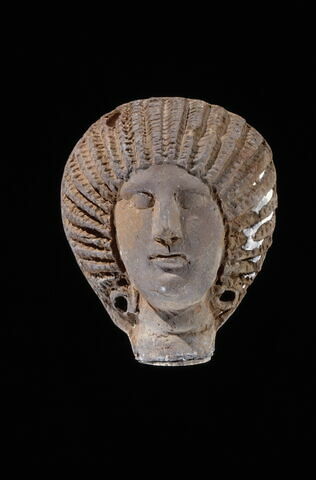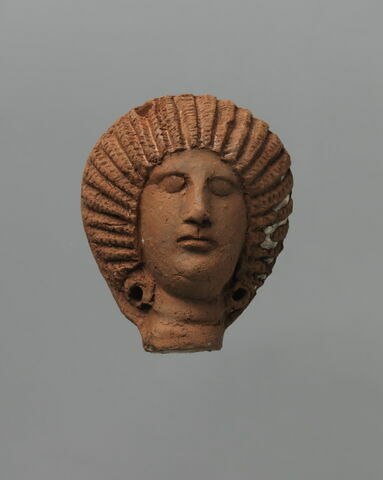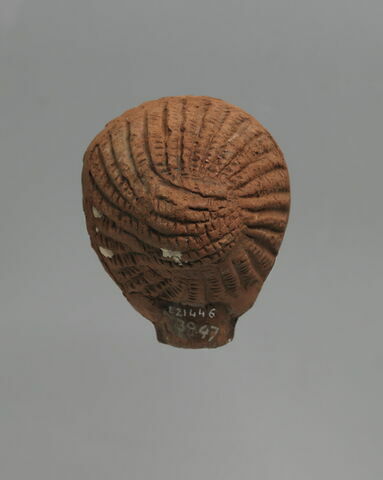 figurine de tête de femme romaine à cou fermé
-30 / 395 (époque romaine)
Lieu de découverte : tombe de Leukyôné (nécropole inconnue->Antinoé->rive est Moyenne Égypte) (?)
Département des Antiquités égyptiennes
Actuellement visible au Louvre
Inventory number
Numéro principal :
E 21446
Numéro d'entrée :
MG 3947
Description
Object name/Title
Dénomination : figurine de tête de femme romaine à cou fermé
Description/Features
femme (tête de, côtes de melon)
Physical characteristics
Dimensions
Hauteur : 6,36 cm ; Largeur : 5,4 cm ; Epaisseur : 5,77 cm
Materials and techniques
Matériau : terre cuite
Technique : ronde-bosse, moulage, peinture (traces de peinture blanche)
Places and dates
Date
époque romaine (contexte de fouilles) (-30 - 395)
Date of discovery
1901-1902
Place of discovery
tombe de Leukyôné (nécropole inconnue->Antinoé->rive est Moyenne Égypte) (?)
History
Collector / Previous owner / Commissioner / Archaeologist / Dedicatee
Acquisition details
attribué au Louvre
Acquisition date
date de l'inscription sur l'inventaire : 1948
Held by
Musée du Louvre, Département des Antiquités égyptiennes
Location of object
Current location
Denon, [OMER] Salle 180 - Statues et mobilier du culte, Vitrine 23 Les divinités isiaques
Bibliography
- Durand, Agnès (commissaire) ; Piérini, Gisèle (commissaire) (dir.), Egypte romaine, l'autre Egypte, cat. exp. (Marseille, musée d'Archéologie méditerranéenne, Centre de la Vieille Charité, 4 avril-13 juillet 1997), Marseille / Paris, Musées de Marseille / Réunion des musées nationaux, 1997, p. 114, fig. p. 114, n° 121
- Dunand, Françoise, Catalogue des terres cuites gréco-romaines d'Égypte, [Musée du Louvre, Paris. Département des Antiquités égyptiennes], Paris, Réunion des musées nationaux, 1990, p. 247, ill. 708 p. 247, n° 708
- Coiffures antiques du Louvre, cat. exp. (Paris, La Galerie Esplanade de la Défense Parvis du CNIT, 21 mai - 13 juin 1982), Paris, Mondial coiffure beauté, 1982, p. 22, n° 38
Comparative literature
- Schmidt, Stefan, Katalog der ptolemäischen und kaiserzeitlichen Objekte aus Ägypten im Akademischen Kunstmuseum Bonn, [Bonn, Akademischen Kunstmuseum], Munich, Biering & Brinkmann, 1997, p. 88 note 1, n° 100
Exhibition history
- L'Egypte romaine, de la séduction à la conquête, Marseille (Externe, France), Musée d'Archéologie Méditerranéenne - Centre de la Vieille Charité, 04/04/1997 - 13/07/1997
Last updated on 08.06.2022
The contents of this entry do not necessarily take account of the latest data.