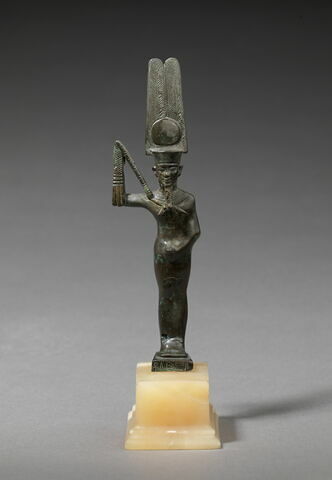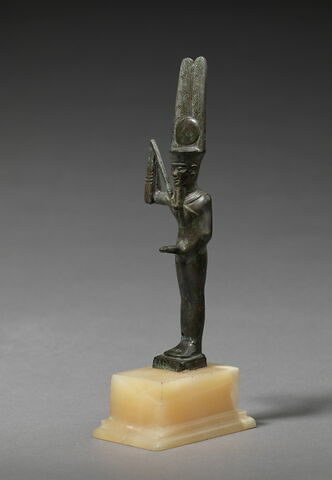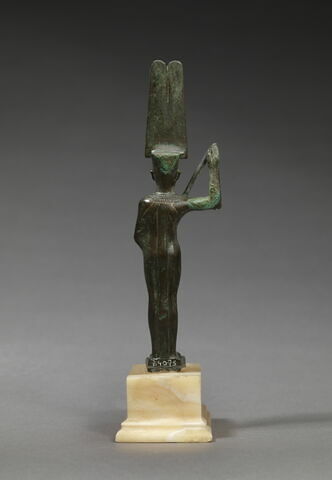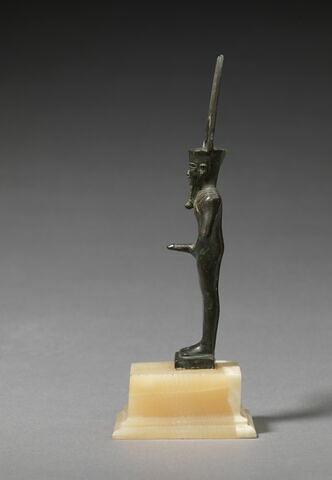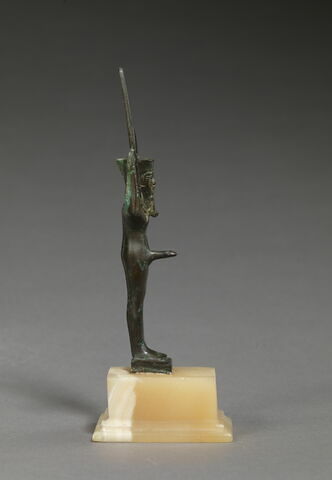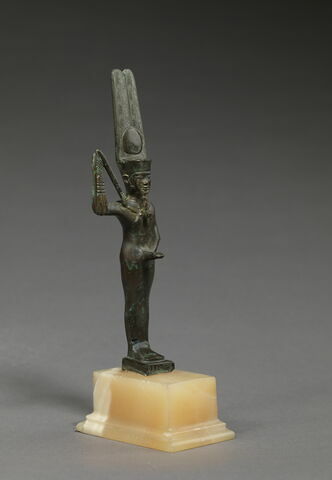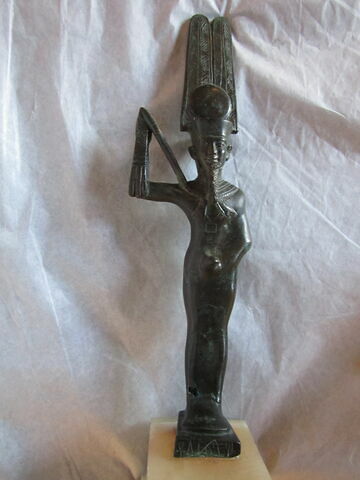 Actuellement visible au Louvre
Inventory number
Numéro principal :
E 4075
Description
Object name/Title
Dénomination : figurine ithyphallique
Description/Features
Amon (debout, phallique, couronne d'Amon, linceul, pectoral, fausse barbe enroulée, baudrier croisé, tenant, flagellum)
Inscriptions
Écriture :
hiéroglyphique
Nature du texte :
dédicace
Names and titles
Amon-Min ; Imenemipet
Physical characteristics
Dimensions
Hauteur : 16,9 cm
Materials and techniques
Matériau : alliage cuivreux
Technique : incrustation
Places and dates
Date
Basse Époque (attribution d'après style) (-664 - -332)
History
Collector / Previous owner / Commissioner / Archaeologist / Dedicatee
Acquisition details
achat
Acquisition date
date de l'inscription sur l'inventaire : 1864
Held by
Musée du Louvre, Département des Antiquités égyptiennes
Location of object
Current location
Sully, [AE] Salle 643 - De l'an mille à la première domination perse, Vitrine 21
Bibliography
- Gombert-Meurice, Florence ; Payraudeau, Frédéric (dir.), Servir les dieux d'Egypte : Divines Adoratrices, Chanteuses et Prêtres d'Amon à Thèbes, cat. exp. (Grenoble (Externe, France), Musée de Grenoble, 2018), Paris / Grenoble, Somogy Editions d'Art / Musée de Grenoble, 2018, p. 170, fig. 1 p. 171
Last updated on 20.05.2021
The contents of this entry do not necessarily take account of the latest data.