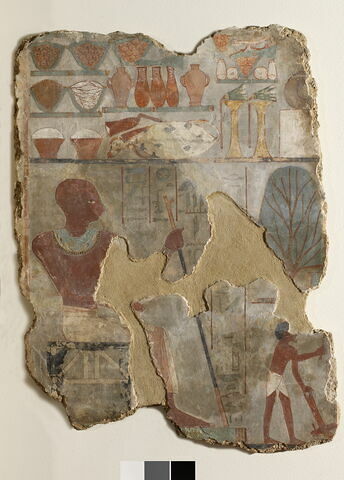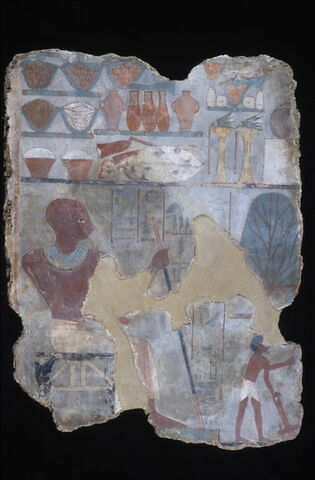 peinture murale ; Peinture d'Ounsou
-1479 / -1425(?) (Thoutmosis III)
Lieu de découverte : TT A. 4 Onsou (Dra Aboul el-Naga->Thèbes Ouest->Thèbes)
Département des Antiquités égyptiennes
Actuellement visible au Louvre
Inventory number
Numéro principal :
N 2311
Description
Object name/Title
Dénomination : peinture murale
Titre d'usage : Peinture d'Ounsou
Description/Features
Décor : homme (à grande échelle, assis sur, tabouret, cheveux ras, jupe, collier ousekh, bracelet, tenant, bâton) ; sycomore ; offrandes ; labour
Etat de l'oeuvre : fragment
Inscriptions
Écriture :
hiéroglyphique
Nature du texte :
commentaire de scène
nom
Names and titles
Ounsou (scribe de la ville du Sud)
Physical characteristics
Dimensions
Hauteur : 66 cm ; Largeur : 50 cm
Materials and techniques
Matériau : mouna
Technique : peinture
Places and dates
Date
Thoutmosis III (-1479 - -1425)
Place of discovery
TT A. 4 Onsou (Dra Aboul el-Naga->Thèbes Ouest->Thèbes)
History
Collector / Previous owner / Commissioner / Archaeologist / Dedicatee
Acquisition details
achat
Acquisition date
date de l'inscription sur l'inventaire : 1826
Held by
Musée du Louvre, Département des Antiquités égyptiennes
Location of object
Current location
Sully, [AE] Salle 333 - Les travaux des champs, Vitrine 1
Bibliography
- Ziegler, Christiane, « Les peintures des tombes : la vie au royaume des morts », Le Monde de la Bible, 78, 1992, p. 36-43, p. 38, pl I
- Manniche, Lise, Lost tombs: a study of certain Eighteenth Dynasty monuments in the Theban necropolis, Londres, Kegan Paul International, 1988, p. 62-87
- Porter, Bertha ; Moss, Rosalind L.B., Topographical Bibliography of Ancient Egyptian Hieroglyphic Texts, Reliefs, and Paintings, 1.2, The Theban Necropolis. Royal Tombs and Smaller Cemeteries, Oxford, At the Clarendon Press, 1964, p. 447
Comparative literature
- Laboury, Dimitri, « Tradition and Creativity. Toward a Study of Interconicity in Ancient Egyptian Art », dans Gillen, Todd (dir.), (Re)productive Tradition in Ancient Egypt, Liège, Presses universitaires de Liège, (Ægyptiaca Leodiensia 10), 2017, p. 229-258, p. 243, 244,246, fig. 6,8
Last updated on 14.02.2022
The contents of this entry do not necessarily take account of the latest data.