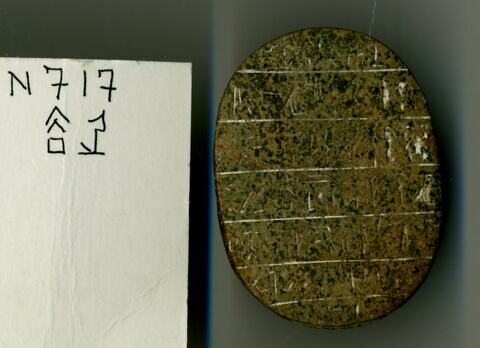 scarabée de cœur
Date de création/fabrication : époque ramesside (attribution d'après style) (-1295 - -1069)
Lieu de découverte : tombe isolée Ramsès II = G-H = C8 (Sérapéum = Sérapéum de Memphis->Saqqara-Nord->Saqqara) (Sous le cercueil à droite en entrant de la salle de Scha-em-djom. Scarabée en pierre dûre avec prière à Sérapis, en hiéroglyphes. Papiers Grébaut : Apis III mort en l'an 26 de Ramsès II. Pierre dure jaunâtre. Scarabée avec légende.)
Inventory number
Numéro principal : N 717
Numéro d'usage : S 1346
Autre numéro d'inventaire : IM 2885 ?
Description
Object name/Title
Dénomination : scarabée de cœur
Inscriptions
Écriture :
hiéroglyphique
Nature du texte :
formule des scarabées de coeur (7 lignes; chapitre 30B)
Physical characteristics
Dimensions
Hauteur : 2,55 cm ; Longueur : 5,35 cm ; Largeur : 3,87 cm
Materials and techniques
Matériau : granite rose
Places and dates
Date
époque ramesside (attribution d'après style) (-1295 - -1069)
Place of discovery
tombe isolée Ramsès II = G-H = C8 (Sérapéum = Sérapéum de Memphis->Saqqara-Nord->Saqqara) (Sous le cercueil à droite en entrant de la salle de Scha-em-djom. Scarabée en pierre dûre avec prière à Sérapis, en hiéroglyphes. Papiers Grébaut : Apis III mort en l'an 26 de Ramsès II. Pierre dure jaunâtre. Scarabée avec légende.)
History
Collector / Previous owner / Commissioner / Archaeologist / Dedicatee
Acquisition details
partage après fouilles
Acquisition date
date de l'inscription sur l'inventaire : 1852
Held by
Musée du Louvre, Département des Antiquités égyptiennes
Location of object
Current location
non exposé
Bibliography
- Pierret, Paul, Catalogue de la Salle historique de la galerie égyptienne, Paris, 1882, p. 141, N° 596
Last updated on 29.01.2021
The contents of this entry do not necessarily take account of the latest data.