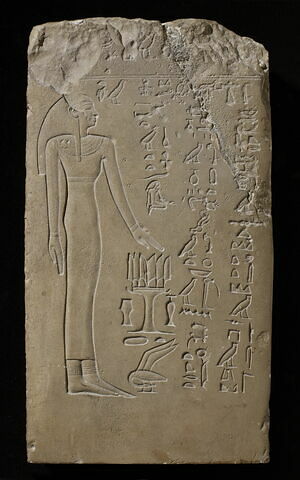 stèle rectangulaire
-2106 / -2033 (début XIe dynastie)
Département des Antiquités égyptiennes
Actuellement visible au Louvre
Inventory number
Numéro d'usage :
C 304
Numéro principal :
E 11334
Description
Object name/Title
Dénomination : stèle rectangulaire
Description/Features
Décor : femme (debout, perruque tripartite, bracelet de bras, bracelet de cheville, collier ousekh) ; table d'offrandes
Inscriptions
Écriture :
hiéroglyphique
Nature du texte :
formule d'offrande
Names and titles
Anubis ; Ânkhtify
Physical characteristics
Dimensions
Hauteur : 40 cm ; Largeur : 21,5 cm ; Epaisseur : 6 cm
Materials and techniques
Matériau : calcaire
Technique : bas-relief creux = sculpture en creux
Places and dates
Date
début XIe dynastie (attribution d'après style) (-2106 - -2033)
History
Collector / Previous owner / Commissioner / Archaeologist / Dedicatee
Acquisition details
achat
Acquisition date
date de comité/commission : 29/05/1913
date du conseil : 04/06/1913
Held by
Musée du Louvre, Département des Antiquités égyptiennes
Location of object
Current location
Sully, [AE] Salle 636 - Le Moyen Empire, Galerie d'étude, Vitrine ge 2
Bibliography
- Miniaci, Gianluca ; Pilgrim, Cornelius von, « An Unusual Mutilation of the Crocodile Hieroglyphic Sign in an Early Middle Kingdom Stela from the Sanctuary II of Heqaib at Elephantine », dans Miniaci, Gianluca ; Grajetzki, Wolfram (dir.), The World of Middle Kingdom Egypt III (2000-1550 BC): Contributions on Archaeology, Art, Religion, and Written Sources, London, Golden House Publications, (Middle Kingdom Studies (MKS) 12), 2022, p. 259-272, p. 263
- Vandier, Jacques, Manuel d'archéologie égyptienne, 2.1, Les grandes époques. L'architecture funéraire, Paris, Editions A. et J. Picard et C°, 1954, p. 486 note 12
Last updated on 21.09.2022
The contents of this entry do not necessarily take account of the latest data.