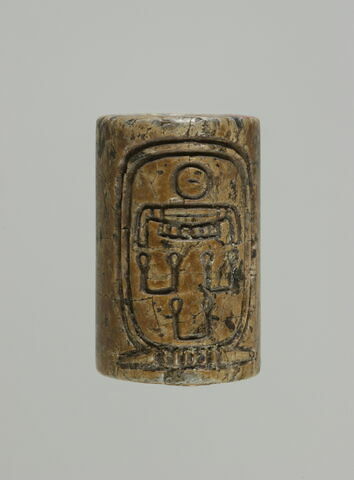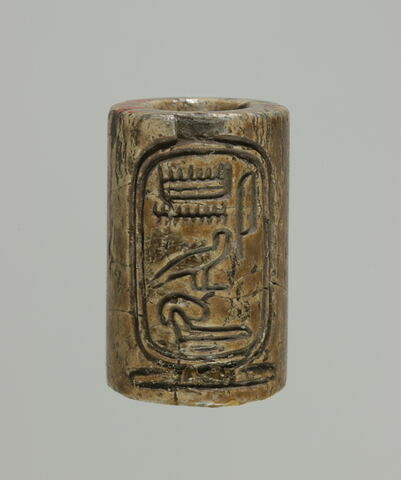 sceau cylindre
-1901 / -1866 (Noubkaourê Amenemhat II)
N 534 ; LP 1580 ; Mimaut n°171
Département des Antiquités égyptiennes
Actuellement visible au Louvre
Inventory number
Numéro principal :
N 534
Autre numéro d'inventaire :
LP 1580
N° vente :
Mimaut n°171
Description
Object name/Title
Dénomination : sceau cylindre
Description/Features
percé dans la longueur

Décor : cartouche (2)
Inscriptions
Écriture :
hiéroglyphique
Nature du texte :
nom de couronnement
nom de naissance
Names and titles
Amenemhat II
Physical characteristics
Dimensions
Longueur : 2,53 cm ; Diamètre : 1,62 cm
Materials and techniques
Matériau : stéatite émaillée
Places and dates
Date
Noubkaourê Amenemhat II (mention de règne) (-1901 - -1866)
History
Collector / Previous owner / Commissioner / Archaeologist / Dedicatee
Acquisition details
achat
Acquisition date
date de l'inscription sur l'inventaire : 1837
Held by
Musée du Louvre, Département des Antiquités égyptiennes
Location of object
Current location
Sully, [AE] Salle 636 - Le Moyen Empire, Galerie d'étude, Vitrine ge 1
Bibliography
- Petrie, William Matthew Flinders, Historical Scarabs. A Series of Drawings from the Principal Collections arranged chronologically, Londres, D. Nutt, 1889, pl. 7, n° 219
- Dubois, Léon-Jean-Joseph, Description des antiquités égyptiennes, grecques et romaines, monuments cophtes et arabes composant la collection de feu M. J.-F. Mimaut, [Vente, Paris, 1837, M. Bierfuhrer], p. 28, n° 171
Last updated on 05.01.2022
The contents of this entry do not necessarily take account of the latest data.