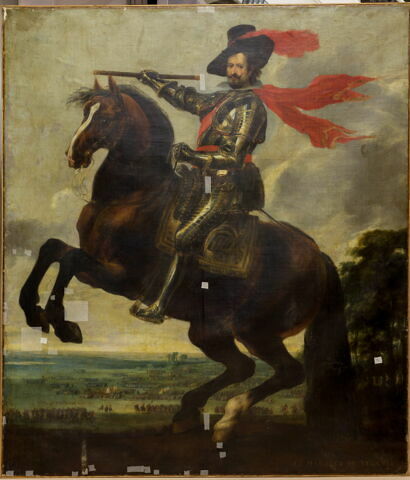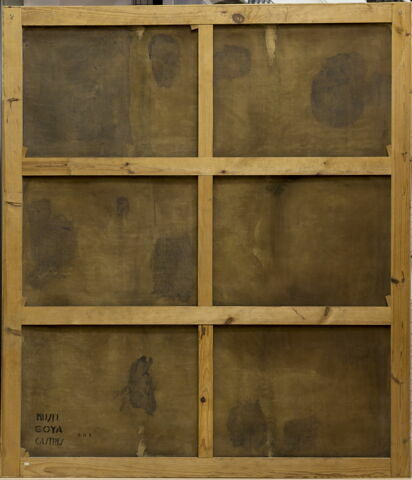 Portrait équestre du marquis de Leganes
Date de création/fabrication : XVIIe siècle (1635)
Artwork recovered after World War II, retrieved by the Office des Biens et Intérêts Privés; to be returned to its rightful owner once they have been identified. Online records of all MNR ('National Museums Recovery') works can be found on the French Ministry of Culture's Rose Valland database.
En dépôt : Musée Goya, Castres

Inventory number
Numéro principal : MNR 564
Artist/maker / School / Artistic centre
Description
Object name/Title
Titre : Portrait équestre du marquis de Leganes
Ancien titre : Homme à cheval
Inscriptions
Inscription :
Au revers :
Sur la toile : Au tampon noir « Musée/Goya/Castres » et « 581 ».
Sur le châssis :
-Montant inférieur : Etiquette rectangulaire à liseré bleu « 401 » (?).
-Montant gauche : au crayon « M ».
-Traverse horizontale inférieure : traces d'inscriptions ou d'assemblage.
-Montant droit : Au crayon « M ».
En bas à droite : "EL MARQUES DE LEGANES".
Physical characteristics
Dimensions
Hauteur : 2,75 m ; Largeur : 2,38 m
Materials and techniques
toile
History
Object history
Cette oeuvre fait partie de la collection du marquis de Leganes, puis de celles de Philippe IV d'Espagne, de la reine Isabelle d'Espagne ; elle est offerte par cette dernière à sa belle-soeur, la princesse de Moscoso et Bourbon, infante d'Espagne, au moment de son mariage avec le duc de Bauffremont ; collection duc de Bauffremont (historique selon cat. exp. Bruxelles, 1935). L'oeuvre se trouve entre les mains de Mme Henley, de Paris, en 1935 (idem).
Le tableau est acheté le 17 mars 1943 à Mme de Horne, Paris, 1 500 000 F par le musée de Linz (1).
Il est enregistré au Central Collecting Point de Munich sous le n° 11140/2.
Le tableau est attribué au musée du Louvre (département des Peintures) par l'Office des Biens et Intérêts Privés en 1950 (2) ; il est déposé au musée Goya de Castres en 1955, puis en 1958 (3).
(1)Bundesarchiv, BAK B323/565.
(2)SMF, sous-direction des collections, dossier Récupération : Arrêté du ministère de l'Education nationale du 16 mai 1951.
(3)SMF, sous-direction des collections, dossier Récupération : Arrêté du ministère d'État aux Affaires culturelles du 17 octobre 1958.
Collector / Previous owner / Commissioner / Archaeologist / Dedicatee
Acquisition details
attribution par l'office des biens privés (MNR)
Acquisition date
date d'arrivée au Musée : 1950
Owned by
Musées Nationaux Récupération
Location of object
Current location
non exposé
Bibliography
- Lesné, Claude ; Roquebert, Anne, Catalogue des peintures M.N.R., Paris, R.M.N., 2004, p. 130-131, ill. n&b
- Brejon de Lavergnée, Arnauld ; Foucart, Jacques ; Reynaud, Nicole, Catalogue sommaire illustré des peintures du musée du Louvre I : Ecoles flamande et hollandaise  , I, Paris, R.M.N., 1979, p. 180
- Díaz Padrón, Matias, « Un retrato ecuestre de Don Diego de Messia de Pierre Snayers, y un san Pedro penitente de Gerard Seghers en Castres y la catedral de Sevilla », Goya, 152, 1979, p.78-82, p. 78-82, repr. p. 80
Last updated on 03.02.2021
The contents of this entry do not necessarily take account of the latest data.