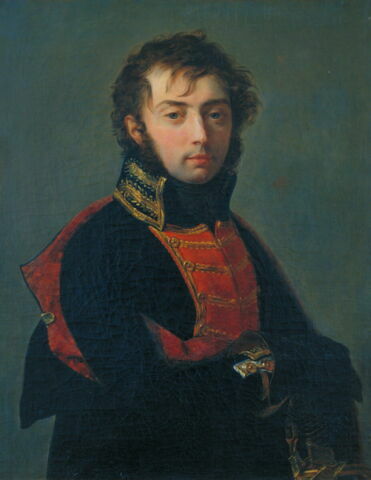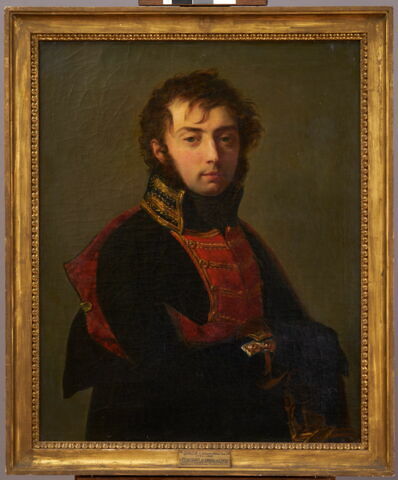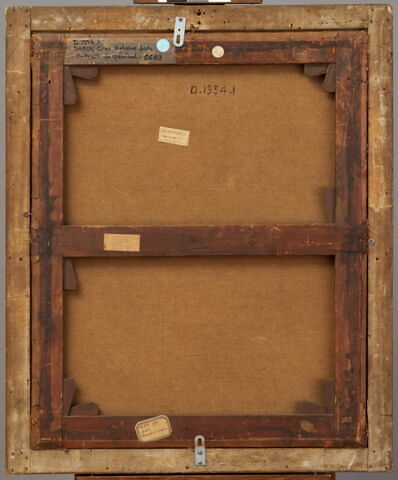 Portrait d'un officier, dit aussi Portrait présumé du général Barthélémy Joubert (1769-1799)
Date de création/fabrication : Fin du XVIIIe siècle - début du XIXè siècle (1775 - 1825)
Artwork recovered after World War II, retrieved by the Office des Biens et Intérêts Privés (OBIP); to be returned to its rightful owner once they have been identified. Online records of all MNR ('National Museums Recovery') works can be found on the French Ministry of Culture's Rose Valland database..
En dépôt : Musée des Augustins, Toulouse

Inventory number
Numéro principal : MNR 139
Artist/maker / School / Artistic centre
Description
Object name/Title
Titre : Portrait d'un officier, dit aussi Portrait présumé du général Barthélémy Joubert (1769-1799)
Ancien titre : Général d'Empire
Ancien titre : Portrait présumé du général Joubert
Inscriptions
Inscription :
Etiquette au revers sur le châssis : "Kaiser Wilhelm. Museum Krefeld/ Gem. INV. Nr. 296/ DYCK 1031" ; "Dyck inv. n° 1031 / Owner: Kaiser/ Wilhelm. Museum/ Krefeld/ Gros: picture of a general" ; "MNR 39/ Gros/ général d'Empire".
Physical characteristics
Dimensions
Hauteur : 0,8 m ; Largeur : 0,65 m
Materials and techniques
toile
Places and dates
Date
Fin du XVIIIe siècle - début du XIXè siècle (1775 - 1825)
History
Object history
Collection L. Lévy, Paris ; vente après décés L. Lévy antiquaire, Paris, galerie Georges Petit, 18-19 juin 1917, n°37 (Gros, « Portrait présumé du Général Joubert ») ; vente, « Collection de M. E(knayan), Tableaux anciens et modernes, Hôtel Drouot, Paris, 12 juin 1926, n°85 ; adjugé 10 000 F à M. Eknayan ; vente collection Myran Eknayan, Hôtel Drouot, Paris,12 juin 1931 (Me Lair-Dubreuil), n°27, repr., retiré de la vente à 17 500 F (1) ; acheté 80 000 F à M. Eknayan par Raphaël Gérard, Paris (2) qui le revend 93 000 F (4 650 RM) le 6 octobre 1942 au Kaiser-Wilhelm Museum de Krefeld (inv. 296) (3) ; l'exportation est frauduleuse (4) ; rapatrié vers la France par le premier convoi en provenance de Düsseldorf le 4 mars 1948 (Numéro DYCK 1031) ; retenu lors de la quatrième commission de choix des oeuvres de la récupération artistique du 21 décembre 1949 ; attribué au musée du Louvre (département des Peintures) par l'O.B.I.P. en 1950 ; déposé au musée des Augustins de Toulouse en 1954 (5)
Notes :
(1) Archives de Paris D42E3 168.
(2) Archives Nationales Z6 478/4554 167-168.
(3) MEAE/209SUP709 : Chemise Berlin-Musées, 824 et archives de Paris 3314/71/1/3/7 89.
(4) MEAE/209SUP118 A54 et 209SUP389 P24.
(5) SMF, sous-direction des collections, dossier Récupération : Arrêté du ministère de l'Education nationale du 1er septembre 1954.
Acquisition details
attribution par l'office des biens et intérêts privés (MNR)
Acquisition date
date d'arrivée au Musée : 1950
Owned by
Musées Nationaux Récupération
Location of object
Current location
non exposé
Bibliography
- Lesné, Claude ; Roquebert, Anne, Catalogue des peintures M.N.R., Paris, R.M.N., 2004, p. 366, ill. n&b
- Foucart-Walter, Élisabeth, « Tableaux déposés par le Louvre », dans Compin, Isabelle ; Roquebert, Anne (dir.), Catalogue sommaire illustré des peintures du musée du Louvre et du musée d'Orsay. V. Ecole française. Annexes et index, Paris, R.M.N., 1986, p. 194-394, p. 269, non repr.
- Vergnet-Ruiz, Jean ; Laclotte, Michel, Petits et grands musées de France, Paris, 1962, p. 238
Last updated on 07.02.2021
The contents of this entry do not necessarily take account of the latest data.