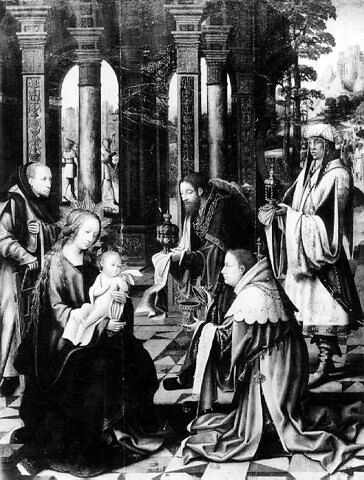 Adoration des Mages (triptyque) Panneau central : Adoration des Mages Volet g. : Adoration de la Vierge Volet d.: La Circoncision
Date de création/fabrication : XVIe siècle (1500 - 1600)
Artwork recovered after World War II, retrieved by the Office des Biens et Intérêts Privés (OBIP); to be returned to its rightful owner once they have been identified. Online records of all MNR ('National Museums Recovery') works can be found on the French Ministry of Culture's Rose Valland database..
En dépôt : Musée des Beaux-Arts, Dijon

Inventory number
Numéro principal : MNR 390
Artist/maker / School / Artistic centre
Anonyme
Pays-Bas du Sud
École de
Also attributed to:
Ancienne Attribution :
Isenbrant, Adriaen
dit aussi Pseudo Mostaert, Ysenbrant, Adriaen, Hysebrant, Adriaen, le maître des Sept Douleurs de la Vierge (?, vers 1490 - Bruges, 1551), Genre de
Description
Object name/Title
Titre : Adoration des Mages (triptyque)
Panneau central : Adoration des Mages
Volet g. : Adoration de la Vierge
Volet d.: La Circoncision
Inscriptions
Inscription :
Etiquette revers : "MNR 390/école flamande vers 1520/Adoration des mages/triptyque"
Pochoir blanc : "MM DIJON 4029".
Revers panneau central à la craie : "Goering"
Signature :
Signé en bas à droite sur le panneau de gauche : David Ouwater* (apocryphe ?)
Physical characteristics
Dimensions
Largeur : 0,3 m ; Hauteur : 0,9 m ; Largeur : 0,68 m
Materials and techniques
bois
Places and dates
Date
XVIe siècle (1500 - 1600)
History
Object history
Le triptyque est acheté 6500 RM le 14 mars 1941 à la galerie Charpentier, à Paris, par l'intermédiaire de M. Mühlmann pour Göring (inv. RM 778).
Il est enregistré au Central Collecting Point de Munich sous les numéros 5109, 5128 et 5129 (1).
Le triptyque est attribué au musée du Louvre par l'Office des Biens et Intérêts Privés en 1950, puis déposé au musée des Beaux-Arts de Dijon par arrêté du ministère de l'Education nationale du 21 avril 1952 (inv. 4029) (2).

Notes
(1)Bundesarchiv BAK B323/562 et B323/319.
(2)SMF, sous-direction des collections, dossier Récupération : Arrêté du ministère de l'Education nationale du 21 avril 1952.
Acquisition details
attribution par l'office des biens et intérêts privés (MNR)
Acquisition date
date d'arrivée au Musée : 1950
Owned by
Musées Nationaux Récupération
Location of object
Current location
Dijon (France), Musée des Beaux-Arts
Bibliography
- Lesné, Claude ; Roquebert, Anne, Catalogue des peintures M.N.R., Paris, R.M.N., 2004, p. 251, ill. n&b
- Brejon de Lavergnée, Arnauld ; Foucart, Jacques ; Reynaud, Nicole, Catalogue sommaire illustré des peintures du musée du Louvre. I. Ecoles flamande et hollandaise, Paris, R.M.N., 1979, p. 183
Last updated on 23.11.2020
The contents of this entry do not necessarily take account of the latest data.