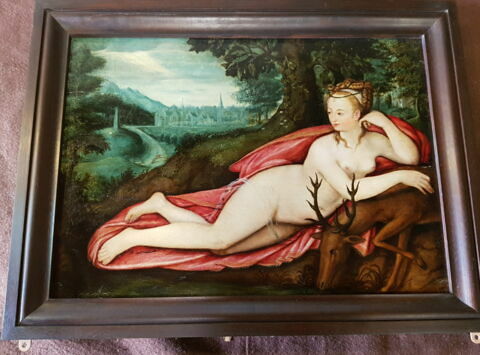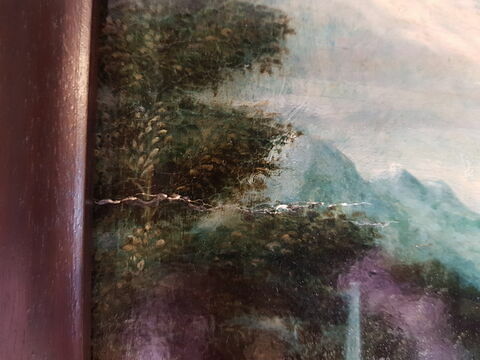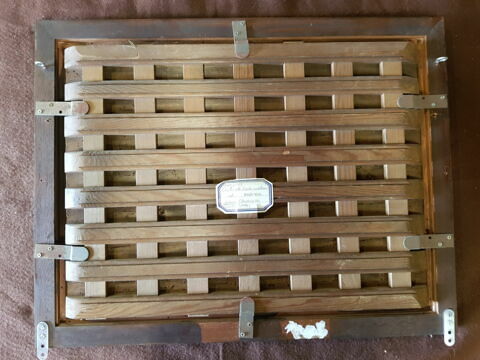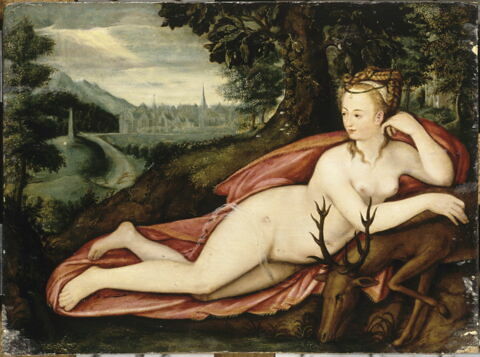 Diane dans un paysage
Date de création/fabrication : XVIe siècle (Vers 1550 - 1560) (1550 - 1560)
Artwork recovered after World War II, retrieved by the Office des Biens et Intérêts Privés (OBIP); to be returned to its rightful owner once they have been identified. Online records of all MNR ('National Museums Recovery') works can be found on the French Ministry of Culture's Rose Valland database.
En dépôt : Musée International de la Chasse, Gien

Inventory number
Numéro principal : MNR 997
Description
Object name/Title
Titre : Diane dans un paysage
Autre titre : Diane au cerf (portrait idéalisé de Diane de Poitiers?)
Inscriptions
Inscription :
Etiquette manuscrite au revers : "cat n°25/Ecole de Fontainebleau/id. MNR 997/Diane chasseresse / C Restitué par l'Allemagne/juillet 1994 (sic)".
Physical characteristics
Dimensions
Largeur avec accessoire : 0,62 m ; Hauteur : 0,393 m ; Hauteur avec accessoire : 0,483 m ; Largeur : 0,535 m
Materials and techniques
bois
Places and dates
Date
XVIe siècle (Vers 1550 - 1560) (1550 - 1560)
History
Object history
Ce tableau fait partie d'un lot d'oeuvres confiées par un officier allemand en poste à Paris à un soldat de la Wehrmacht, à la fin de la guerre, avec pour mission de les emporter en Allemagne où l'officier devait les récupérer après la guerre. Celui-ci ne s'étant jamais manifesté, l'ex-soldat décida de les remettre, sous le secret de la confession, à Mgr Heinrich Solbach, de l'archevêché de Magdebourg ; pour que ces tableaux soient restitués à leurs véritables propriétaires, le prélat les remit au représentant des musées de l'État de Berlin en 1972 (n° 25 de la liste) ; restitué par la République Fédérale d'Allemagne en 1994 ; Louvre de 1994 à 1999 ; déposé au musée international de la chasse à Gien en 1999.
Acquisition details
attribution par l'office des biens privés (MNR)
Acquisition date
date d'arrivée au Musée : 1994
Owned by
Musées Nationaux Récupération
Location of object
Current location
Gien (France), Musée International de la Chasse, salle d'exposition
Index
Bibliography
- Foucart-Walter, Élisabeth (dir.), Foucart, Jacques, Catalogue des peintures flamandes et hollandaises du musée du Louvre, [Musée du Louvre, Département des peintures], Paris, Editions Gallimard/Musée du Louvre Editions, 2009, p. 340, 344
- Lesné, Claude ; Roquebert, Anne, Catalogue des peintures M.N.R., Paris, R.M.N., 2004, p. 262, ill. n&b
- Cuzin, Jean-Pierre ; Allard, Sébastien (dir.), Musée du Louvre. Nouvelles acquisitions du département des Peintures (1996-2001), Paris, R.M.N., 2002, p. 226
- Cuzin, Jean-Pierre (sous la direction de), Musée du Louvre. Nouvelles acquisitions du département des Peintures (1991-1995), Paris, RMN, 1996, p. 294
- Bilder aus Frankreich: 28 Gemälde, Pastelle, Aquarelle und Zeichnungen aufbewahrt in der Nationalgalerie, Staatliche Museen zu Berlin, 1991, cat. exp. (Berlin, Nationalgalerie, 26. juin - 30 septembre 1991), Berlin, Staatliche Museen zu Berlin, 1991, p. 14-15, ill.
- Bardon, Françoise, Diane de Poitiers et le mythe de Diane, Paris1963, Presses universitaires de France, p. 98-99
Last updated on 23.11.2020
The contents of this entry do not necessarily take account of the latest data.