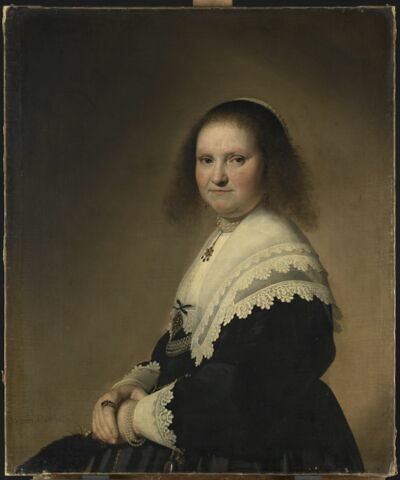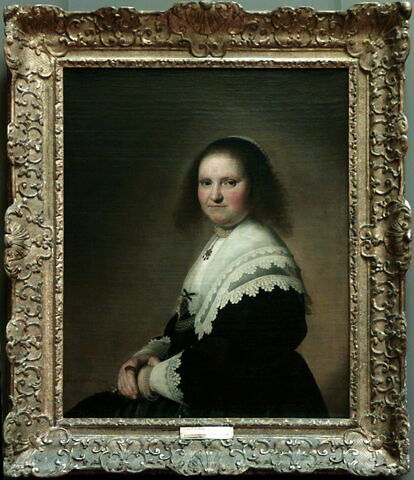 Portrait d'Anna van Schoonhoven (avant 1610-1648), femme du bourgmestre de Haarlem, Johan Colterman
Département des Peintures
Actuellement visible au Louvre
Inventory number
Numéro principal :
RF 1944
Artist/maker / School / Artistic centre
Description
Object name/Title
Titre : Portrait d'Anna van Schoonhoven (avant 1610-1648), femme du bourgmestre de Haarlem, Johan Colterman
Description/Features
Réplique S.D. 1645 et comportant les armoiries du modèle, au musée Sinebrychoff à Helsinki (Ekkart, n° 59), et identifié en 1906 par une inscription ancienne au verso (cf. Frimmel), avec pendant masculin dans une coll. part. en Hollande (Ekkart, n° 58) : l'homme répond, à gauche, à la femme qui se place comme d'habitude à droite du mari. On ne sait si le R.F. 1944 faisait lui aussi pendant à un portrait du mari, mais c'est probable.
Inscriptions
Signature :
S.D.b.g. : J. Verspronck. An. 1641.
Physical characteristics
Dimensions
Hauteur : 0,81 m ; Largeur : 0,68 m
Materials and techniques
huile sur toile
Places and dates
Date
2e quart du XVIIe siècle (1641)
History
Object history
Vente marquis de La Rocheb… [Rochebousseau], nom fictif qui dissimule en fait une vente organisée par le marchand Léon Gauchez, Paris, 5-8 V 1873, n° 215 (portrait de femme) ; Maurice Cottier (1822-1881), Paris ; legs de ce dernier sous réserve d'usufruit en faveur de son épouse, 1881 ; usufruit éteint en 1903.
Collector / Previous owner / Commissioner / Archaeologist / Dedicatee
Acquisition details
legs sous réserve d'usufruit
Acquisition date
date : 1881
Held by
Musée du Louvre, Département des Peintures
Location of object
Current location
Richelieu, [Peint] Salle 846 - Frans Hals (1581/1585-1666) et la peinture à Haarlem
Bibliography
- Foucart-Walter, Élisabeth (dir.), Foucart, Jacques, Catalogue des peintures flamandes et hollandaises du musée du Louvre, [Musée du Louvre, département des Peintures], Paris, Editions Gallimard / Musée du Louvre Editions, 2009, p. 286, ill. n&b
Last updated on 24.05.2019
The contents of this entry do not necessarily take account of the latest data.