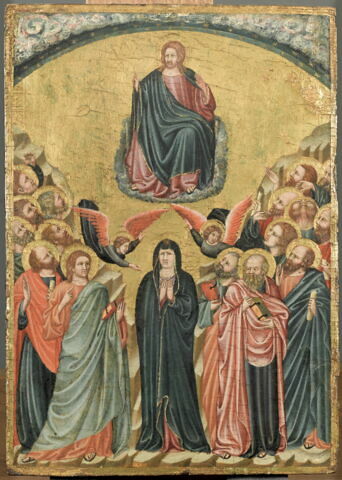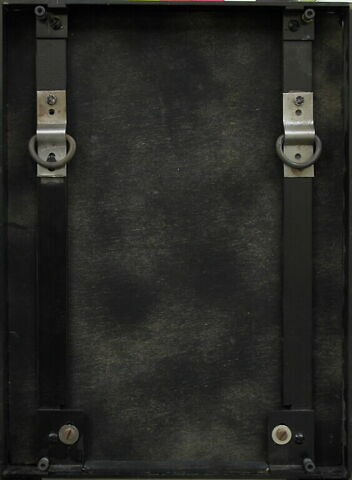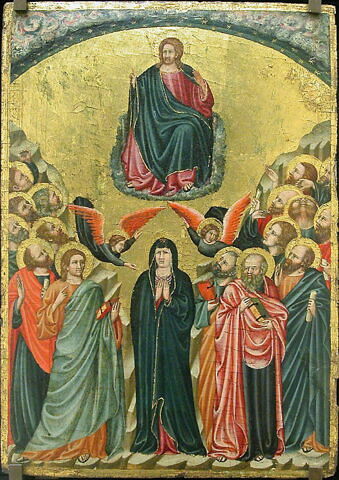 Actuellement visible au Louvre
Inventory number
Numéro principal : DL 1973 25
Artist/maker / School / Artistic centre
Description
Object name/Title
Titre : L'Ascension
Description/Features
Élément d'un petit polyptyque, peut-être un quadriptyque, auquel appartient Padoue, première moitié du XIVe siècle R.F. 1979-18, et sans doute la Crucifixion du Museo Thyssen-Bornemisza de Madrid. La Vierge à l'Enfant du W. Art Museum de Worcester, rapprochée de ces trois panneaux et attribuée par certains à Lippo di Benivieni (cf. Donati, Arte Illustrata, avril 1971), semble d'une autre main.
Physical characteristics
Dimensions
Hauteur : 0,29 m ; Largeur : 0,2 m
Materials and techniques
fond d'or sur bois
Places and dates
Date
1e moitié du XIVe siècle (1300 - 1350)
History
Object history
J. O. Legenhoek (1906-1997), marchand d'art, Paris ; Léon Salavin († 1976) et Mme née Jeanne Fournier († 1992), Paris ; don à la Fondation de France pour dépôt au Louvre, 1973 (inventaire : école de Padoue, XIVe s.).
Collector / Previous owner / Commissioner / Archaeologist / Dedicatee
Acquisition details
dépôt
Acquisition date
date de l'arrêté/décision : 1973
Owned by
Fondation de France, Paris
Location of object
Current location
Denon, [Peint] Salle 709 - Salle des Sept Mètres
Bibliography
- Banzato, Davide ; Flores d'Arcais, Francesca ; Spiazzi, Anna Maria (dir.), Guariento e la padova carrarese, cat. exp. (Padoue (Italie), Palazzo del Monte di Pietà, 16 avril - 31 juillet 2011), Venise, Marsilio Editori, 2011, p. 106-108, ill. coul., cat. 6.2
- Foucart-Walter, Élisabeth (dir.), Habert, Jean ; Loire, Stéphane ; Scailliérez, Cécile ; Thiébaut, Dominique, Catalogue des peintures italiennes du musée du Louvre. Catalogue sommaire, [Musée du Louvre, Département des peintures], Paris, Editions Gallimard/Musée du Louvre Editions, 2007, p. 59, ill. n&b
- Schmidt, Victor M., « Portable Polyptychs with Narrative Scenes : Fourteenth Century De Luxe Objects between Italian Panel Painting and French Arts somptuaires », dans Schmidt, Victor M. (dir.), Italian Panel painting of the Duecento and Trecento, Washington, National Gallery of Art, Washington, 2002, p. 395-425, p. 398, 400, fig. 11
- Il Trecento riminese. Maestri e botteghe tra Romagna e Marche, cat. exp. (Rimini, Museo della città, 20 août 1995 - 7 janvier 1996), Milan, Electa, 1995, p. 9
- Freuler, Gaudenz, Manifestatori delle cose miracolose. Arte italiana del 300' e 400' da collezioni in Svizzera e nel Liechtenstein, cat. exp. (Castagnola, collection Thyssen-Bornemisza, 7 avril - 30 juin 1991), Lugano, Fondation Thyssen-Bornemisza - éd. Lugano-Einsiedeln, 1991, p. 120-122, 276
- Boskovits, Miklos, Early Italian painting 1290-1470 ; Lugano, Fondation Thyssen-Bornemisza, Londres, Sotheby's, 1990, p. 152-157
Exhibition history
- Il tricento Riminese. Maestri e Botteghe tra romagna e marche., Rimini (Italie), Museo della Città, 20/08/1995 - 06/01/1996
- Guariento e la padova carrarese, Padoue (Externe, Italie), Palazzo del Monte di Pietà, 16/04/2011 - 31/07/2011
Last updated on 20.01.2021
The contents of this entry do not necessarily take account of the latest data.