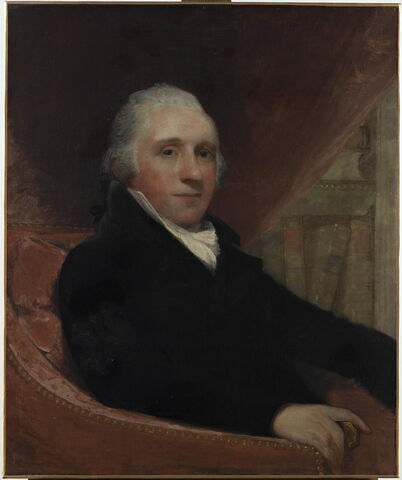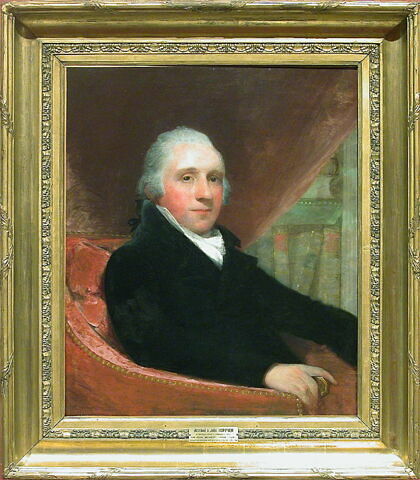 Portrait d'homme, dit auparavant Portrait de Sir John Beckett (1743- 1826)
Département des Peintures
Actuellement visible au Louvre
Inventory number
Numéro principal :
RF 1961 49
Artist/maker / School / Artistic centre
Description
Object name/Title
Titre : Portrait d'homme, dit auparavant Portrait de Sir John Beckett (1743- 1826)
Description/Features
Longtemps attribué à Hoppner, le R.F. 1961-49 a été rendu à Gilbert Stuart par John Human Wilson (comm. écrite, 1987). L'identification du modèle avec Sir John Beckett, de Somerby Park, près de Lincoln, deux fois maire de Leeds, ne peut être maintenue.
Physical characteristics
Dimensions
Hauteur : 0,73 m ; Hauteur avec accessoire : 0,955 m ; Largeur : 0,61 m ; Largeur avec accessoire : 0,827 m
Materials and techniques
huile sur toile
Places and dates
Date
Milieu du XVIIIe siècle (1746)
History
Object history
R. P. Attenborough ; vente de ce dernier (comm. écrite de Margaret Christian, 1978), Londres, Christie's, 8 III 1902, n° 101 (Hoppner, Sir John Beckett) ; Coureau. – Vente après décès de Henri Louis Carey, Genève, de la succession du Dr Scherbel, Bâle, et de divers collectionneurs de Zurich, Lucerne, galerie Fischer, 25-28 X 1944, n° 1499 (Hoppner, Sir Henri Becket [sic]).– Victor Lyon (1878-1963), Paris ; donation Hélène (1883-1946), épouse de ce dernier, et Victor Lyon, sous réserve d'usufruit en faveur de leur fils Édouard, 1961 (comme Hoppner) ; usufruit éteint en 1977 ; entré au musée (inscrit sur l'inventaire R.F. comme attribué à Hoppner).
Collector / Previous owner / Commissioner / Archaeologist / Dedicatee
Acquisition details
donation
Acquisition date
date : 1977
Held by
Musée du Louvre, Département des Peintures
Location of object
Current location
Sully, [Peint] Salle 903 - Donation Hélène et Victor Lyon
Bibliography
- Meslay, Olivier ; Faroult, Guillaume, « Ecoles britannique et américaine », dans Foucart-Walter, Élisabeth (dir.), Catalogue des peintures britanniques, espagnoles, germaniques, scandinaves et diverses du musée du Louvre, [Musée du Louvre, Département des peintures], Paris, Louvre éditions / Gallimard, 2013, p. 19-55, p. 55
- Brejon de Lavergnée, Arnauld ; Thiébaut, Dominique, Catalogue sommaire illustré des peintures du musée du Louvre. II. Italie, Espagne, Allemagne, Grande-Bretagne et divers, Paris, R.M.N., 1981, p. 85
Last updated on 14.02.2022
The contents of this entry do not necessarily take account of the latest data.