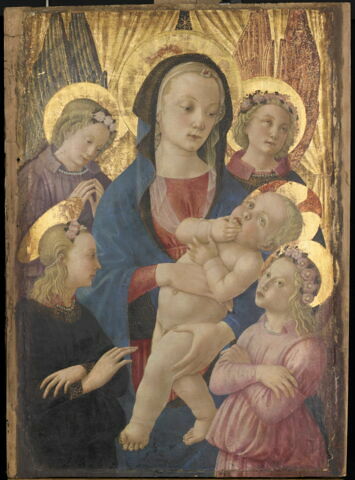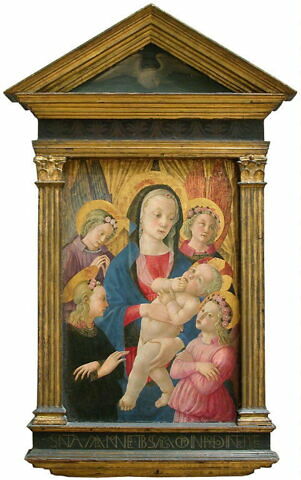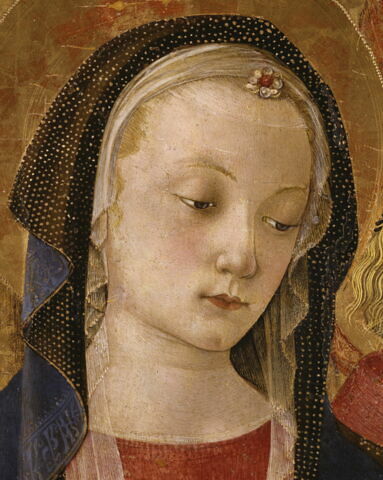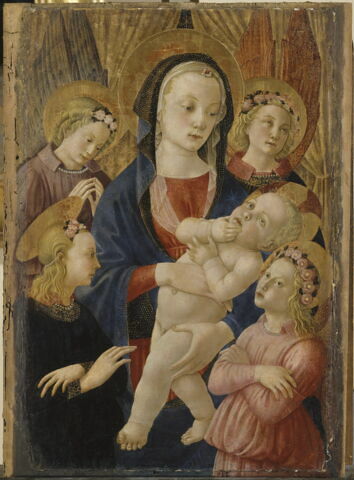 La Vierge et l'Enfant entourés de quatre anges
1450 / 1475 (3e quart du XVe siècle)
Département des Peintures
Actuellement visible au Louvre
Inventory number
Numéro principal :
RF 1506
Artist/maker / School / Artistic centre
Description
Object name/Title
Titre : La Vierge et l'Enfant entourés de quatre anges
Physical characteristics
Dimensions
Hauteur : 0,86 m ; Largeur : 0,62 m
Materials and techniques
huile (?) sur bois (peuplier)
Places and dates
Date
3e quart du XVe siècle (1450 - 1475)
History
Object history
Acquis par Albert Bossy (1862-1903) à Florence vers 1893, puis rapporté à Paris ; don de ce dernier, exécuté par Louis Bossy et Mme de Grignon, ses frère et sœur, en accomplissement de ses volontés, 1903 (arrêté de 1904) (inventaire : école florentine du XVe s.).
Collector / Previous owner / Commissioner / Archaeologist / Dedicatee
Acquisition date
date : 1903
Held by
Musée du Louvre, Département des Peintures
Location of object
Current location
Denon, [Peint] Salle 708 - Salon Carré
Bibliography
- Da Donatello a Lippi. Officina pratese, cat. exp. (Prato, Museo di Palazzo Pretorio, du 13 septembre 2013 au 13 janvier 2014), Milan, Skira Editore, 2013, p. 186-187, ill. coul, p. 18, n°5.5
- Thiébaut, Dominique, « XIIIe-XVe siècle », dans Foucart-Walter, Élisabeth (dir.), Catalogue des peintures italiennes du musée du Louvre. Catalogue sommaire, [Musée du Louvre, Département des peintures], Paris, Musée du Louvre Editions / Gallimard, 2007, p. 13-60, p. 37, ill. n&b
- Lachi, Chiara, Il Maestro della Natività di Castello, Florence, Edifir Edizioni, 1995, p. 17
- Brejon de Lavergnée, Arnauld ; Thiébaut, Dominique, Catalogue sommaire illustré des peintures du musée du Louvre. II. Italie, Espagne, Allemagne, Grande-Bretagne et divers, Paris, R.M.N., 1981, p. 201, ill. n&b
- Berenson, Bernard, Italian Pictures of the Renaissance. A list of the principal artists and their works with an index of places. 2. Florentine School, Londres, Phaidon Press, 1963, p. 142
- Hautecoeur, Louis, Musée national du Louvre. Catalogue des peintures exposées dans les galeries. II. Ecole italienne et Ecole espagnole, Paris, Musées nationaux, 1926, n°1657 A
- Ricci, Seymour de, Description raisonnée des peintures du Louvre. I. Ecoles étrangères. Italie et Espagne, Paris, Imprimerie de l'art, 1913, p. 187, s.n.
Exhibition history
- Officina pratese. Da Donatello a Filippo Lippi, Prato (Italie), Museo Civico, Palazzo Pretorio, 14/09/2013 - 13/01/2014
Last updated on 15.02.2022
The contents of this entry do not necessarily take account of the latest data.