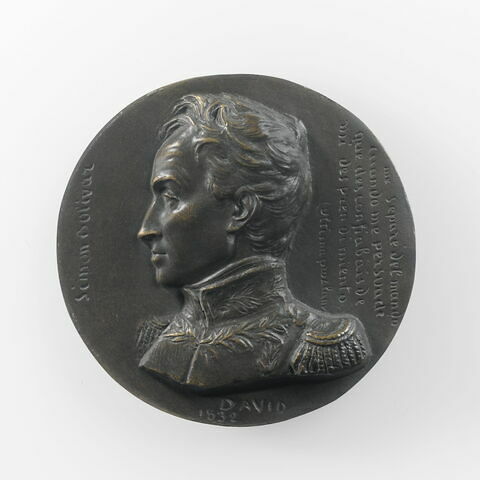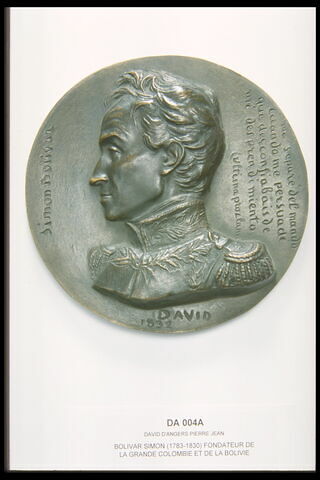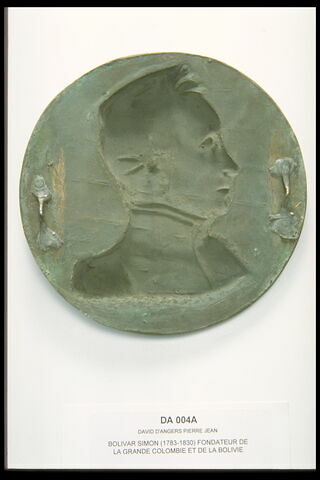 Simon Bolivar
Département des Sculptures du Moyen Age, de la Renaissance et des temps modernes
Actuellement visible au Louvre
Inventory number
Numéro principal :
DA 4 A
Autre numéro d'inventaire :
1154
Artist/maker / School / Artistic centre
Description
Object name/Title
Titre : Simon Bolivar
Description/Features
Simon Bolivar (1783-1830) général, homme d'Etat, nommé "El libertador", chef des guerres d'indépendance des colonies espagnoles d'Amérique du Sud dès 1813.
Profil à gauche
Inscriptions
Inscription :
A droite : "me separé del mondo / cuando me persuadé / que desconfiabais de / mi desprendimiento / (ultima proclam[aciòn)]" (Traduction : "Je me suis retiré du monde, lorsque
je fus convaincu que mon entreprise était sans
espoir (dernière proclamation)")
A gauche : "Simon Bolivar"
Signature :
Sous la tranche du cou : "David / 1832"
Physical characteristics
Dimensions
Diamètre : 0,155 m ; Epaisseur : 0,017 m
Materials and techniques
bronze
History
Object history
Don de Robert David d'Angers, fils du sculpteur, 1885 (comité du 22 janvier 1885, arrêté du 9 février 1885)
Collector / Previous owner / Commissioner / Archaeologist / Dedicatee
Acquisition date
date de comité/commission : 22/01/1885
date de l'arrêté/décision : 09/02/1885
Held by
Musée du Louvre, Département des Sculptures du Moyen Age, de la Renaissance et des temps modernes
Location of object
Current location
Richelieu, [SCULPT] Salle 225 - Antoine-Denis Chaudet (1763-1810), le néoclassicisme en sculpture / James Pradier (1790-1852), Salle 225 - Pradier, Vitrine 01
Bibliography
- Le Pogam, Pierre-Yves, La sculpture à la lettre : promenade épigraphique au département des sculptures du musée du Louvre, Milan / Paris, Officiana Libraria / Musée du Louvre éditions, 2008, p. 116-118, n° 69
- Vitry, Paul, Musée national du Louvre. Catalogue des sculptures du Moyen Âge, de la Renaissance et des Temps modernes. Première partie, Moyen Âge et Renaissance ; deuxième partie, Temps modernes, I, Paris, 1922, n° 1154
- Michel, André, Musée national du Louvre. Catalogue sommaire des sculptures du Moyen Âge, de la Renaissance et des Temps Modernes, Paris, 1897, n° 631
- Jouin, Henry, David d'Angers, sa vie, son œuvre, ses écrits et ses contemporains, Paris, 1879, t. I, p. 385, t. II, p. 489
Last updated on 28.06.2022
The contents of this entry do not necessarily take account of the latest data.