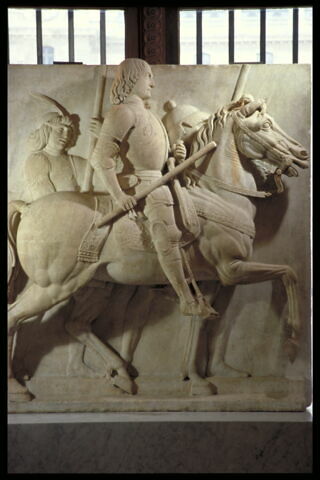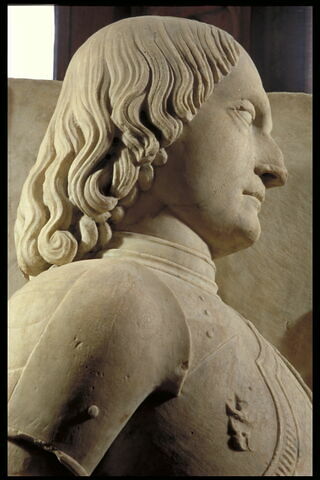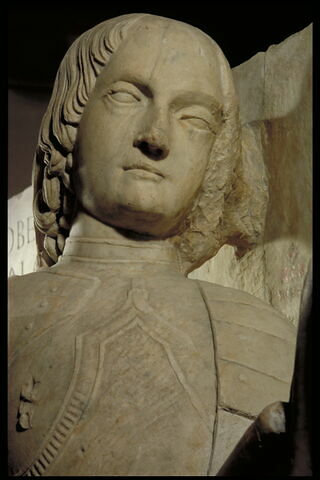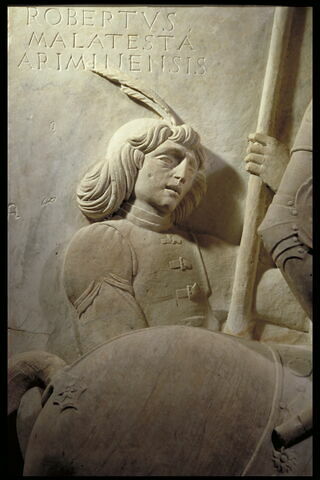 Robert Malatesta, seigneur de Rimini et général des armées pontificales (1442-1482)
Date de création/fabrication : vers 1482 - 1484
Lieu de provenance : Rome (Italie)


Actuellement visible au Louvre
Inventory number
Numéro principal : MR 1646
Autre numéro d'inventaire : N 15049
Artist/maker / School / Artistic centre
Description
Object name/Title
Titre : Robert Malatesta, seigneur de Rimini et général des armées pontificales (1442-1482)
Type of object
haut-relief
Inscriptions
Inscription :
Inscription en haut à droite : ROBERTVS : MALATESTA / ARIMINENSIS (Roberto Malatesta de Rimini)
Physical characteristics
Dimensions
Hauteur : 1,54 m ; Largeur : 1,46 m ; Profondeur : 0,43 m
Materials and techniques
marbre
History
Object history
Fragment d'un monument funéraire érigé en 1482-1484, sur l'ordre du pape Sixte IV, près du maître-autel ; monument détruit (?). Et relief placé sur la contre-façade de l'ancienne basilique Saint-Pierre à Rome, où Vasari le mentionne en 1568. Relief déposé au moment de la destruction de l'ancienne façade de la basilique et placé en 1607 dans les « grottes vaticanes ». En 1616, probablement pris par le cardinal Scipion Borghèse pour orner la façade de son « casino » (villa Borghèse) et placé sur la façade de la villa. Acquis avec la collection Borghèse le 27 septembre 1807 par Napoléon Ier. Probablement placé en 1816 dans le vestibule d'entrée du musée.
Collector / Previous owner / Commissioner / Archaeologist / Dedicatee
Acquisition details
achat
Acquisition date
date : 1807
Held by
Musée du Louvre, Département des Sculptures du Moyen Age, de la Renaissance et des temps modernes
Location of object
Current location
Denon, [SCULPT] Salle 403 - Galerie Michel-Ange
Index
Bibliography
- Courajod, Louis, «  La statue de Robert Malatesta autrefois à Saint-Pierre de Rome aujourd'hui au musée du Louvre  », Gazette des Beaux-Arts, t. 27, mars 1883, 226-238,
- Le Pogam, Pierre-Yves, La sculpture à la lettre : promenade épigraphique au département des sculptures du musée du Louvre, Milan Paris, Officiana Libraria / Musée du Louvre éditions, 2008, p. 140-141, n° 88
- Dürer e l'Italia, cat. exp. (Rome, Quirinale, 10/03 au 10/06/2007), Milan, Electa, 2007, p. 175, p. 175, II.31
- Bresc-Bautier, Geneviève, sous la direction de (dir.), Bormand, Marc ; Gaborit, Jean-René ; Guillot de Suduiraut, Sophie ; Lafabrie, Michèle ; Le Pogam, Pierre-Yves ; Tupinier-Barrillon, Béatrice ; Leroy-Jay Lemaistre, Isabelle ; Scherf, Guilhem, Les Sculptures européennes du Musée du Louvre: Byzance, Espagne, îles Britanniques, Italie, Anciens Pays-Bas et Belgique, pays germaniques et de l'Europe de l'Est, pays scandinaves, Antiques restaurées et copies d'antiques, Paris, Somogy, éditions d'art ; Musée du Louvre éditions, 2006, p. 229, ill. 229
- Il Potere. Le Arti. La Guerra. Lo splendore dei Malatesta. 3 mars- 15 juin 2001, Milan, 2001, p. 386-387, n° 170
- Grimaldi, Giacomo, Descrizione della Basilica antica di San Pietro in Vaticano : Codice Barberini latino 2733, 1972, p. 157
- Seymour, Charles Jr, Sculpture in Italy. 1400 to 1450, 1966, p. 158
- Valentiner, Wilhelm R., « Italian renaissance sculpture. The tomb of Roberto Malatesta  », Art in America, 1947, p. 301-312.,
- Vasari, Giorgio, Le vite de' più eccellenti pittori, scultori e architettori scritte da Giorgio Vasari, pittore aretino con nuove annotazione di Gaetano Milanesi, t. III, 1878, p. 648
- Barbet de Jouy, Henry, Musée impérial du Louvre. Description des sculptures modernes, 1855, n° 13
- Cicognara, Leopoldo, Storia della scultura dal suo risorgimento in Italia fino al secolo di Canova del conte Leopoldo Cicognara...Libro Terzo, Stato della scultura dal suo risorgimento in Italia sino a Donatello. Epoca prima, vol. 3, 1823, p. 137
- Seroux d'Agincourt, Jean Baptiste Louis Georges, Histoire de l'art par les monumens depuis sa décadence au IV è siècle jusqu'à son renouvellemnt au XVIe siècle, t. III, 1823, p. 34, n° 7
- Visconti, Ennio Quirino, Sculture del Palazzo della Villa Borghese detta Pinciana, 1796,
- Manilli, Jacomo, Descriptio Villae Burghesiae extra portam Pincianam, Rome, 1650, p. 32, 38-39
- Torrigio, Francesco Maria, Sacre grotte Vatican. Nelle quali si tratta di corpi santi sepolchri de'pont., imperatori, rè, cardinali, vescovi chiese, statue, imagini, inscrittioni, epigraffij, e altre cose memorabili si dentro Roma, come fuori, 1639, p. 601
- Clarac, Charles Othon Frédéric Jean-Baptiste de (Comte de), Musée de sculpture antique et moderne ou description historique et graphique du Louvre et de toutes ses parties, des statues, bustes, bas-reliefs et inscriptions du musée royal des Antiques et des Tuileries […], Paris, 1841-1853, p. 798-799, n° 360
- Negri Arnoldi, Francesco, « Il monumento di Roberto Malatesta per la basilica di S. Pietro, oggi al Louvre  », Palatino. Rivista romana di cultura, année VII, n° 1-4, janvier-avril 1963, p. 2-4.,
- Bertolotti, Antonino, Artisti lombardi a Roma nei secoli XV, XVI e XVII. Studi e richerche negli archivi romani, 1, 1881, p. 244 et suiv.
Exhibition history
- Portraits du Louvre, Tokyo (Japon), Musée d'art occidental - Taito-Ku ueno Koen, 27/08/1991
Last updated on 11.08.2017
The contents of this entry do not necessarily take account of the latest data.