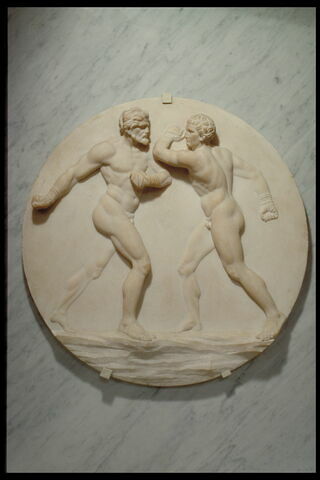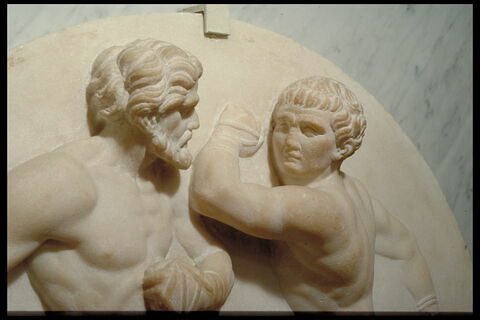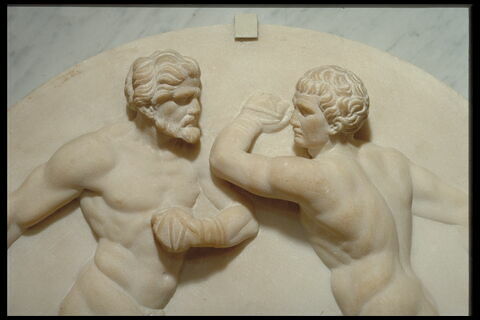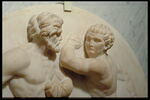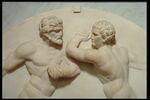 Pugilistes
1700 / 1800 (XVIIIe siècle)
Département des Sculptures du Moyen Age, de la Renaissance et des temps modernes
Actuellement visible au Louvre
Inventory number
Numéro principal :
MR 2675
Autre numéro d'inventaire :
N 15610
Artist/maker / School / Artistic centre
Description
Object name/Title
Titre : Pugilistes
Physical characteristics
Dimensions
Profondeur : 0,1 m ; Diamètre : 0,6 m
Materials and techniques
marbre
History
Object history
Versement des Antiquités Grecques, Romaines et Etrusques
année statut juridique : 1953
Exécutés à Rome en 1782, à la demande de Marcantonio Borghèse (1730-1800), pour orner le socle en marbre et en albâtre réalisé par Lorenzo Cardelli du Gladiateur antique (ce dernier au département des Antiquités Grecques, Etrusques et Romaines). Acquis en 1807 avec la collection Borghèse. Présentés au musée du Louvre dans la salle du Gladiateur. Transmis au département des Sculptures en 1953. Anciennement attribués à Bernin, puis à Vincenzo Pacetti sur la foi d'une inscription lue autrefois au cours d'un nettoyage, effacée et transmise par voie orale.
Collector / Previous owner / Commissioner / Archaeologist / Dedicatee
Held by
Musée du Louvre, Département des Sculptures du Moyen Age, de la Renaissance et des temps modernes
Location of object
Current location
Denon, [SCULPT] Salle 403 - Galerie Michel-Ange, Table 3
Bibliography
- Bresc-Bautier, Geneviève, sous la direction de (dir.), Bormand, Marc ; Gaborit, Jean-René ; Guillot de Suduiraut, Sophie ; Lafabrie, Michèle ; Le Pogam, Pierre-Yves ; Tupinier-Barrillon, Béatrice ; Leroy-Jay Lemaistre, Isabelle ; Scherf, Guilhem, Les Sculptures européennes du Musée du Louvre: Byzance, Espagne, îles Britanniques, Italie, Anciens Pays-Bas et Belgique, pays germaniques et de l'Europe de l'Est, pays scandinaves, Antiques restaurées et copies d'antiques, Paris, Somogy, éditions d'art ; Musée du Louvre éditions, 2006, p. 179, ill. 179
- Guerrieri Borsoi, Maria Barbara, « Sculture romane del Settecento », dans Tra invenzione e restauro : Agostino Penna, 1, La professione dello scultore. Rome, 2001, 137-181, p. 153
- Cuzin, Jean-Pierre ; Gaborit, Jean-René ; Pasquier, Alain (dir.), D'après l'Antique, cat. exp. (Paris, musée du Louvre, 16 octobre 2000 - 15 janvier 2001), Paris, RMN, 2000, p. 146-149
- Bowron, Edgar Peters ; Rishel, Joseph J. (dir.), Art in Rome in the Eighteenth Century, cat. exp. (Philadelphia (Etats-Unis), Philadelphia Museum of Art, 2000 ; Houston (Etats-Unis), The Museum of Fine Arts, 2000), Philadelphie, Merell Publishers, 2000, p. 207, repr. p. 207, n° 99
- Gonzalez-Palacios, Alvar, « La stanza del Gladiator  », Antologia di belle arti, t. IV, n° 43-47, 1993, 5-33, p. 10-15
- Hubert, Gérard, Sculpture dans l'Italie napoléonienne, Paris, 1964, p. 57
- Honour, Hugh, « The Rome of Vincenzo Pacetti : leaves from a sculptor's diary », Apollo, novembre, 1963, 368-376, p. 371
- Martinelli, Valentino, Le Promoteca Capitolina, Rome, 1955, p. 38, n° 31
- Clarac, Charles Othon Frédéric Jean-Baptiste de (Comte de), Description du Musée Royal des Antiques du Louvre, Paris, 1830, Disponible sur : ark:/12148/bpt6k6552349p , p. 118, n° 262
- Visconti, Ennio Quirino, Sculture del Palazzo della Villa Borghese detta Pinciana, 1796, p. 53
- La Stanza del Gladiatore ricostituita. Il capolavoro della committenza Borghese del Settecento. 12 décembre 2003 - 16 mai 2004, Rome, 2003-2004, p. 150-155, repr. p. 152, n°17
- Clarac, Charles Othon Frédéric Jean-Baptiste de (Comte de), Musée de sculpture antique et moderne ou description historique et graphique du Louvre et de toutes ses parties, des statues, bustes, bas-reliefs et inscriptions du musée royal des Antiques et des Tuileries […], Paris, 1841-1853, p. 799-800, Pl. 228, n° 262
Exhibition history
- La stanza del gladiatore, Rome (Italie), Galleria Borghese, 05/12/2003 - 21/03/2004
Last updated on 24.02.2021
The contents of this entry do not necessarily take account of the latest data.