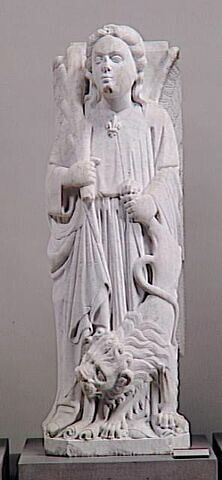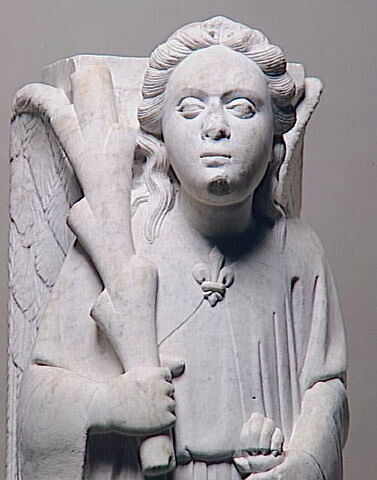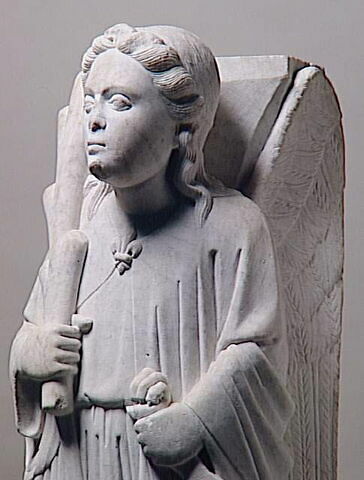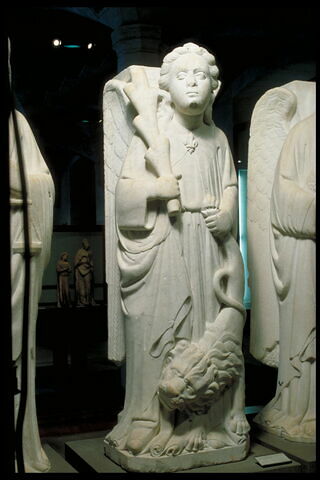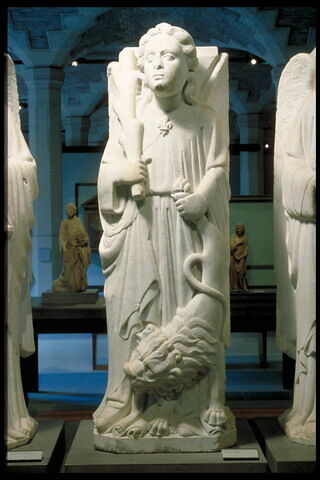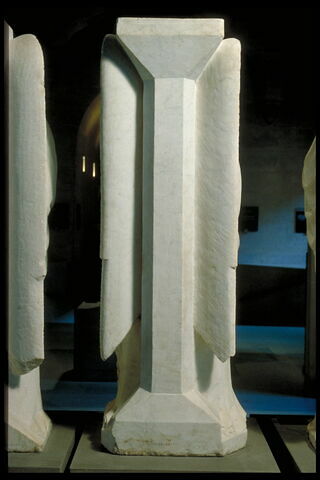 La Force tenant une massue et maîtrisant un lion
1300 / 1350 (1ère moitié du XIVe siècle)
Département des Sculptures du Moyen Age, de la Renaissance et des temps modernes
Actuellement visible au Louvre
Inventory number
Numéro principal :
RF 617
Artist/maker / School / Artistic centre
Description
Object name/Title
Titre : La Force tenant une massue et maîtrisant un lion
Description/Features
Personnifications des quatre Vertus cardinales (avec RF 0616, 0618, 0619) : proviennent d'un monument funéraire où elles jouaient le rôle de caryatides supportant le sarcophage, selon une formule fréquente à Naples, sous la dynastie angevine.
Physical characteristics
Dimensions
Hauteur : 1,098 m ; Largeur : 0,41 m ; Profondeur : 0,325 m
Materials and techniques
marbre
History
Object history
Acquis de M. Rinaldi à Paris (comités du 15 mars et du 5 avril, arrêté du 2 avril 1883).
Collector / Previous owner / Commissioner / Archaeologist / Dedicatee
Acquisition details
achat
Acquisition date
date : 1883
Held by
Musée du Louvre, Département des Sculptures du Moyen Age, de la Renaissance et des temps modernes
Location of object
Current location
Denon, [SCULPT] Salle 160 - Galerie Donatello
Bibliography
- Bresc-Bautier, Geneviève, sous la direction de (dir.), Bormand, Marc ; Gaborit, Jean-René ; Guillot de Suduiraut, Sophie ; Lafabrie, Michèle ; Le Pogam, Pierre-Yves ; Tupinier-Barrillon, Béatrice ; Leroy-Jay Lemaistre, Isabelle ; Scherf, Guilhem, Les Sculptures européennes du Musée du Louvre: Byzance, Espagne, îles Britanniques, Italie, Anciens Pays-Bas et Belgique, pays germaniques et de l'Europe de l'Est, pays scandinaves, Antiques restaurées et copies d'antiques, Paris, Somogy, éditions d'art ; Musée du Louvre éditions, 2006, p. 219, ill. 219
- Morisani, Ottavio, « Quattro sculture campane al Louvre  », Napoli nobilissima, 1966, p. 171-174., p. 171-174
- Valentiner, Wilhelm R., Tino di Camaiano. A Sienese sculptor of the fourteenth century, Paris, 1935, p. 151 et 152
- Vitry, Paul, Musée national du Louvre. Catalogue des sculptures du Moyen Âge, de la Renaissance et des Temps modernes. Première partie, Moyen Âge et Renaissance ; deuxième partie, Temps modernes, I, Paris, 1922, n° 571-574
- Michel, André, Musée national du Louvre. Catalogue sommaire des sculptures du Moyen Âge, de la Renaissance et des Temps Modernes, Paris, 1897, n° 281-284
- Negri Arnoldi, Francesco, « Scultura trecentesca in Calabria : Apporti esterni e attività locale  », Bolletino d'arte, t. LXVIII- série VI, n° 21, sept.-oct. 1983, p. 1-48., p. 48, n° 67
Last updated on 06.03.2023
The contents of this entry do not necessarily take account of the latest data.