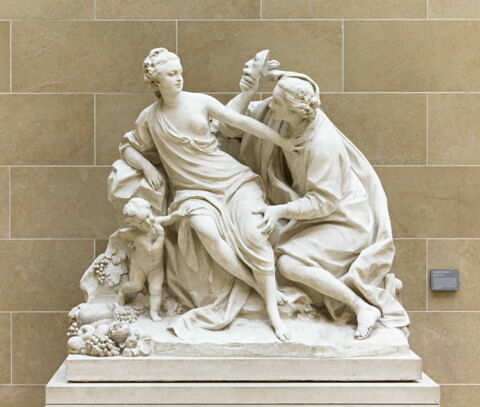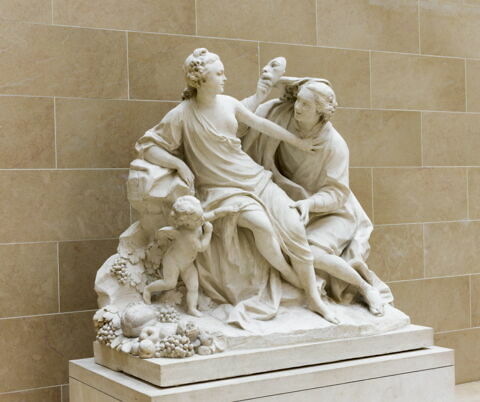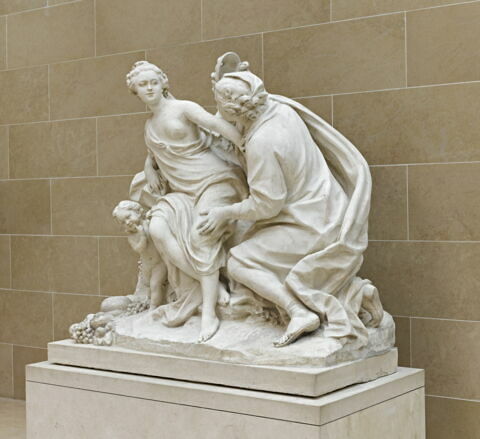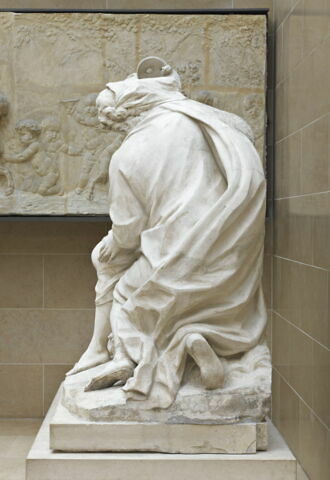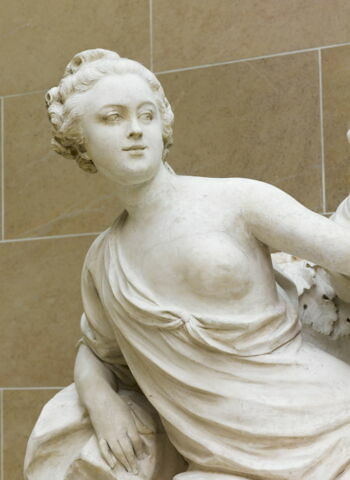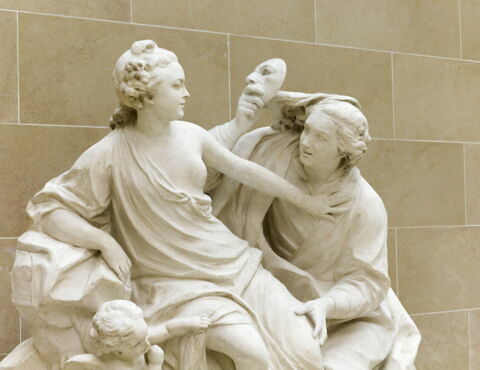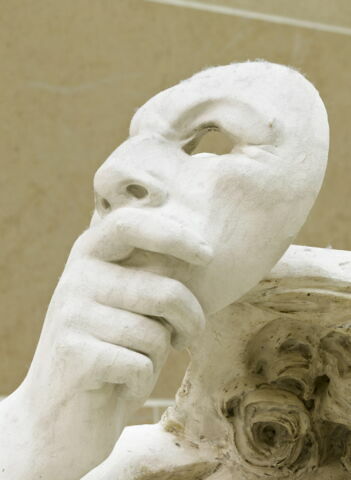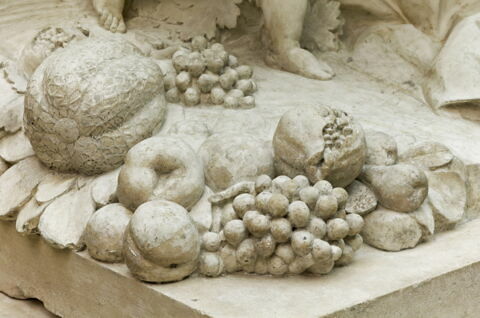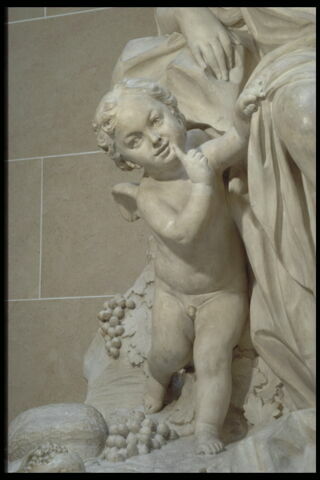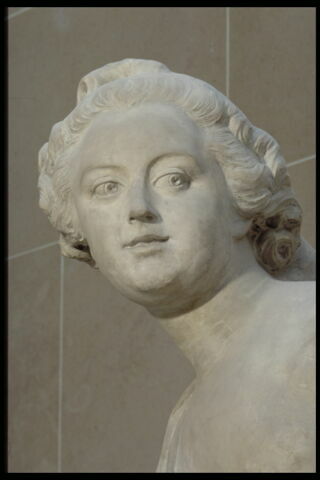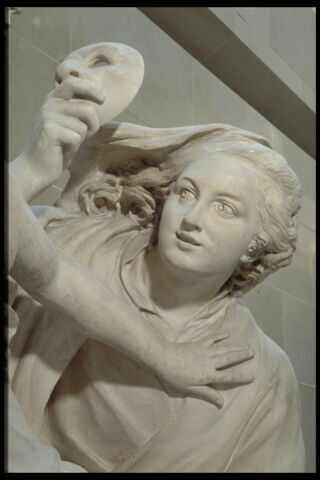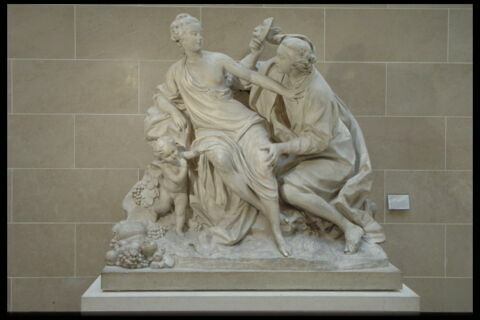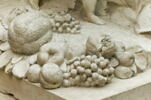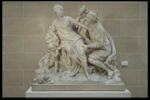 Vertumne et Pomone
Département des Sculptures du Moyen Age, de la Renaissance et des temps modernes
Actuellement visible au Louvre
Inventory number
Numéro principal :
RF 2716
Artist/maker / School / Artistic centre
Description
Object name/Title
Titre : Vertumne et Pomone
Inscriptions
Inscription :
Sur le rocher à droite : "Par .J.B. Lemoyne / 1760"
Physical characteristics
Dimensions
Hauteur : 1,63 m ; Largeur : 1,5 m ; Profondeur : 0,6 m
Materials and techniques
pierre
History
Object history
Soit commandé par Georges-Nicolas Baudard de Vaudésir (? - 1771), trésorier des colonies françaises d'Amérique, et transmis après sa mort à son fils Claude Baudard de Sainte-James (1736-1787), trésorier général de la Marine, soit acquis par ce dernier vers 1777 et placé dans les jardins de la Folie Sainte-James à Neuilly. Mentionné par Dulaure en 1786; puis par L.-V. Thiéry en 1788, alors que le domaine appartenait au duc César-Gabriel de Choiseul-Praslin (1712-1785). Commerce d'art, Paris, 1904. Collection Rodolphe Kann. Vente Kann, Paris, 1908, n° 90. Collection Georges Hersent, Paris, 1908-1952. Legs de Mme Georges Hersent, née Marie-Marthe Luzarche (1876-1951), 26 octobre 1951 (comité du 3 janvier, conseil du 10 janvier, arrêté du 23 décembre 1952). Déposé au palais de l'Élysée de 1975 à 1984.
Collector / Previous owner / Commissioner / Archaeologist / Dedicatee
Acquisition date
date du legs : 26/10/1951
date de comité/commission : 03/01/1952
date de l'arrêté/décision : 23/12/1952
Held by
Musée du Louvre, Département des Sculptures du Moyen Age, de la Renaissance et des temps modernes
Location of object
Current location
Richelieu, [SCULPT] Salle 105 - Cour Puget, Salle 105 - Partie médiane
Bibliography
- Gaborit, Jean-René sous la direction de, Sculpture française II - Renaissance et Temps Modernes, vol. 1 et 2, Paris, Editions de la Réunion des musées nationaux, 1998, p. 465
- Musée du Louvre. Nouvelles acquisitions du département des Sculptures (1984-1987), Paris, 1988, p. 132
- Louis XV, un moment de perfection dans l'art français, cat. exp. (Paris, Hôtel de la Monnaie, 1974), Paris, 1974, p. 55, n° 70
- Réau, Louis, Une dynastie de sculpteurs du XVIIIe siècle. Les Lemoyne, biographie et catalogues critiques, Paris, Les Beaux-arts, édition d'études et de documents, 1927, p. 56-57, 140, n° 21
- Bouillet, Abbé A., La folie de Saint-James à Neuilly, Réunion des Sociétés des Beaux-Arts des départements, 1894, p. 731-747, pl. XXX
Last updated on 17.05.2021
The contents of this entry do not necessarily take account of the latest data.