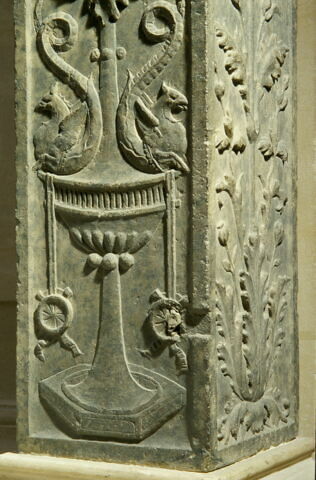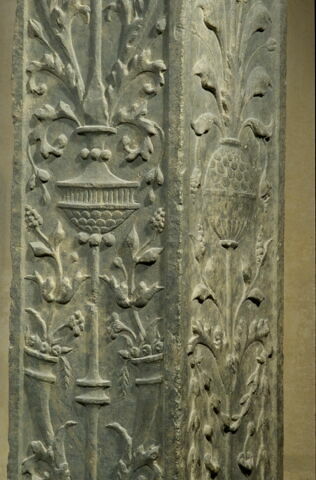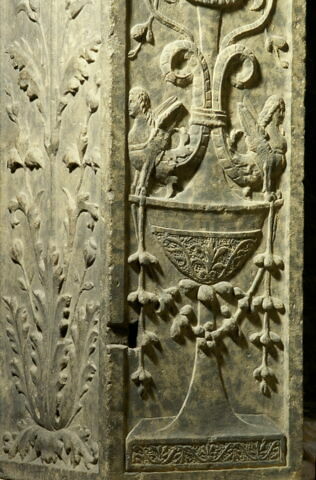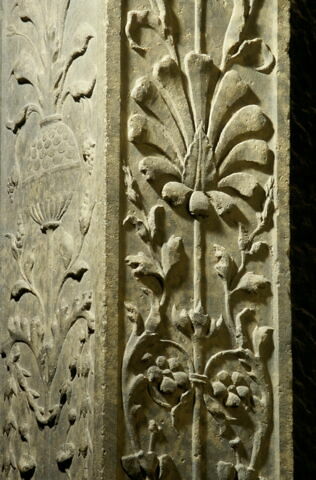 Fragment de pilastre décoré sur trois faces d'arabesques d'un panier de fruits de vases de fleurs
Date de création/fabrication : 1400 - 1500
Lieu de provenance : église Santa Maria del Carmine (Italie->Milan->église)


Actuellement visible au Louvre
Inventory number
Numéro principal : RF 2779
Artist/maker / School / Artistic centre
Description
Object name/Title
Titre : Fragment de pilastre décoré sur trois faces d'arabesques d'un panier de fruits de vases de fleurs
Titre d'usage : D'un aigle
Physical characteristics
Dimensions
Hauteur : 1,26 m ; Largeur : 0,21 m ; Profondeur : 0,305 m
Materials and techniques
pierre noire
Places and dates
Provenance
église Santa Maria del Carmine (Italie->Milan->église)
History
Object history
Ensemble reconstitué avec : RF 2788 (fragment de pilastre), RF 2789 (chapiteau), RF 2799 (base moulurée).


Fragments du monument funéraire de Pier-Francesco Visconti de Saliceto (vers 1420-1484), que fit érigé Eufrosina Barbo (ou Barbavara) pour son époux, dans la chapelle Saint-Léonard de l'église de Santa Maria del Carminée à Milan. Le monument funéraire de Pier Francesco Visconti de Saliceto se composait d'un sarcophage orné de reliefs figurés supporté par huit pilastres (reliefs dispersés entre les musées de Washington, galerie nationale, Kansas City, Nelson-Atkins Museum, et Cleveland, Museum of art). D'après les descriptions anciennes, quatre statues étaient placées devant les pilastres antérieurs. Les traces des scellements de ces statues se voient encore nettement sur trois des pilastres (remaniement du projet initial).

RF 2778-2801 : peut-être, vers 1920, collection Georges G. Barnard. Acquis en vente publique, Paris, hôtel Drouot, 25 octobre 1957.
RF 2826-2827 bis: acquis en Vente publique, Paris, hôtel Drouot, 24 février 1960 (comité du 3 mars 1960).
Collector / Previous owner / Commissioner / Archaeologist / Dedicatee
Acquisition details
achat en vente publique
Acquisition date
date : 1957
date de vente publique : 25/10/1957
Held by
Musée du Louvre, Département des Sculptures du Moyen Age, de la Renaissance et des temps modernes
Location of object
Current location
Denon, [SCULPT] Salle 403 - Galerie Michel-Ange
Bibliography
- Bresc-Bautier, Geneviève, sous la direction de (dir.), Bormand, Marc ; Gaborit, Jean-René ; Guillot de Suduiraut, Sophie ; Lafabrie, Michèle ; Le Pogam, Pierre-Yves ; Tupinier-Barrillon, Béatrice ; Leroy-Jay Lemaistre, Isabelle ; Scherf, Guilhem, Les Sculptures européennes du Musée du Louvre: Byzance, Espagne, îles Britanniques, Italie, Anciens Pays-Bas et Belgique, pays germaniques et de l'Europe de l'Est, pays scandinaves, Antiques restaurées et copies d'antiques, Paris, Somogy, éditions d'art ; Musée du Louvre éditions, 2006, p. 92, ill. 92, 93
- Longhusrt, Magaret Helen, « The so-called "Monumento to Camillo Borromeo », Arte Lombarda, 100, 1992-1, 1992, 61-69,
- Gaborit, Jean-René, « Lorenzo Ghiberti nel suo tempo », dans atti del Convegno internazionale di studi (Florence) 18-21 octobre 1978, Florence, 1980, 187-193,
- Middeldorf, Ulrich, Sculptures from the Samuel H. Kress collection, European schools XIV-XIX century, Londres, 1976, p. 54-55
- Fornari, Giuseppe Maria, Cronica del Carmine di Milano eretto in Porta Comasca…, Milan, 1685, p. 202-204
- Gaborit, Jean-René, « Fragments retrouvés du tombeau de Pier Francesco Visconti, comte de Saliceto », dans La scultura decorativa del Primo Rinascimento Atti del I Convegno Internazionale di studi, Pavie, 16-18 septembre 1980, p. 137-141,
Last updated on 01.09.2017
The contents of this entry do not necessarily take account of the latest data.