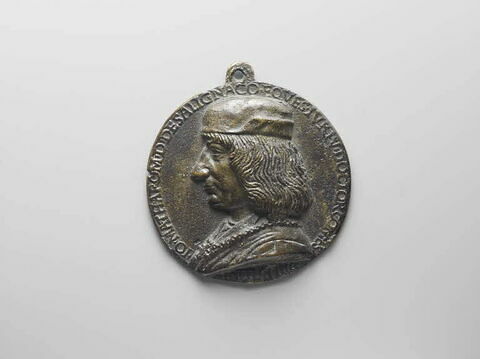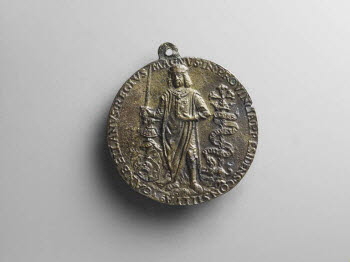 Médaille : Matheron Jean de, chambellan du roi Charles VIII / Jean Matharon en armure
Lieu de création : Italie (Europe)

Département des Objets d'art du Moyen Age, de la Renaissance et des temps modernes
Actuellement visible au Louvre
Inventory number
Numéro principal :
MRR 344
Artist/maker / School / Artistic centre
Niccolo Fiorentino
(Florence, 1430 - Florence, avant 1514), Attribué à, (source : cartels mars 2019)
Description
Object name/Title
Titre : Médaille : Matheron Jean de, chambellan du roi Charles VIII / Jean Matharon en armure
Inscriptions
Inscription :
IO MATHAROM D DESALIGNACO EQVS IVRIV DOCTOR COMES PALLATINV [Jean Matheron de Salignac, chevalier, docteur en droit, comte palatin / Jean Matheron de Salignac en pied : CANBELLANVS REGIVS MAGNVS IN PROVINCIA PRESIDENS CONSILLIA9 [grand chambellan du Roi président du conseil en province]. Sur le phylactère : FIDES SERVATA DITAT [la fidélité conservée enrichit]
Physical characteristics
Dimensions
Diamètre : 8,76 cm ; Hauteur : 9,5 cm ; Epaisseur : 1,35 cm
Materials and techniques
Matériau : bronze (bronze patine brune ; anneau fondu avec la médaille)
Technique : techniques métal
Places and dates
Date
Epoque / période : Renaissance (Occident)
Place of origin
Italie (Europe)
History
Collector / Previous owner / Commissioner / Archaeologist / Dedicatee
Acquisition details
achat
Acquisition date
date d'arrivée au Musée : 24/04/1878
Held by
Musée du Louvre, Département des Objets d'art du Moyen Age, de la Renaissance et des temps modernes
Location of object
Current location
Richelieu, [OArt] Salle 512 - Della Torre, Vitrine 1
Bibliography
- Malgouyres, Philippe, De Filarete à Riccio. Bronzes italiens de la Renaissance (1430-1550). La collection du Musée du Louvre, Paris, Louvre Editions ; Mare & Martin, 2020, p. 286, n° 55
- Hill, George Francis, A Corpus of Italian Medals of the Renaissance before Cellini, I, Londres, 1930, p. 253, n° 952d
- Migeon, Gaston, Catalogue des bronzes et cuivres de la Renaissance et des temps modernes, Paris, Librairies-imprimeries réunies, 1904, p. 364, n° 475
- Courajod, Louis, La collection Révoil du Musée du Louvre, Caen, Imprimerie Le Blanc-Hardel Henri Delesques, successeurs, 1886, p. 55, n° 325
Comparative literature
- Armand, Alfred, Les Médailleurs italiens des quinzième et seizième siècles, I, Paris, 1883, p. 26
Last updated on 18.05.2022
The contents of this entry do not necessarily take account of the latest data.