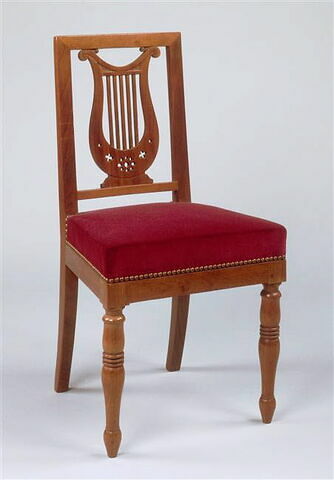 Chaise du salon de musique de Joséphine aux Tuileries
Lieu de création : Paris (France->Ile-de-France = Ile de France)

Département des Objets d'art du Moyen Age, de la Renaissance et des temps modernes
Actuellement visible au Louvre
Inventory number
Numéro principal :
OA 10883
Artist/maker / School / Artistic centre
Description
Object name/Title
Titre : Chaise du salon de musique de Joséphine aux Tuileries
Type of object
mobilier ; chaise
Description/Features
Appartient à une série de soixante chaises commandées pour le salon de musique de Joséphine aux Tuileries (cf. également OA 10882, OA 10966).
Chaise en bois d'acajou, le dossier carré et garni à jour d'une palmette sculptée et découpée en lyre. Pieds de devant tournés ; pieds postérieurs arqués. Marque au fer de l'Elysée-Bourbon, estampille de Jacob-Desmalter.
Inscriptions
Estampille :
JACOB. D. / R. MESLEE
Etiquette :
Pour le Prince [...] à l'Elysée. Grande salle à manger (inscription manuscrite sur étiquette papier)
Inscription :
EB 2667 - EB 859 (numéros d'inventaire de l'Elysée-Bourbon au pochoir noir)
EL.B, couronne et trois fleurs de lys dans un ovale (marque au fer de l'Elysée-Bourbon, en creux)
Physical characteristics
Dimensions
Hauteur : 0,87 m ; Largeur : 0,46 m ; Profondeur : 0,43 m
Materials and techniques
Matériau : acajou
Places and dates
Date
Epoque / période : Premier Empire (1804-1814) (Occident->époque contemporaine)

Date de création/fabrication : 1806
Place of origin
Paris (France->Ile-de-France = Ile de France)
History
Acquisition details
achat
Acquisition date
date : 1806
Held by
Musée du Louvre, Département des Objets d'art du Moyen Age, de la Renaissance et des temps modernes
Location of object
Current location
Richelieu, [OArt] Salle 553 - Valadier, Hors vitrine
Bibliography
- Lefuel, Hector, François Honoré Georges Jacob Desmalters : ébéniste de Napoléon et de Louis XVIII, Paris, 1925, p. 399
Last updated on 23.11.2021
The contents of this entry do not necessarily take account of the latest data.