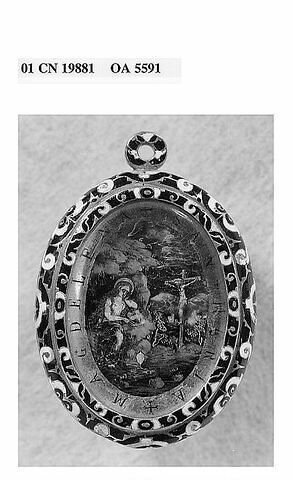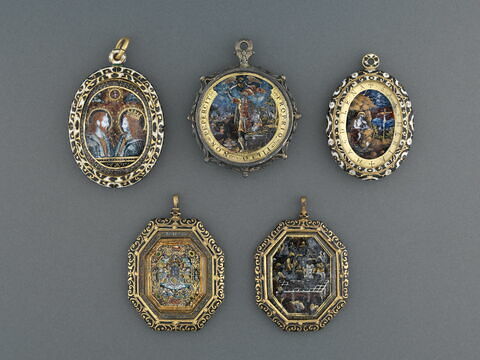 Médaillon ovale : Sainte Marie-Madeleine
Date de création/fabrication : 1500 - 1600
Lieu de création : Italie (Europe)

Actuellement visible au Louvre
Inventory number
Numéro principal : OA 5591
Description
Object name/Title
Titre : Médaillon ovale : Sainte Marie-Madeleine
Type of object
orfèvrerie, argenterie
Description/Features
Peinture sous cristal de roche, or émaillé. La monture est décorée de compartiments formés de cuirs découpés et d'arabesques émaillés de blanc et de noir. Sur chacune des faces se trouvent des peintures exécutées en or et couleur au revers d'une plaque en cristal de roche bombée.
D'un côté, sainte Marie-Madeleine au desert, assise en face d'un crucifix, avec l'inscription : San[cta] Maria + Magdelena.
Au revers, l'image de sainte Monique, debout, tenant d'une main une tige de fleurs, et supportant de l'autre la représentation d'une église. En légende on lit + Sancti + Monica.
Inscriptions
Inscription :
+ Sancti + Monica (revers)
San[cta] Maria + Magdelena (face)
Physical characteristics
Dimensions
Hauteur : 6,3 cm ; Largeur : 4,4 cm
Materials and techniques
Matériau : cristal de roche
Matériau : or
Technique : techniques pierre/ciment/plâtre/cire
Places and dates
Place of origin
Italie (Europe)
History
Collector / Previous owner / Commissioner / Archaeologist / Dedicatee
Acquisition date
date : 1901
Held by
Musée du Louvre, Département des Objets d'art du Moyen Age, de la Renaissance et des temps modernes
Location of object
Current location
Richelieu, [OArt] Salle 527 - Adolphe Rothschild, Vitrine 4
Bibliography
- Malgouyres, Philippe, « Les objets de la Renaissance, musée du Louvre , 1901 », dans Prévost-Marcilhacy, Pauline, sous la direction de (dir.), Les Rothschild. Une dynastie de mécènes en France., I, 1873-1922. Paris, Louvre éditions - BnF éditions - Somogy éditions d'art, 2016, p. 265-281, p. 269-271, 279, ill. 7 p. 269
- Marquet de Vasselot, Jean-Joseph, Musée du Louvre. Catalogue sommaire de l'orfèvrerie, de l'émaillerie et des gemmes du Moyen Age au XVIIème siècle, Paris, Gaston Braun éditeur, 1914, p. 65, MV 360
- Molinier, Emile, Donation de M. le baron Adolphe de Rothschild (Musée national du Louvre), Paris, E. Lévy, 1902, p. 18, pl. XXIII, n° 41
Last updated on 03.05.2019
The contents of this entry do not necessarily take account of the latest data.