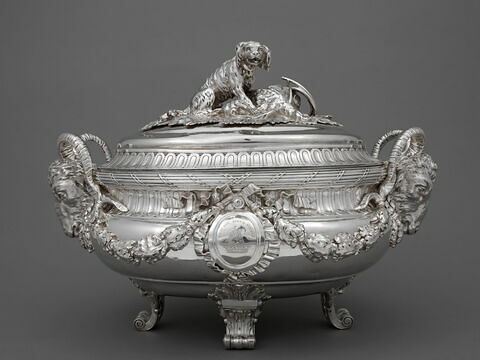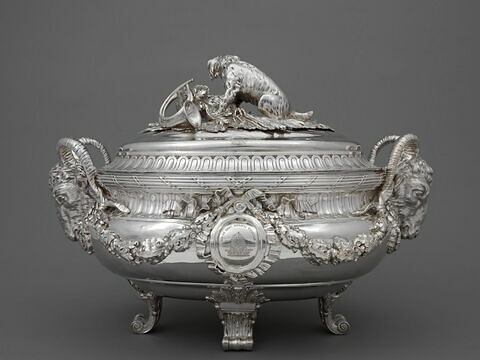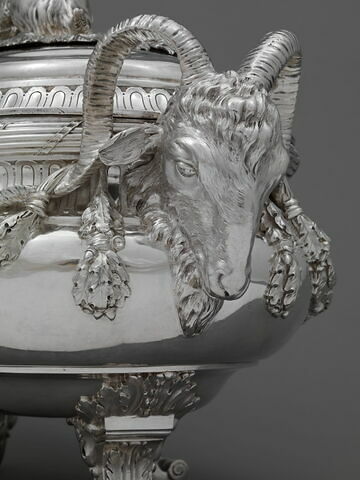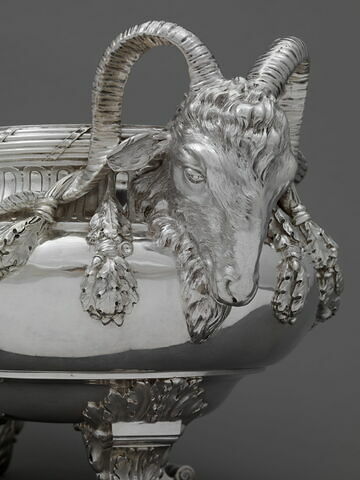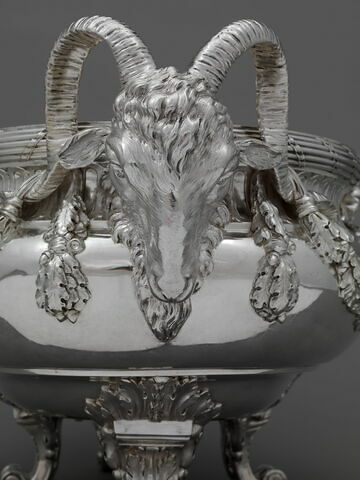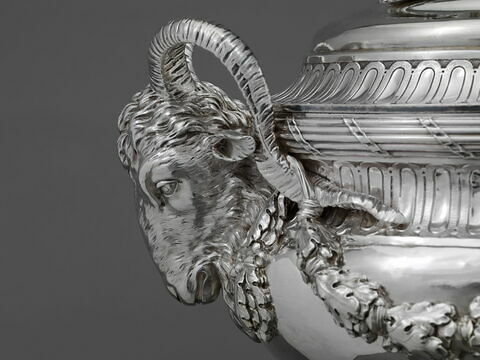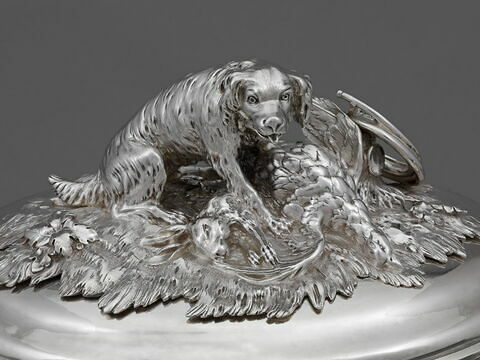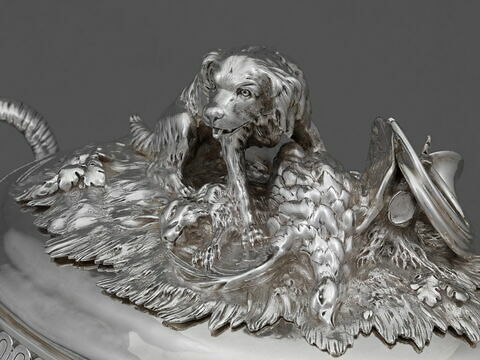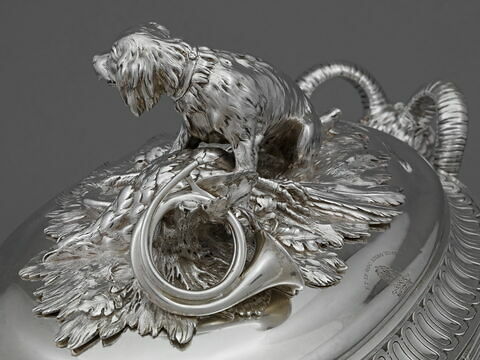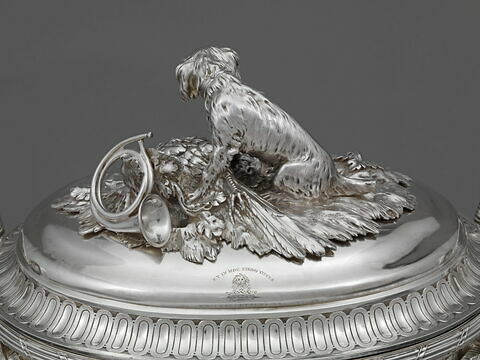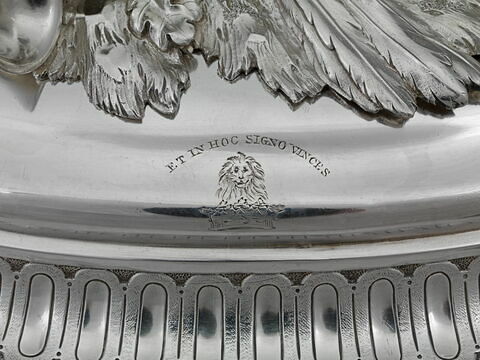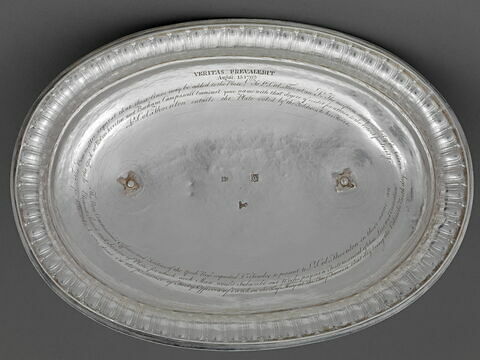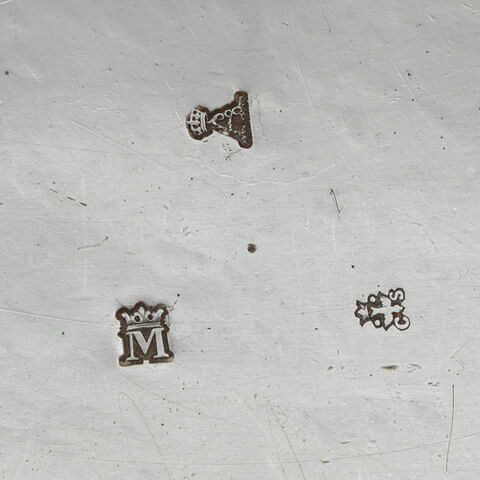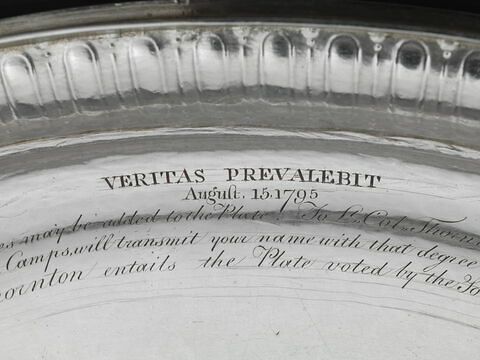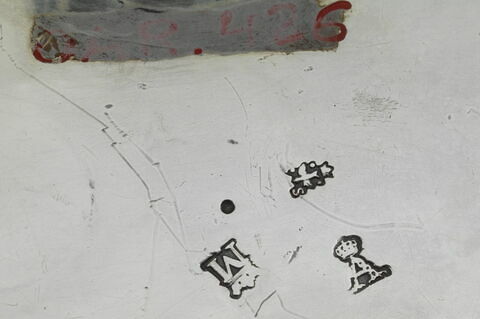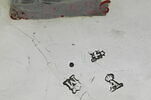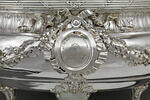 Terrine
Epoque / période : Louis XVI (1774-1792) (Occident->époque moderne = Ancien Régime->dynastie des Bourbons)

Date de création/fabrication : 1775 - 1776
Lieu de création : Paris (France->Ile-de-France = Ile de France)

Artwork recovered after World War II, retrieved by the Office des Biens et Intérêts Privés (OBIP); to be returned to its rightful owner once they have been identified. Online records of all MNR ('National Museums Recovery') works can be found on the French Ministry of Culture's Rose Valland database..
Actuellement visible au Louvre
Inventory number
Numéro principal : OAR 426
Artist/maker / School / Artistic centre
Description
Object name/Title
Titre : Terrine
Type of object
orfèvrerie, argenterie ; terrine
Description/Features
terrine en argent ovale à couvercle, portant sur quatre pieds à rouleaux, décorée de deux têtes de béliers formant anses, et de guirlandes de feuilles de chêne, en relief ; au milieu des grands côtés, deux cartouches, portent un lion gravé que surmonte l'inscription "Et in hoc signo vinces" ; le couvercle est surmonté d'un chien assis, entre les pattes duquel se trouvent un faisan et un lapin morts ; à gauche du chien, une trompe de chasse.
Inscriptions
Inscription :
gravée en anglais au revers du couvercle, devise du colonel Thornton : « VERITAS PREVALEBIT August 15 1795. The Committee request that these lines may be added to the Plate. To Lt Col. Thornton Sr. The uniform steady conduct of the soldiers of the York at Robio Tiverton and Barnham Camps, will transmit your name with degree of credit few attain to the latest posterity. Lt Col. Thornton entaits the Plate voted by the Soldiers to his Heirs. The Non Commission d'Officers and Soldiers of the York Reg. requested Dr Trusley to present to Lt Col. Thornton in their name an Elegant Sword and Service of Plate, for which he was done in presence of Forty officers of rang, on the third of May at the ... Tavern, that day being the Colonel's Birth day »
Poinçon :
Maître : Charles-Louis Spriman ; Charge Paris 1774-1780 ; Jurande Paris 1775-1776 (M)
Physical characteristics
Dimensions
Hauteur avec accessoire : 29,5 cm ; Hauteur : 17 cm ; Largeur avec accessoire : 42 cm ; Profondeur : 20 cm
Materials and techniques
Matériau : argent
Technique : techniques métal (orfèvrerie)
Places and dates
Date
Epoque / période : Louis XVI (1774-1792) (Occident->époque moderne = Ancien Régime->dynastie des Bourbons)

Date de création/fabrication : 1775 - 1776
Place of origin
Paris (France->Ile-de-France = Ile de France)
History
Object history
sous le couvercle, une inscription en anglais déclare que le 3 mai 1795 (?) cette soupière fut offerte par les soldats et officiers du régiment d'York au Colonel Thornton (au-dessus de l'inscription, la date du 15 août 1795). Elle a été « confisquée » par l'ERR en France pendant la guerre à une date inconnue, peut-être chez les Rothschild, et pourrait provenir de Cannes, selon les indications portées sur la property card : « Numero K 192, suivi de "caisse 9, 1715 argenterie pour Stéphane, Gare de Depart (Cannes)" et "Presumed owner : France, Rothschild ? ; Depôt possessor : ERR ; [...] ; History and Ownership : Confiscated by ERR ». Envoyée en Allemagne, elle est entreposée à Herrenchiemsee, dépôt de l'ERR, sous le numéro 159. Elle est retrouvée par les services américains puis envoyée au Central Collecting Point de Munich le 23 octobre 1945 et enregistrée sous le numéro 11606/1 ; le Central Collecting Point de Munich la restitue alors à l'OBIP qui enregistre l'OAR 426 : « N° ordre 12 ; n° allemand : [néant] ; n° inv.107 ; Provenance : 29ème Munich ; pays ou époque : [néant] ; auteur : [néant] ; sujet : soupière ; matière : [argent] » ; La terrine est donc revenue en France par le vingt-neuvième convoi en provenance de Munich, daté du 3 juin 1948 : « Run n° of 29th shipm. : 108 ; French Run n° 11533 ; Munich Arr n° 11606/ Herrenchiemsee 159/1 ; Author 1795 ; subject : 1 silver dish + lid ; presumed owner : Rothschild ? ; History : [confiscated by ERR] ». Lors de la réception à Paris de ce convoi, le calepin de déballage précise, le 8 juin 1948 : « Caisse 11606 [...] [N° inv.] 606/1 une soupière argent ». Cette terrine est inscrite sur la liste des oeuvres mises à la disposition des musées nationaux par l'OBIP et est retenue par de la cinquième commission de choix des oeuvres de la récupération artistique du 25 octobre 1950 ; elle est prise en charge par la direction des musées de France et confiée par celle-ci à la garde du musée du Louvre (département des objets d'art) en 1951 ; elle est ensuite inscrite dans l'Inventaire OAR (Objets d'Art Récupération) établi par Hubert Landais sous le numéro OAR 426. Les listes ERR de la famille Rothschild n'ont pas été consultées à ce jour (source : base POP Culture, base Rose Valland).
Acquisition details
attribution par l'office des biens et intérêts privés (MNR)
Acquisition date
date de l'arrêté : 1951
Owned by
Musées Nationaux Récupération
Location of object
Current location
Sully, [OArt] Salle 623 - Galerie Basile de Schlichting, Vitrine 7
Last updated on 25.01.2022
The contents of this entry do not necessarily take account of the latest data.