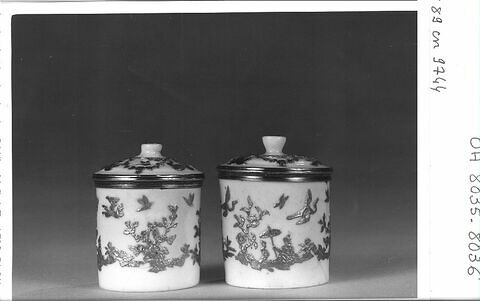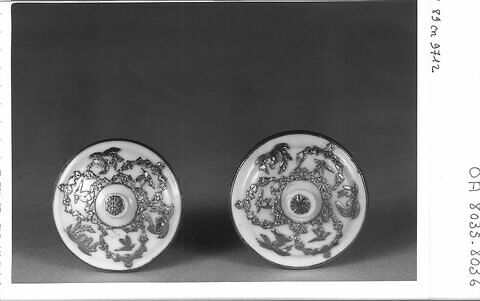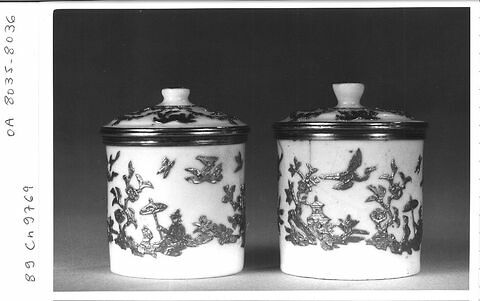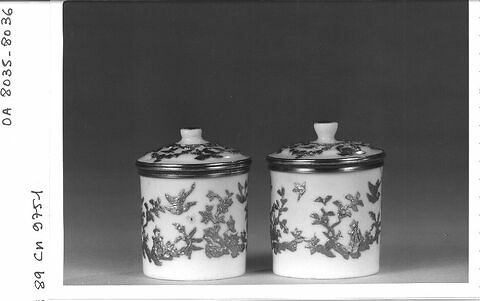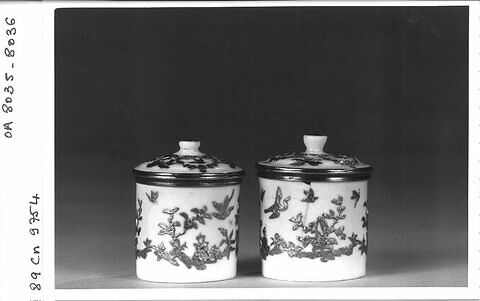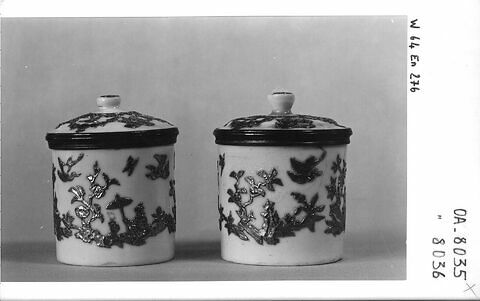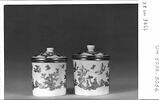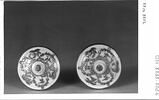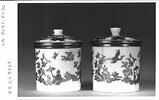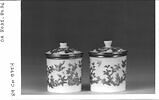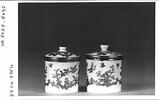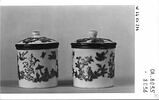 Pot à fard, d'une paire (OA 8036)
Lieu de création : Saint-Cloud = Saint Cloud (Ile-de-France = Ile de France->Hauts-de-Seine = Hauts de Seine)

Département des Objets d'art du Moyen Age, de la Renaissance et des temps modernes
Actuellement visible au Louvre
Inventory number
Numéro principal :
OA 8035
Artist/maker / School / Artistic centre
Description
Object name/Title
Titre : Pot à fard, d'une paire (OA 8036)
Type of object
pot à onguent
Description/Features
Pot de forme cylindrique sur un léger talon, couvercle légèrement mouluré et bombé, sommé d'un bouton aplati. Décor de feuilles d'or découpées, appliquées et gravées représentant des personnages orientaux abrités par des parasols tenus par d'autres personnages, chaque scène étant encadrée par des arbustes fleuris et sumontée de grues poursuivant des papillons ; au couvercle, décor de guirlandes ; bouton décoré d'une rosace. Les couvercles sont bordés d'une moulure en argent doré s'emboîtant sur le pot. Egrénure au bord.
Inscriptions
Poinçon :
Décharge des menus ouvrages d'argent, Paris, 1708 - 1715
Physical characteristics
Dimensions
Hauteur : 5,5 cm ; Diamètre : 4,2 cm
Materials and techniques
Matériau : porcelaine tendre
Technique : techniques céramique
Places and dates
Date
Date de prise de vue : vers 1700
Place of origin
Saint-Cloud = Saint Cloud (Ile-de-France = Ile de France->Hauts-de-Seine = Hauts de Seine)
History
Collector / Previous owner / Commissioner / Archaeologist / Dedicatee
Acquisition date
date : 1929
Held by
Musée du Louvre, Département des Objets d'art du Moyen Age, de la Renaissance et des temps modernes
Location of object
Current location
Sully, [OArt] Salle 605 - Stavros S. Niarchos, Vitrine 15
Bibliography
- Durand, Jannic ; Bimbenet-Privat, Michèle ; Frédéric Dassas, Décors, mobilier et objets d'art du musée du Louvre, [Collections du Musée du Louvre], Paris, Louvre éditions, 2014, p. 204, ill. p. 204, cat. 52
- Madame Du Châtelet : la femme des Lumières, cat. exp. (Paris, Bibliothèque nationale de France, du 7 mars au 3 juin 2006), Paris, BNF, 2006, p. 51, n° 65
- Plinval de Guillebon, Régine de, « Les Ducs d'Orléans et la porcelaine française au XVIIIe siècle », dans Objets d'art. Mélanges en l'honneur de Daniel Alcouffe, Dijon, Faton, 2004, p. 202-211, p. 202, Fig. 2
- Plinval de Guillebon, Régine de, Musée du Louvre, département des Objets d'art. Catalogue des porcelaines françaises. I , Chantilly, Mennecy, Saint-Cloud, Boissette, Bordeaux, Limoges, Niderviller, Paris, Valenciennes, Paris, R.M.N., 1992, p. 42-45, cat. 2
- Trésors de la céramique française des origine à la fin du 18e siècle, cat. exp. (Anvers, Meir, Maison Osterrieth, 1-31 mai 1958), Anvers, Meir, [s. n.], 1958, p. 25, n° 244
Last updated on 15.09.2023
The contents of this entry do not necessarily take account of the latest data.