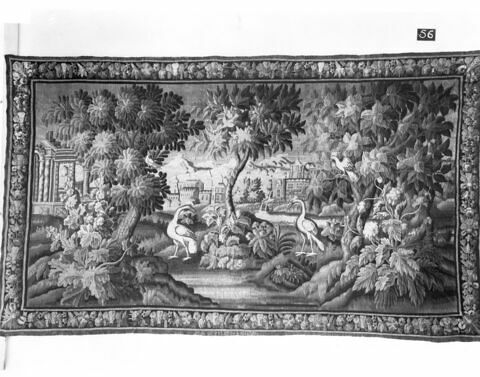 Verdure.
Date de création/fabrication : 1700 - 1715
Lieu de création : Felletin (Limousin->Creuse)

Artwork recovered after World War II, retrieved by the Office des Biens et Intérêts Privés; to be returned to its rightful owner once they have been identified. Online records of all MNR ('National Museums Recovery') works can be found on the French Ministry of Culture's Rose Valland database.
En dépôt : Musée du Berry, Bourges

Inventory number
Numéro principal : OAR 50
Numéro dépositaire : D.967.5.5
Artist/maker / School / Artistic centre
Description
Object name/Title
Titre : Verdure.
Type of object
tapisserie
Description/Features
Au second plan, à gauche, les ruines d'un temple à colonnes ; au centre des maisons ; au premier plan, une rivière près de laquelle sont deux grands oiseaux et trois arbres portant chacun un oiseau ; à gauche et à droite, un massif de grosses fleurs. Bordure à tiges de fleurs et rubans sur fond brun.
Inscriptions
Etiquette :
"D.967.5.5" (à l'encre noire sur une étiquette rigide translucide, cousue au revers, dans l'angle inférieur gauche)
"Lg [Landergalerie] / INV N°50 / VERDURE […]DIS XV [ ?] / 4 90 ; 2 8[…]" (à l'encre noire, sur une bande de toile cousue au revers entre la lisère et la doublure, dans l'angle inférieur gauche)
"OAR 50" (à l'encre rouge, sur une étiquette en bolduc blanc cousue au revers de la tapisserie dans l'angle inférieur gauche)
"OAR 50" (sur une étiquette à moitié déchirée, beige bordée d'un double liseré noir, accorchée avec un fil sur la face de l'angle inférieur gauche)
"...UART..RS / …ONE …MAND AUSTRIA / …PO 541, US ARMY / 25 September 1948 / This painting has been tentatively identified as / part of the Welz Collection and may be subt… to resti - / tution. It is requested that this painting be…./ before removal from this location /
[signature] / MALCOLM SHAN JR / Dept … / PROPERTY CONTROL / Monuments and Fine Arts Section / Diese Bild wurde verlauf ig als zum Collection / Weltz gehoerteg festge stellt und duerfte sus disem Grunde / der vieder urstattung unterliegen. Es darr aus diesem Raum / ohne vorherige Verstäendigung dieser Abteilung ni enifernt werden" (imprimé sur un morceau de papier cartonné beige collé sur la toile faisant office de doublure, dans l'angle inférieur gauche. Texte très dificile à lire, le papier étant très froissé.)
Marque de l'atelier :
"M·R· DE FELETIN I· GILION·" (au centre de la lisière inférieure)
Physical characteristics
Dimensions
Hauteur : 287 cm ; Hauteur : 287 cm ; Hauteur : 286 cm ; Largeur : 487 cm ; Longueur : 483 cm ; Longueur : 487 cm
Materials and techniques
Technique : tapisserie de basse lisse = basse lisse (techniques textile->tapisserie = tapisserie sur métier)
Matériau : laine (chaines et trames)
Matériau : soie
Places and dates
Place of origin
Felletin (Limousin->Creuse)
History
Acquisition details
attribution par l'office des biens privés (MNR)
Acquisition date
date de l'arrêté : 16/05/1951
Owned by
Musées Nationaux Récupération
Location of object
Current location
Bourges (France), Musée du Berry
Bibliography
- Chancel-Bardelot, Béatrice de, Hôtel Lallemant, Musée des Arts Décoratifs, Bourges, Bourges, 2000, p. 27, 39, p. 39
Last updated on 24.08.2021
The contents of this entry do not necessarily take account of the latest data.