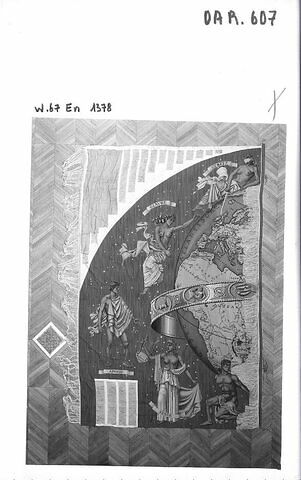 Tapisserie inachevée : Le Globe terrestre
Epoque / période : époque contemporaine (Occident)

Date de création/fabrication : vers 1942 - 1944
Lieu de création : Paris (France->Ile-de-France = Ile de France)

Artwork recovered after World War II, retrieved by the Office des Biens et Intérêts Privés; to be returned to its rightful owner once they have been identified. Online records of all MNR ('National Museums Recovery') works can be found on the French Ministry of Culture's Rose Valland database.
Inventory number
Numéro principal : OAR 607
Artist/maker / School / Artistic centre
Description
Object name/Title
Titre : Tapisserie inachevée : Le Globe terrestre
Type of object
fragment de panneau
Description/Features
tapisserie inachevée à fond identique à celui de la précédente. Dans la partie droite, la moitié du globe terrestre (Europe et Afrique) est encerclée par un anneau sur lequel sont représentés les Signes du Zodiaque. Sur la gauche, des figures allégoriques font cercle autour du globe. Ce sont, de haut en bas : une femme aux yeux bandés tenant un glaive qu'elle pointe sur l'Angleterre (GESETZ, Loi) ; une autre femme (GLAUBE, Foi) ; un jeune homme (APOLLO) ; une femme tenant une lyre (VENUS) ; un homme accroupi. Vêtements des personnages blancs, jaunes et rouges.
Inscriptions
Inscription :
de bas en haut, "VENUS", "APOLLO", "GLAUBE" et "GESETZ"
Physical characteristics
Dimensions
Hauteur : 704 cm ; Largeur : 465 cm ; Poids avec accessoire : 51,5 kg
Materials and techniques
Technique : tapisserie = tapisserie sur métier (techniques textile)
Matériau : laine (chaines et trames)
Matériau : soie (trames)
Matériau : or (trames de soies recouvertes d'une lame d'argent doré)
Places and dates
Date
Epoque / période : époque contemporaine (Occident)

Date de création/fabrication : vers 1942 - 1944
Place of origin
Paris (France->Ile-de-France = Ile de France)
History
Collector / Previous owner / Commissioner / Archaeologist / Dedicatee
Göring, Hermann, Goering, Hermann
(commandée avec l'OAR 607 à la manufacture des Gobelins de Paris en 1940 pour décorer la bibliothèque de sa résidence de Carinhall)
Acquisition details
attribution par l'office des biens privés (MNR)
Acquisition date
date de l'arrêté : 21/02/1967
Owned by
Musées Nationaux Récupération
Location of object
Current location
non exposé
Bibliography
- Au fil du siècle. Chefs-d'Oeuvre de la tapisserie 1918-2018, cat. exp. (Paris, Mobilier National et manufactures nationales des Gobelins, de Beauvais et de la Savonnerie, 10 avril-23 septembre 2018), Paris, 2018, fig. p. 55, n° 34
Exhibition history
- Gobelins au fil du siècle. 1918-2018, Paris (Externe, France), Mobilier National et manufactures des Gobelins, de Beauvais et de la Savonnerie, Galerie des Gobelins, 10/04/2018 - 04/11/2018
- The fabric of modernity, Munich (Externe, Allemagne), Kunsthalle der Hypo-Kulturstiftung, 06/12/2019 - 08/03/2020
- Extra large. Wandkleden van Picasso en Le Corbusier tot Louise Bourgeois, Rotterdam (Externe, Pays Bas), Kunsthal Rotterdam, 28/03/2020 - 03/01/2021
Last updated on 12.08.2021
The contents of this entry do not necessarily take account of the latest data.