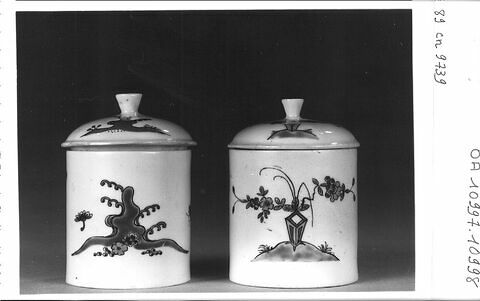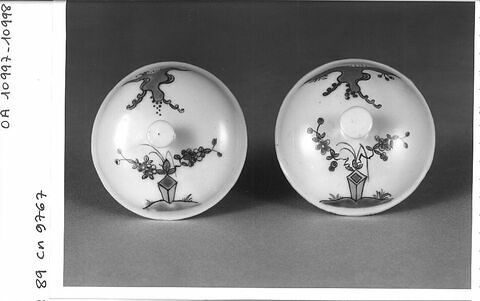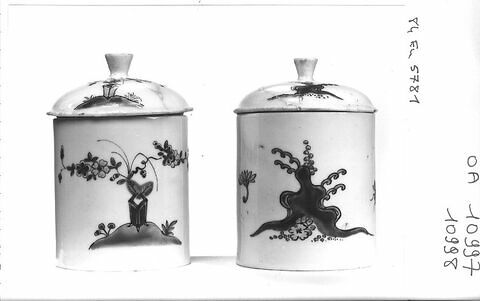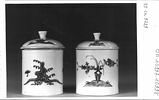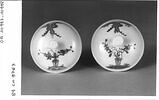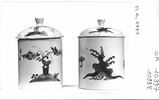 Petit pot couvert, d'une paire (OA 10997) à décor chinois
1710 / 1720 (1er quart du XVIIIe siècle)
Lieu de création : Saint-Cloud = Saint Cloud (Ile-de-France = Ile de France->Hauts-de-Seine = Hauts de Seine)

Département des Objets d'art du Moyen Age, de la Renaissance et des temps modernes
Actuellement visible au Louvre
Inventory number
Numéro principal :
OA 10998
Artist/maker / School / Artistic centre
Description
Object name/Title
Titre : Petit pot couvert, d'une paire (OA 10997) à décor chinois
Description/Features
Petit pot de forme cylindrique reposant sur un léger talon au-dessous. Le couvercle bombé à rebord est sommé d'un bouton aplati. Le décor polychrome oriental s'inspire d'un motif de porcelaine japonaise. Il se compose sur une face d'un rocher bleu accompagné de deux fleurettes et, à l'opposé, sur une terrasse, d'un vase à quatre pan, de section losangée, porté sur des pieds, et d'où s'échappent de longues branches fleuries. Sur les couvercles, sont repris les mêmes sujets simplifiés.
Physical characteristics
Dimensions
Hauteur avec accessoire : 7 cm ; Diamètre : 5 cm
Materials and techniques
Matériau : porcelaine tendre
Technique : techniques céramique
Places and dates
Place of origin
Saint-Cloud = Saint Cloud (Ile-de-France = Ile de France->Hauts-de-Seine = Hauts de Seine)
History
Collector / Previous owner / Commissioner / Archaeologist / Dedicatee
Acquisition date
date : 1984
Held by
Musée du Louvre, Département des Objets d'art du Moyen Age, de la Renaissance et des temps modernes
Location of object
Current location
Sully, [OArt] Salle 605 - Stavros S. Niarchos, Vitrine 17
Bibliography
- Plinval de Guillebon, Régine de, Musée du Louvre, département des Objets d'art. Catalogue des porcelaines françaises. I , Chantilly, Mennecy, Saint-Cloud, Boissette, Bordeaux, Limoges, Niderviller, Paris, Valenciennes, Paris, R.M.N., 1992, p. 47, cat. 4
- Alcouffe, Daniel ; Durand, Jannic ; Gaborit-Chopin, Danielle ; Ennès, Pierre ; Lefébure, Amaury, Nouvelles acquisitions du département des Objets d'art : 1980-1984, Paris, Réunion des musées nationaux, 1985, p. 125, n° 70
Last updated on 01.07.2022
The contents of this entry do not necessarily take account of the latest data.