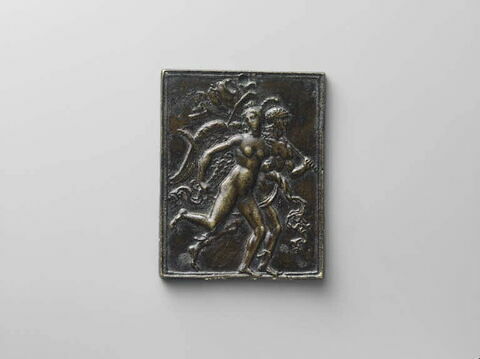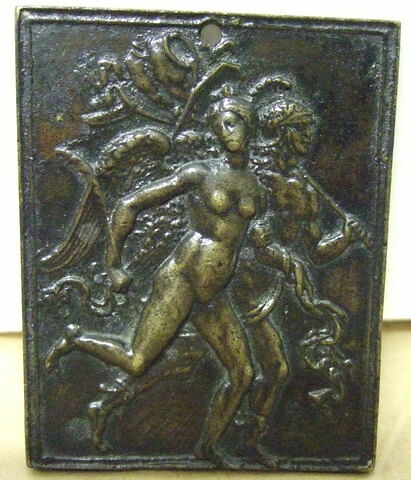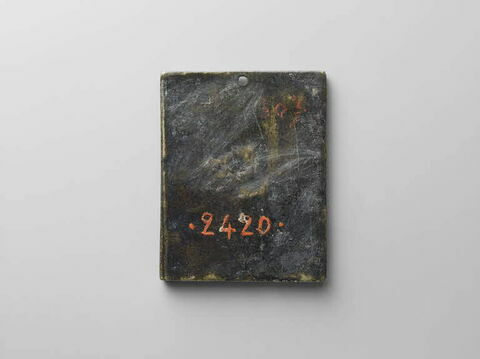 Plaquette : Guerrier entrainé par la Victoire
Lieu de création : Italie (Europe)

Département des Objets d'art du Moyen Age, de la Renaissance et des temps modernes
Actuellement visible au Louvre
Inventory number
Numéro principal :
OA 2420
Description
Object name/Title
Titre : Plaquette : Guerrier entrainé par la Victoire
Physical characteristics
Dimensions
Hauteur : 7,23 cm ; Largeur : 5,7 cm ; Epaisseur : 0,34 cm
Materials and techniques
Matériau : bronze (patine noire, trou de suspension antérieur à la patine. Plaquette légérement convexe. Revers lisse et cireux avec surépaisseur au centre)
Technique : techniques métal
Places and dates
Date
Epoque / période : Renaissance (Occident)
Place of origin
Italie (Europe)
History
Collector / Previous owner / Commissioner / Archaeologist / Dedicatee
Acquisition date
date : 10/11/1875
Held by
Musée du Louvre, Département des Objets d'art du Moyen Age, de la Renaissance et des temps modernes
Location of object
Current location
Richelieu, [OArt] Salle 511 - Riccio, Vitrine 2 plate
Bibliography
- Malgouyres, Philippe, De Filarete à Riccio. Bronzes italiens de la Renaissance (1430-1550). La collection du Musée du Louvre, Paris, Louvre Editions ; Mare & Martin, 2020, p. 300, n° 91
- Rossi, Francesco, La Collezione Mario Scaglia. Placchette, 3 vol, Bergame, 2011, p. 202, M 11
- Pirovano, Carlo, Pinacoteca Ambrosiana, vol. V, Raccolte archeologiche, Sculture, Milan, Electa, 2009, p. 425
- Migeon, Gaston, Catalogue des bronzes et cuivres de la Renaissance et des temps modernes, Paris, Librairies-imprimeries réunies, 1904, p. 248, n° 307
- Molinier, Emile, Les Bronzes de la Renaissance. Les Plaquettes. Catalogue raisonné, I, Paris, 1886, p. 138-139, n° 186
- Clément de Ris, Louis, Musée du Louvre. Série C. Notice des objets de bronze, cuivre, étain, fer, etc, Paris, Ch. de Mourgues frères, 1882, p. 168, C. 507
Last updated on 09.02.2021
The contents of this entry do not necessarily take account of the latest data.