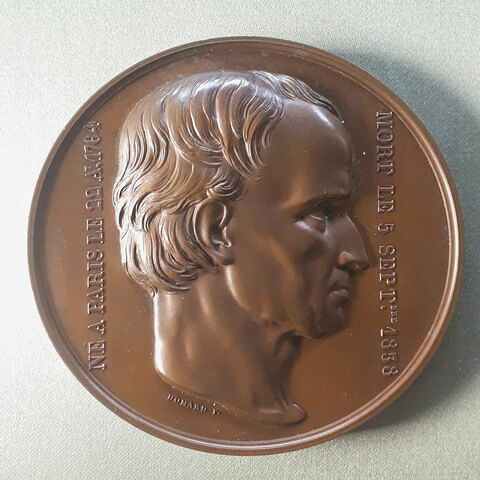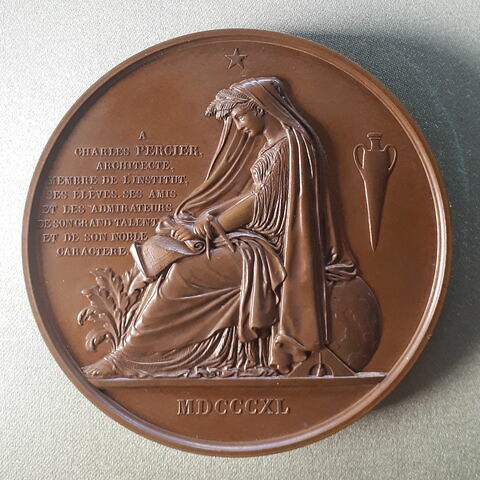 Médaille en bronze avec étui en bois : buste de Charles Percier par Joseph-François Domard
Date de création/fabrication : 1840
Actuellement visible au Louvre
Inventory number
Numéro principal : SN 55
Artist/maker / School / Artistic centre
Description
Object name/Title
Titre : Médaille en bronze avec étui en bois : buste de Charles Percier par Joseph-François Domard
Type of object
médaille ; plaquette
Description/Features
A/ Charles Percier, de profil à droite. Dans le champ à droite : NE A PARIS LE 22 AT. 1764 ; dans le champ à gauche : MORT LE 5 SEPTBRE. 1838
R/ L'Architecture assise à gauche la tête penchée ; au-dessus de sa tête, une étoile; dans le champ à droite, une amphore ; à ses pieds, un niveau et un globe terrestre où l'on discerne la carte de l'Italie. Dans le champ : A / CHARLES PERCIER, / ARCHITECTE, / MEMBRE DE L'INSTITUT, SES ELEVES, SES AMIS / ET LES ADMIRATEURS / DE SON GRAND TALENT / ET DE SON NOBLE / CARACTERE. ; à l'exergue : MDCCCXL
Inscriptions
Inscription :
A / CHARLES PERCIER, / ARCHITECTE, / MEMBRE DE L'INSTITUT, SES ELEVES, SES AMIS / ET LES ADMIRATEURS / DE SON GRAND TALENT / ET DE SON NOBLE / CARACTERE. ; à l'exergue : MDCCCXL (revers)
NE A PARIS LE 22 AT. 1764 / MORT LE 5 SEPTBRE. 1838 (avers)
Signature :
DOMARD F.
Physical characteristics
Dimensions
Diamètre : 0,072 m ; Diamètre : 0,095 m
Materials and techniques
Matériau : bronze
History
Acquisition details
mode d'acquisition inconnu
Held by
Musée du Louvre, Département des Objets d'art du Moyen Age, de la Renaissance et des temps modernes
Location of object
Current location
Richelieu, [OArt] Salle 554 - Alexandre Brongniart, Vitrine table
Index
Last updated on 17.12.2020
The contents of this entry do not necessarily take account of the latest data.