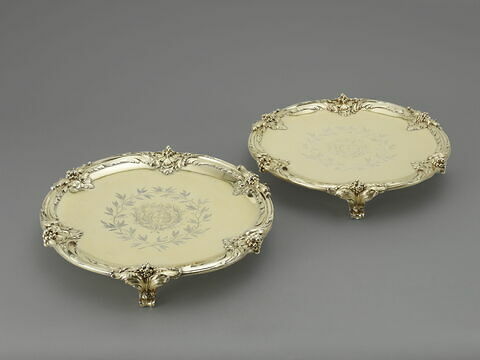 Plateau (d'une paire)
1756 / 1757 (Milieu du XVIIIe siècle)
Lieu de création : Paris (France->Ile-de-France = Ile de France)

Département des Objets d'art du Moyen Age, de la Renaissance et des temps modernes
Actuellement visible au Louvre
Inventory number
Numéro principal :
OA 9652 2
Artist/maker / School / Artistic centre
Description
Object name/Title
Titre : Plateau (d'une paire)
Type of object
gantière ; orfèvrerie, argenterie
Description/Features
Salve d'une paire dont la bordure est ciselée de motifs de palmes interrompues par six agrafes en fort relief avec au centre de chacune une grappe de groseilles. Au centre du plateau sont gravées les armes royales de Portugal couronnées, ceintes du collier de l'ordre du Christ et entourées de deux branches de laurier entrecroisées. Six pieds cambrés ornés d'un fleuron à la base et terminés en rouleaux. Six pieds cambrés ornés d'un fleuron à la base et terminés en rouleaux.
Inscriptions
Inscription :
Armoiries de la Maison de Bragance. Ecu sommé de la couronne royale, entouré du collier de l'ordre du Christ.
Poinçon :
Maître Fr. Th; Germain ; Jurande 1756-1757 ; Charge Paris 1756-1762.
Physical characteristics
Dimensions
Hauteur : 5,5 cm ; Diamètre : 30,5 cm ; Poids : 3,528 kg (poids total des deux gantières)
Materials and techniques
Matériau : argent (doré)
Technique : techniques métal (orfèvrerie)
Places and dates
Date
Epoque / période : Louis XV (1715-1774) (Occident->époque moderne = Ancien Régime->dynastie des Bourbons)

Date de création/fabrication : 1756 - 1757
Place of origin
Paris (France->Ile-de-France = Ile de France)
History
Collector / Previous owner / Commissioner / Archaeologist / Dedicatee
Acquisition details
donation sous réserve d'usufruit
Acquisition date
date de comité/commission : 01/12/1955
Held by
Musée du Louvre, Département des Objets d'art du Moyen Age, de la Renaissance et des temps modernes
Location of object
Current location
Sully, [OArt] Salle 605 - Stavros S. Niarchos, Vitrine 19
Bibliography
- Durand, Jannic ; Bimbenet-Privat, Michèle ; Frédéric Dassas, Décors, mobilier et objets d'art du musée du Louvre, [Collections du Musée du Louvre], Paris, Louvre éditions, 2014, p. 348, ill. p. 348, cat. 134
- Mabille, Gérard, La collection Puiforcat. Donation de Stavros S. Niarchos au département des objets d'art. Orfèvrerie du XVIIe au XIXe siècle, [Musée du Louvre], Paris, Réunion des musées nationaux, 1994, n° 20
- Bottineau, Yves, Catalogue de l'orfèvrerie du XVIIème, du XVIIIème et du XIXème siècle, [Musées du Louvre et de Cluny], Paris, Editions des Musées Nationaux, 1958, n° 91
Last updated on 15.09.2023
The contents of this entry do not necessarily take account of the latest data.