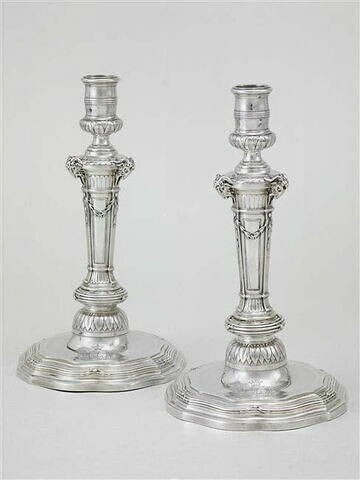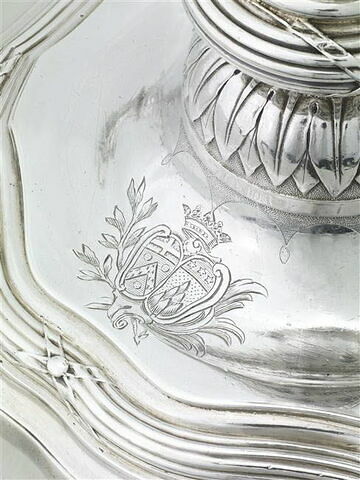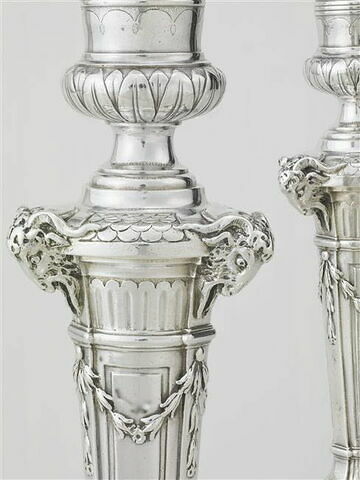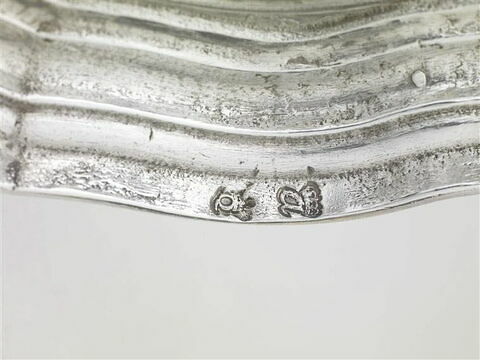 Flambeau d'une paire (OA 9955 1)
1732 / 1733 (1er tiers du XVIIIe siècle)
Lieu de création : Paris (France->Ile-de-France = Ile de France)

Département des Objets d'art du Moyen Age, de la Renaissance et des temps modernes
Actuellement visible au Louvre
Inventory number
Numéro principal :
OA 9955 2
Artist/maker / School / Artistic centre
Description
Object name/Title
Titre : Flambeau d'une paire (OA 9955 1)
Type of object
flambeau ; orfèvrerie, argenterie
Description/Features
Pied circulaire à contours, moulures et rubans croisés ; armoiries gravées dans un cartouche rocaille ; bague plate et feuilles se détachant sur un fond amati à la base du fût. Le fût amincit vers le bas est posé sur un noeud à moulures et rubans cloués, il présente trois compartiments rectangulaires séparés par des pilastres ; sur la partie haute : canaux et calotte décorés de trois têtes de bélier et d'écailles imbriquées. Binet à gaine de feuilles dans la partie basse puis deux étages d'ornements séparés par une bague à triple moulure. Pas de bobèches.
Inscriptions
Inscription :
Armoiries vraisemblablement d'Anne-Sophie Serre de Saint Roman qui épousa Jacques Mathieu Augeard, marquis de Buzancy fermier général né en 1733 et mort en 1805.
Poinçon :
Charge et Décharge : Paris 1732-1738 ; Jurande Paris 1732-1733 ; Maître Thomas Germain ; Décharge gros ouvrages d'argent vieux 1768-1775.
Physical characteristics
Dimensions
Hauteur : 25 cm ; Diamètre : 14,5 cm (dimensions socle/base)
Materials and techniques
Matériau : argent
Technique : techniques métal (orfèvrerie)
Places and dates
Date
Epoque / période : Louis XV (1715-1774) (Occident->époque moderne = Ancien Régime->dynastie des Bourbons)

Date de création/fabrication : 1732 - 1733
Place of origin
Paris (France->Ile-de-France = Ile de France)
History
Collector / Previous owner / Commissioner / Archaeologist / Dedicatee
Acquisition date
date : 1958
Held by
Musée du Louvre, Département des Objets d'art du Moyen Age, de la Renaissance et des temps modernes
Location of object
Current location
Sully, [OArt] Salle 605 - Stavros S. Niarchos, Vitrine 14
Bibliography
- Bottineau, Yves, Catalogue de l'orfèvrerie du XVIIème, du XVIIIème et du XIXème siècle, [Musées du Louvre et de Cluny], Paris, Editions des Musées Nationaux, 1958, n° 358
Exhibition history
- Royal Treasures from the Louvre, San Francisco (Etats-Unis), Palace of the Legion of Honor, 17/11/2012 - 17/03/2013
Last updated on 27.06.2018
The contents of this entry do not necessarily take account of the latest data.