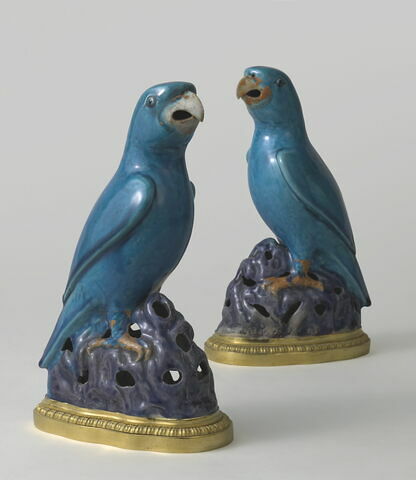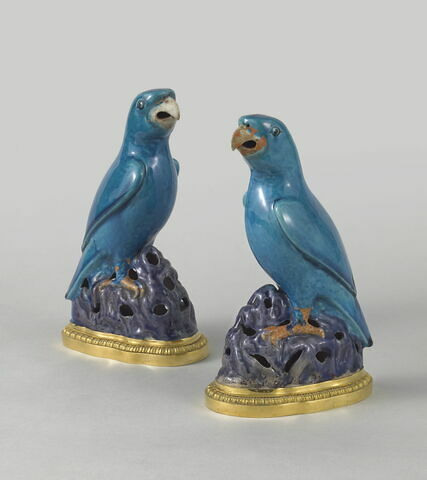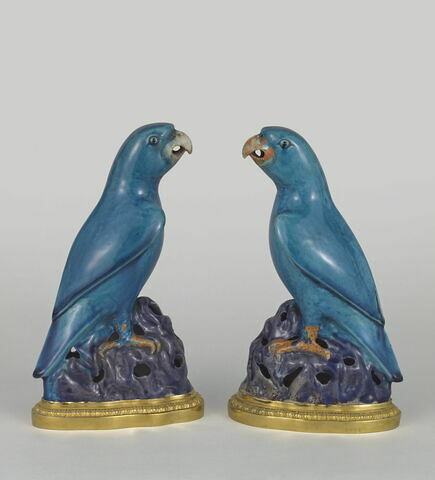 Perroquet, d'une paire
Lieu de création : Chine (Asie->Asie orientale = Extrême Orient) (porcelaine) ; Paris (France->Ile-de-France = Ile de France) (Monture)

Département des Objets d'art du Moyen Age, de la Renaissance et des temps modernes
Actuellement visible au Louvre
Inventory number
Numéro principal :
OA 9 1
Artist/maker / School / Artistic centre
Description
Object name/Title
Titre : Perroquet, d'une paire
Type of object
statue, statuette, figurine
Description/Features
Perroquet en porcelaine de Chine bleue céleste sur un socle en bronze doré. Se trouvait en 1789 dans le Cabinet intérieur de Marie-Antoinette à Versailles puis confié au marchand Dominique Daguerre, puis Martin Lignereux ; en 1793 entre dans les collections nationales ; château des Tuileries en 1833 (appartement du duc d'Orléans), puis jusqu'en 1870 château de Saint-Cloud ; à cette date dans les collections du Louvre.
Physical characteristics
Dimensions
Hauteur : 24 cm ; Largeur : 14 cm
Materials and techniques
Matériau/Technique : Porcelaine de Chine bleu turquoise ; montés en bronze doré vers 1780.
Matériau : porcelaine
Matériau : bronze (doré)
Technique : techniques métal (bronze d'ameublement)
Places and dates
Date
Date de réutilisation : vers 1780 (monture en bronze doré)
Place of origin
Chine (Asie->Asie orientale = Extrême Orient) (porcelaine) ; Paris (France->Ile-de-France = Ile de France) (Monture)
History
Collector / Previous owner / Commissioner / Archaeologist / Dedicatee
Held by
Musée du Louvre, Département des Objets d'art du Moyen Age, de la Renaissance et des temps modernes
Location of object
Current location
Sully, [OArt] Salle 628 - Cabinet de Marie-Antoinette, Vitrine TP1 bis
Bibliography
- Alcouffe, Daniel ; Dion, Anne ; Mabille, Gérard, Les bronzes d'ameublement du Louvre, Dijon, Faton, 2004, n°128
Exhibition history
- Fastes de la Cour de France au XVIIIe siècle, Tokyo (Japon), Metropolitan Museum of Art, 25/01/2008 - 06/04/2008, étape d'une exposition itinérante
- Fastes de la Cour de France au XVIIIe siècle, Kobé (Japon), City Museum, 26/04/2008 - 06/07/2008, étape d'une exposition itinérante
Last updated on 14.11.2019
The contents of this entry do not necessarily take account of the latest data.