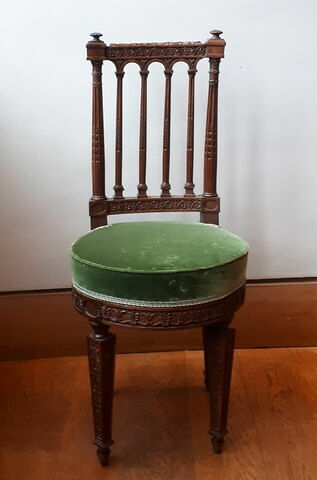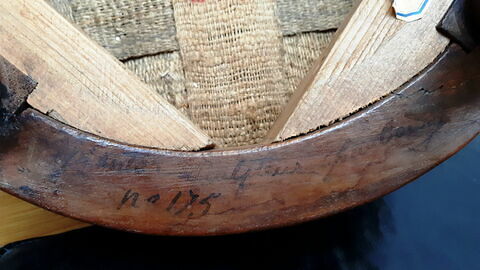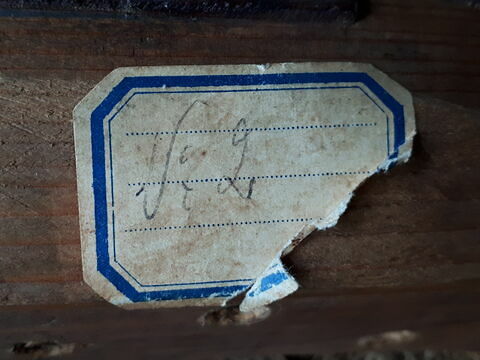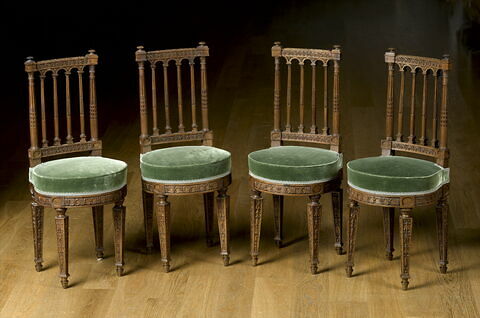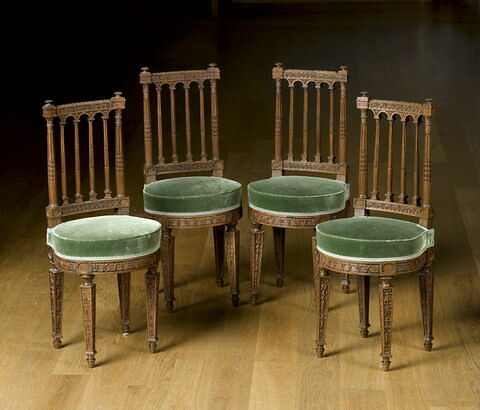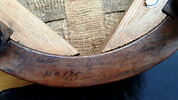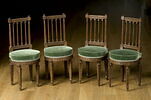 Petite chaise, d'un ensemble de quatre (OAP 107 à OAP 110)
Lieu de création : Paris (France->Ile-de-France = Ile de France)

Département des Objets d'art du Moyen Age, de la Renaissance et des temps modernes
Actuellement visible au Louvre
Inventory number
Numéro principal :
OAP 107
Artist/maker / School / Artistic centre
Description
Object name/Title
Titre : Petite chaise, d'un ensemble de quatre (OAP 107 à OAP 110)
Type of object
mobilier ; chaise
Description/Features
Petite chaise à dossier rectangulaire, vertical et légèrement incurvé, ajouré de colonnettes ; siège cintré par le devant ; pieds fuselés de section carrée, sur toupies, munis de chapiteaux circulaires.
Décor richement sculpté sur les colonnes du dossier, de cannelures à culots et à perles ; sur le haut et le bas du dossier, de bandes horizontales à festons et fleurons ; sur la ceinture, d'une frise régulière de palmettes et de fleurons alternés ; sur les carrés surmontant les pieds, de cartouches ovales et unis ; et sur les pieds eux-mêmes, du chutes de fleurons et de culots.
Bois d'acajou, garniture postérieure en velours vert.
Au revers, inscription manuscrite à l'encre: "Plantar, sculpteur faubourg Martin n°175".
Inscriptions
Etiquette :
V° 2 (?) (manuscrite)
Signature :
Plantar sculpteur faubourg n° 175 (à l'encre)
Physical characteristics
Dimensions
Hauteur : 87 cm ; Largeur : 35 cm ; Profondeur : 40 cm
Materials and techniques
Matériau : acajou
Technique : velours (techniques textile->tissu uni) (soie)
Places and dates
Date
Epoque / période : Louis XVI (1774-1792) (Occident->époque moderne = Ancien Régime->dynastie des Bourbons)

Date de création/fabrication : vers 1790
Place of origin
Paris (France->Ile-de-France = Ile de France)
History
Collector / Previous owner / Commissioner / Archaeologist / Dedicatee
Acquisition date
date : 1965
Held by
Musée du Louvre, Département des Objets d'art du Moyen Age, de la Renaissance et des temps modernes
Location of object
Current location
Richelieu, [OArt] Salle 557 - Jacob Frères, Hors vitrine
Last updated on 01.02.2021
The contents of this entry do not necessarily take account of the latest data.