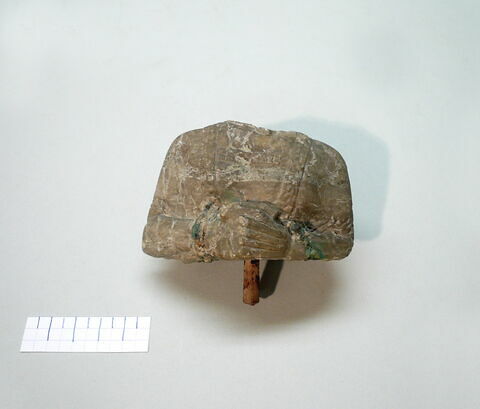 statue
Date de création/fabrication : Néo-sumérien : Gudea (Vers 2120 av. J. - C.) (-2120 - -2110)
Lieu de découverte : Girsu = Tello
Actuellement visible au Louvre
Inventory number
Numéro principal : AO 297
Numéro catalogue : Heuzey, 1902, n° 108
Description
Object name/Title
Dénomination : statue (fragment)
Description/Features
orante aux mains jointes (châle : galon, bracelet)

Etat de l'oeuvre : incomplet
Précision sur l'objet : Statue fragmentaire représentant une orante les mains jointes. Elle est représentée portant un châle à galon et un bracelet
Physical characteristics
Dimensions
Hauteur : 6 cm ; Largeur : 8,6 cm ; Epaisseur : 5 cm
Materials and techniques
Matériau : calcaire
Matériau secondaire : cuivre, or
Technique : ronde-bosse
Places and dates
Date
Néo-sumérien : Gudea (Vers 2120 av. J. - C.) (-2120 - -2110)
Place of discovery
Girsu = Tello
History
Collector / Previous owner / Commissioner / Archaeologist / Dedicatee
Acquisition details
entrée après fouilles
Acquisition date
date : 1881
Held by
Musée du Louvre, Département des Antiquités orientales
Location of object
Current location
Richelieu, [AO] Salle 228 - Mésopotamie, Vitrine 3 IIe dynastie de Lagash
Bibliography
- Thomas, Ariane, « The faded splendour of Lagashite Princesses: a restored statuette from Tello and the depiction of Court women in the Neo-Sumerian Kingdom of Lagash », Iraq, Journal of the British Institute for the study of Iraq (Gertrude Bell Memorial), 78, December 2016,
- Spycket, Agnès, La statuaire du proche-Orient ancien, 7/1-2-B-2, Handbuch der Orientalistik / Kunst und Archäologie, Leyde, E. J. Brill, 1981, p. 200, Pl. 135
- Parrot, André, Tello, vingt campagnes de fouilles (1877-1933), Paris, Albin-Michel, 1948, Disponible sur : M:\AO\AO Documentation générale\Ouvrages numériques\Nicolas , p. 191
- Heuzey, Léon, Catalogue des Antiquités chaldéennes. Sculpture et gravure à la pointe, [Musée du Louvre], Paris, Imprimeries réunies, 1902, Disponible sur : http://bibliotheque-numerique.inha.fr/collection/6054-catalogue-des-antiquites-chaldeennes/ , n° 108
- Sarzec, Ernest de, Découvertes en Chaldée (DC), vol. I Texte, vol. II Partie épigraphique et planches, Paris, Leroux Ernest, 1884-1912, Disponible sur : http://www.europeana.eu/portal/record/03486/urn_resolver_pl_urn_urn_nbn_de_bvb_12_bsb00012327_3.html?start=1&query=who%3A%22Sarzec%2C+Ernest+de%22&startPage=1&rows=24 , p. 345
Comparative literature
- Suter, Claudia E., Kaskal, rivista di storia, ambiente e culture del vicino oriente antico, 5, Padova, S.A.R.G.O.N., 2008, p. 27, St 12
- Pinnock, Frances, « The Iconography of the Entu-Priestesses in the Period of the Ur III Dynasty », dans Intellectual life of the ancient Near East: papers presented at the 43rd Rencontre Assyriologique Internationale, July 1-5, RAI 43, Prague, Oriental Institution, 1998, 339-346, p. 345, fig. 3
Last updated on 30.07.2021
The contents of this entry do not necessarily take account of the latest data.