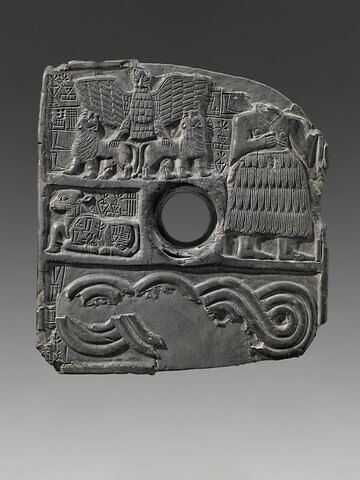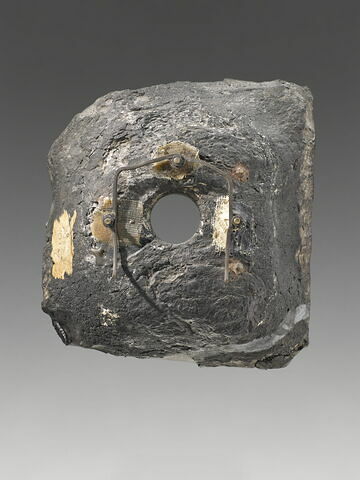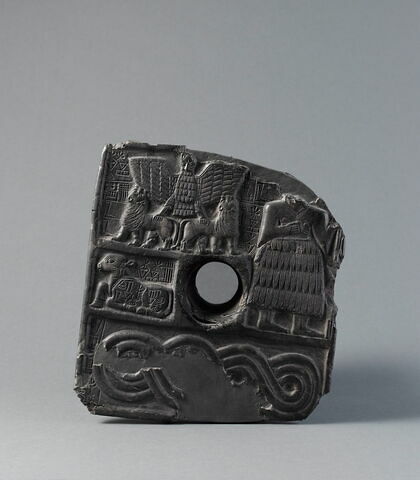 relief perforé
Date de création/fabrication : Dynastique archaïque IIIB : Entemena (Vers 2400 av. J. - C.) (-2420 - -2400)
Lieu de découverte : Tello tell K massif d'Entemena (Trouvé près du Massif d'Entemena)
Actuellement visible au Louvre
Inventory number
Numéro principal : AO 2354
Numéro catalogue : Heuzey, 1902, n° 12
Description
Object name/Title
Dénomination : relief perforé
Titre d'usage : Relief de Dudu
Description/Features
Décor : 1er registre ; Imdugud (attaquant, lion : 2) ; 2eme registre ; veau (couché) ; prêtre (jupe : kaunakès, tenant, bâton) ; 3eme registre ; tresse ; inscription

Etat de l'oeuvre : érodé
Précision sur l'objet : Relief perforé inscrit divisé en trois registres. En haut l'aigle léontocéphale Imdugud agrippe l'arrière-train de deux lions qui lui mordent les ailes. Au milieu, un veau couché et le prêtre Dudu vêtu d'un jupon kaunakès et tenant un bâton. En bas une grosse tresse
Inscriptions
Écriture :
écriture cunéiforme mésopotamienne
idéographique = logographique
Langue :
sumérien
Physical characteristics
Dimensions
Hauteur : 25 cm ; Largeur : 23 cm ; Epaisseur : 8 cm
Materials and techniques
Matériau : pierre bitumineuse
Technique : bas-relief
Places and dates
Date
Dynastique archaïque IIIB : Entemena (Vers 2400 av. J. - C.) (-2420 - -2400)
Place of discovery
Tello tell K massif d'Entemena (Trouvé près du Massif d'Entemena)
History
Collector / Previous owner / Commissioner / Archaeologist / Dedicatee
Acquisition details
don après fouilles
Held by
Musée du Louvre, Département des Antiquités orientales
Location of object
Current location
Richelieu, [AO] Salle 236 - Mésopotamie archaïque (du néolithique à l'époque des dynasties archaïques de Sumer), Vitrine 6 Epoque des dynasties archaïques de Sumer, vers 2900 - 2340 avant J.-C. Antiquités de Tello, ancienne Girsu.
Bibliography
- Thomas, Ariane, La Mésopotamie au Louvre : de Sumer à Babylone, Paris, Somogy éditions d'art, Louvre éditions, 2016, p. 105, p. 105
- Frayne, Douglas Ralph, The royal inscriptions of Mesopotamia. Early periods, Vol. 1. Presargonic Period (2700-2350) (RIME 1), Toronto, University of Toronto press, 2008, E1.9.5.28
- André-Leickman, Béatrice ; Ziegler, Christiane (dir.), Naissance de l'écriture : cunéiformes et hiéroglyphes, cat. exp. (Paris, Galeries nationales du Grand Palais, 7 mai-9 août 1982), Paris, Ministère de la Culture et Réunion des musées nationaux, 1982, p. 85, n° 42
- Steible, Horst, Die altsumerischen Bau- und Weihinschriften (ABW) (ASBW). Freiburger Altorientalischen Studien, 5 (FAOS 5), Stuttgart, F. Steiner, (Freiburger Altorientalischen Studien, 9), 1982, ABW Ent. 76
- Amiet, Pierre, L'art antique du Proche-Orient, Paris, Mazenod (L'art et les grandes civilisations, 7), 1977, fig. 327
- Orthmann, Winfried, Der Alte Orient, Berlin, Propyläen, (Propyläen Kunstgeschichte, 14), 1975, pl. 88
- Parrot, André, Sumer, Paris, Gallimard, (Collection l'Univers des Formes), 1960, fig. 167 a
- Sollberger, Edmond, Corpus des inscriptions "royales" présargoniques de Lagas (CIRPL), Genève, Droz, 1956, Ent.76
- Pijoan I Soteras, Josep, Summa artis -Historia general del Arte, XII, Arte Islamico, Madrid, Espasa-Calpe, 1949, p. 67, fig. 95
- Parrot, André, Tello, vingt campagnes de fouilles (1877-1933), Paris, Albin-Michel, 1948, Disponible sur : M:\AO\AO Documentation générale\Ouvrages numériques\Nicolas , p. 65, 87-88, pl. VIIa, fig. 22e
- Contenau, Georges, Manuel d'archéologie orientale depuis les origines jusqu'à l'époque d'Alexandre : notions générales, histoire de l'art, 1, Paris, Picard, 1927, p. 487, fig. 357
- Thureau-Dangin, François, Les inscriptions de Sumer et d'Akkad. Transcription et Traduction (ISA), Paris, Ernest Leroux, 1905, Disponible sur : https://archive.org/details/lesinscriptionsd00thuruoft , p. 59
- Heuzey, Léon, Catalogue des Antiquités chaldéennes. Sculpture et gravure à la pointe, [Musée du Louvre], Paris, Imprimeries réunies, 1902, Disponible sur : http://bibliotheque-numerique.inha.fr/collection/6054-catalogue-des-antiquites-chaldeennes/ , p. 121-125, n° 12
- Heuzey, Léon, « Les armoiries chaldéennes de Sirpourla, d'après les découvertes de M. de Sarzec », Monuments et mémoires publiés par l'Académie des Inscriptions et Belles-Lettres, Fondation Eugène Piot, 1/1, 1894, p. 7-20, Disponible sur : www.persee.fr/doc/piot_1148-6023_1894_num_1_1_1110 , p. 7, pl. II
- Sarzec, Ernest de, Découvertes en Chaldée (DC), vol. I Texte, vol. II Partie épigraphique et planches, Paris, Leroux Ernest, 1884-1912, Disponible sur : http://www.europeana.eu/portal/record/03486/urn_resolver_pl_urn_urn_nbn_de_bvb_12_bsb00012327_3.html?start=1&query=who%3A%22Sarzec%2C+Ernest+de%22&startPage=1&rows=24 , p. 205, pl.5bis, n°2, DC p.XLVIII
Last updated on 14.06.2021
The contents of this entry do not necessarily take account of the latest data.