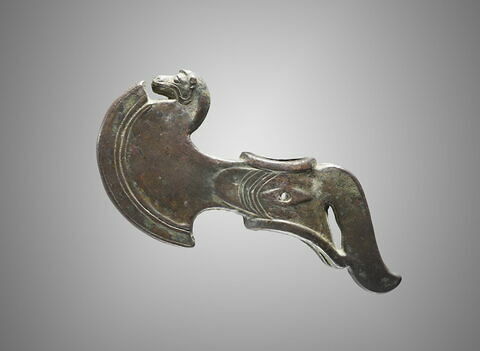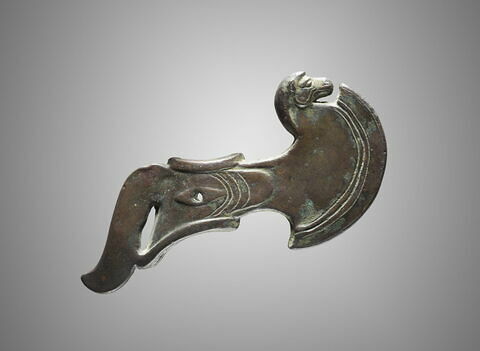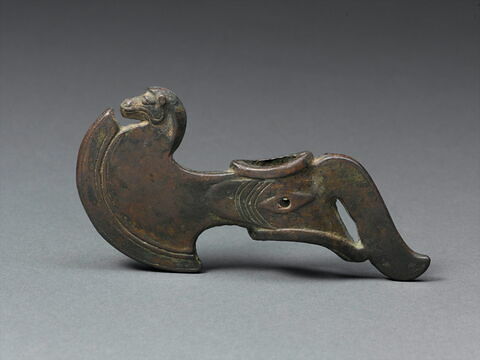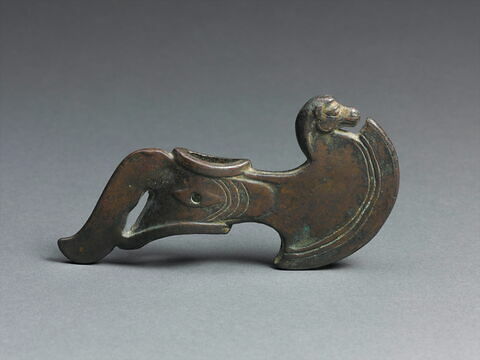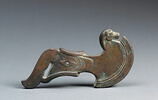 hache
-2100 / -1900 (2e moitié IIIe mill av. J.-C. (?))
Lieu de création : Bactriane

Département des Antiquités orientales
Actuellement visible au Louvre
Inventory number
Numéro principal :
AO 24799
Description
Object name/Title
Dénomination : hache
Description/Features
aileron ; tête (cheval : ?, camélidé : ?) ; lame (évasé)

Etat de l'oeuvre : bon état général
Précision sur l'objet : Hache d'apparat
Physical characteristics
Dimensions
Hauteur : 8,6 cm ; Largeur : 15 cm
Materials and techniques
Matériau : cuivre
Places and dates
Date
2e moitié IIIe mill av. J.-C. (?) (fin IIIe mill ; début IIe mill) et 1e moitié IIe mill av. J.-C. (-2100 - -2000 et -2000 - -1900)
Place of origin
Bactriane
History
Collector / Previous owner / Commissioner / Archaeologist / Dedicatee
Acquisition date
date : 1972
Held by
Musée du Louvre, Département des Antiquités orientales
Location of object
Current location
Sully, [AO] Salle 305 - Iran et Bactriane, Vitrine 3 Bactriane fin du IIIe millénaire, début du IIe millénaire avant J.-C.
Bibliography
- Les Antiquités Orientales : Guide du visiteur, Paris, R.M.N., 1993, p.139
- Benoit, Agnès, « Suse, les portes de l'Iran », Le monde de la Bible, 67, 1990, p.26
- Amiet, Pierre, L'âge des échanges inter-iraniens 3500-1700 avant J.-C., Paris, RMN, (Notes et documents des Musées de France, 11), 1986, p.164 et 196, fig.167
- Amiet, Pierre, L'art antique du Proche-Orient, Paris, Mazenod (L'art et les grandes civilisations, 7), 1977, p.382, fig.424
- Amiet, Pierre, Les antiquités du Luristan: collection David-Weill, Paris, De Boccard, 1976, p.23, n° 29
- Amiet, Pierre, « Les antiquités orientales de la collection David Weill », La Revue du Louvre et des musées de France, 6, 1972, p.427-428, fig.5
- Calmeyer, Peter, Datierbare Bronzen aus Luristan und Kirmanshah, Berlin, Walter de Gruyter, 1969, p.183, fig.153
- Pope, Arthur Upham, A Survey of Persian Art (SPA) : from prehistoric times to the present, I, Londres / New York, Oxford University Press, 1964, pl.49.a
- Parrot, André, Assur, Paris, Gallimard, (Collection l'Univers des Formes), 1961, p.135-136, fig.163
- Roes, Anna, Greek Geometric Art, its symbolism and its origin, Londres, Oxford University Press, 1933, fig.66
- Godard, André, Bronzes du Luristan (Ars Asiatica, 17), Paris, G. Van Oest, 1931, p.427-428, pl.XXIV-70
Last updated on 28.07.2021
The contents of this entry do not necessarily take account of the latest data.