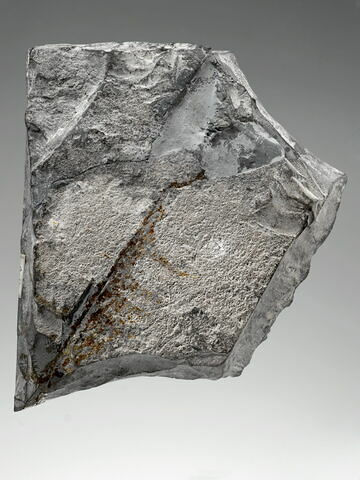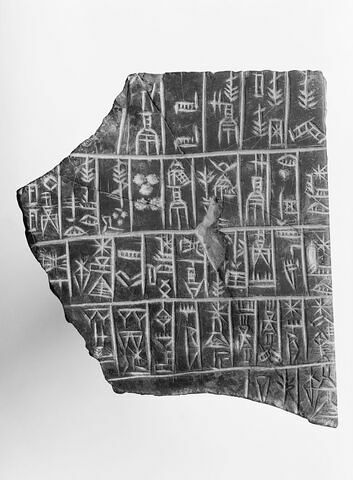 document écrit
-2600 / -2500 (Dynastique archaïque IIIA)
Lieu de découverte : Girsu = Tello
Département des Antiquités orientales
Actuellement visible au Louvre
Inventory number
Numéro principal :
AO 3866
Description
Object name/Title
Dénomination : document écrit
Description/Features
Décor : inscription
Inscriptions
Écriture :
écriture cunéiforme mésopotamienne
idéographique = logographique
Inscription :
Incantation au roseau et au dieu Enki précède le récit de la fondation du "Sanctuaire de Girsu", temple du dieu Ningirsu, par Ur-Nanshe, roi de Lagash
Langue :
sumérien
Nature du texte :
incantation
texte de fondation
Physical characteristics
Materials and techniques
Matériau : pierre
Technique : gravé
Places and dates
Date
Dynastique archaïque IIIA (Vers 2500) (-2600 - -2500)
Place of discovery
Girsu = Tello
History
Collector / Previous owner / Commissioner / Archaeologist / Dedicatee
Acquisition details
entrée après fouilles
Held by
Musée du Louvre, Département des Antiquités orientales
Location of object
Current location
Richelieu, [AO] Salle 236 - Mésopotamie archaïque (du néolithique à l'époque des dynasties archaïques de Sumer), Vitrine 3 Naissance de l'écriture
Bibliography
- Thomas, Ariane, La Mésopotamie au Louvre : de Sumer à Babylone, Paris, Somogy éditions d'art, Louvre éditions, 2016, p. 49, p. 49
- Steible, Horst, Die altsumerischen Bau- und Weihinschriften (ABW) (ASBW). Freiburger Altorientalischen Studien, 5 (FAOS 5), Stuttgart, F. Steiner, (Freiburger Altorientalischen Studien, 9), 1982, ABW Urn. 49
- Cooper, Jerrold S., « Studies in Mesopotamian lapidary inscriptions II », Revue d'assyriologie et d'archéologie orientale (RA), 74, 1980, p. 101-110, Disponible sur : https://www.jstor.org/stable/23282368, RA 74, p102
- Sollberger, Edmond, Corpus des inscriptions "royales" présargoniques de Lagas (CIRPL), Genève, Droz, 1956, Urn.49
- Sarzec, Ernest de, Découvertes en Chaldée (DC), vol. I Texte, vol. II Partie épigraphique et planches, Paris, Leroux Ernest, 1884-1912, Disponible sur : http://www.europeana.eu/portal/record/03486/urn_resolver_pl_urn_urn_nbn_de_bvb_12_bsb00012327_3.html?start=1&query=who%3A%22Sarzec%2C+Ernest+de%22&startPage=1&rows=24 , DC p.XXXVII
Last updated on 15.10.2020
The contents of this entry do not necessarily take account of the latest data.