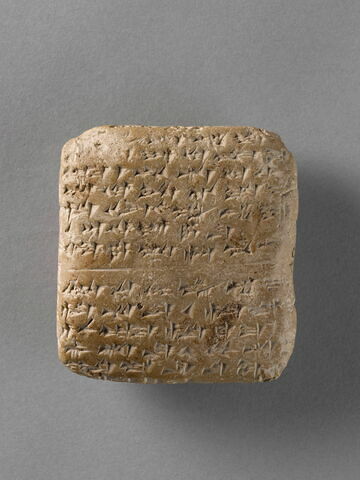 tablette
-1400 / -1200 (Bronze récent II)
Lieu de découverte : Amarna = Tell el Amarna
Département des Antiquités orientales
Actuellement visible au Louvre
Inventory number
Numéro principal :
AO 7098
Numéro catalogue :
T.2172
Description
Object name/Title
Dénomination : tablette
Description/Features
Décor : inscription
Précision sur l'objet : Tablette : lette d'Amarna
Inscriptions
Écriture :
écriture cunéiforme mésopotamienne
syllabique
Inscription :
Lettre de Biridiya, prince de Megiddo, au roi d'Egypte : "Au roi, mon seigneur et mon soleil, dis ceci : ainsi parle Biridiya, le fidèle serviteur du roi. Aux pieds du roi, mon seigneur et mon soleil, sept et sept fois je me suis jeté. Que le roi prenne connaissance de ce qui concerne son serviteur et sa ville. J'effectue des travaux dans la ville de Shunama et je fournis des hommes pour la corvée, mais les gouverneurs qui sont près de moi ne font pas ce que je fais : ils ne travaillent pas dans la ville de Shunama et ils ne fournissent pas d'hommes pour la corvée. Moi seul je fournis pour la corvée des hommes venant de la ville de Yapu et aussi de la ville de Nuribda. Que le roi prenne connaissance de ce qui concerne sa ville
Langue :
akkadien
Nature du texte :
lettre diplomatique
Physical characteristics
Dimensions
Hauteur : 6,5 cm ; Largeur : 6 cm
Materials and techniques
Matériau : terre cuite
Technique : incisé
Places and dates
Date
Bronze récent II (Nouvel Empire : Aménophis IV-Akhénaton (1353 - 1337 avant J.-C.)) (-1400 - -1200)
Place of discovery
Amarna = Tell el Amarna
History
Collector / Previous owner / Commissioner / Archaeologist / Dedicatee
Acquisition details
achat
Acquisition date
date : 1918
Held by
Musée du Louvre, Département des Antiquités orientales
Location of object
Current location
Sully, [AO] Salle 303 - Levant - Palestine et Transjordanie, des origines à l'âge du fer, Vitrine 4 L'âge du bronze récent 1550 - 1150 avant J.-C.
Bibliography
- Moran, William Lambert, Les lettres d'El-Amarna. Littératures Anciennes du Proche-Orient, vol.13 (LAPO 13), Paris, Les éditions du CERF, 1987, p. 560-561, EA 365
- Albright, William Foxwell, « Two Little Understood Amarna Letters from the Middle Jordan Valley », Bulletin of the American Schools of Oriental Research (BASOR), 89, 1943, p. 7-17, p. 12
- Thureau-Dangin, François, « Nouvelles lettres d'Al-Amarna », Revue d'assyriologie et d'archéologie orientale (RA), 19, 1922, p. 91-108, RA 19, 91-108
Comparative literature
- Pritchard, James B., Ancient Near Eastern Texts Relating to the Old Testament (ANET), Princeton, NJ, Princeton University Press, 1969, p. 485
Exhibition history
- Une brève histoire de l'avenir, Napoléon, Exposition Temporaire sous pyramide, 21/09/2015 - 04/01/2016
Last updated on 23.02.2021
The contents of this entry do not necessarily take account of the latest data.