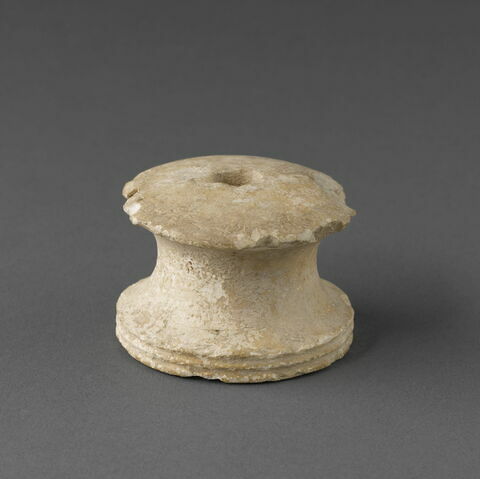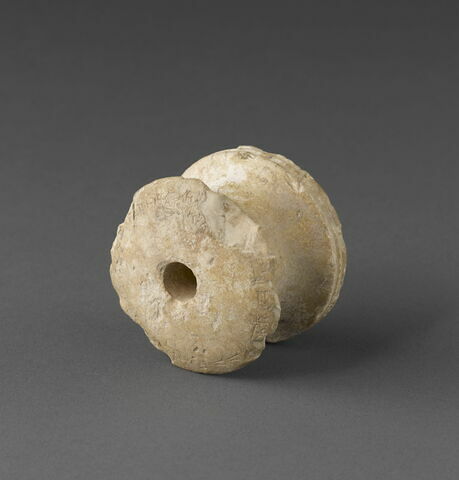 pommeau de sceptre = bouton de sceptre
-1332 / -1308 (Kassite : Kurigalzu II)
Lieu de création : Babylonie = Sumer
Lieu de découverte : Suse
Département des Antiquités orientales
Actuellement visible au Louvre
Inventory number
Numéro principal :
SB 6862
Autre numéro d'inventaire :
AS 4625
Description
Object name/Title
Dénomination : pommeau de sceptre = bouton de sceptre
Description/Features
Décor : inscription
Précision sur l'objet : Bouton à gorge perforé verticalement, à face supérieure convexe sur laquelle court une inscription votive de Kurigalzu, fils de Burna-Buriash à Enlil
Inscriptions
Écriture :
écriture cunéiforme
Inscription :
"A Enlil, son roi, Kurigalzu, fils de Burnaburiash, pour le salut de sa vie, a voué (ceci)"
Nature du texte :
texte votif royal
Physical characteristics
Dimensions
Hauteur : 4,6 cm ; Diamètre : 6,3 cm
Materials and techniques
Matériau : calcaire
Places and dates
Date
Kassite : Kurigalzu II (-1332 - -1308)
Place of origin
Babylonie = Sumer
History
Collector / Previous owner / Commissioner / Archaeologist / Dedicatee
Acquisition details
partage après fouilles
Held by
Musée du Louvre, Département des Antiquités orientales
Location of object
Current location
Richelieu, [AO] Salle 227 - Salle du code d'Hammurabi, Vitrine 14 La Mésopotamie du Sud. Babylonie kassite et post-kassite
Bibliography
- Caubet, Annie ; Yon, Marguerite, « Pommeaux de chars, du Levant à la Mésopotamie et à l'Elam », dans Etudes mésopotamiennes. Recueil de textes offert à Jean-Louis Huot, Paris, Editions Recherche sur les Civilisations (ERC), (Bibliothèque de la Délégation Française en Iraq, n° 10), 2001, p. 69-78, p. 72, Fig. 6
- Scheil, Jean Vincent ; Legrain, Léon, Mémoires de la Mission archéologique de Susiane (MDP XIV), XVII, Textes élamites-sémitiques - cinquième série, Paris, Ernest Leroux, 1913, p. 32, n° 1
Comparative literature
- Jéquier, Gustave ; Morgan, Jacques de ; Mecquenem, Roland de ; Haussoullier, Bernard ; Graadt van roggen, D. L., Mémoires de la Délégation en Perse (MDP VII), VII, Recherches archéologiques. Deuxième série, Paris, Ernest Leroux, 1905, Disponible sur : <https://archive.org/details/s3mmoires07franuoft> , p. 33-35, figs. 31-33
Last updated on 19.11.2020
The contents of this entry do not necessarily take account of the latest data.