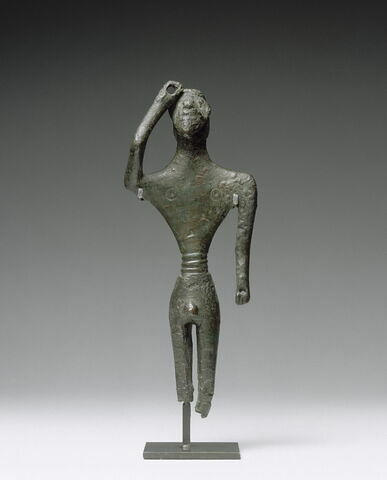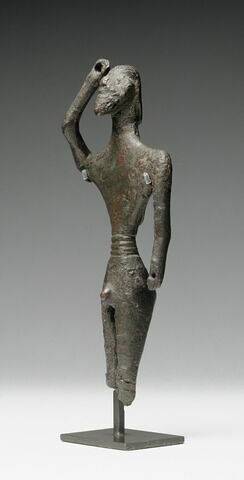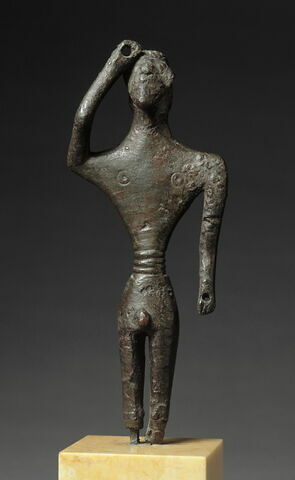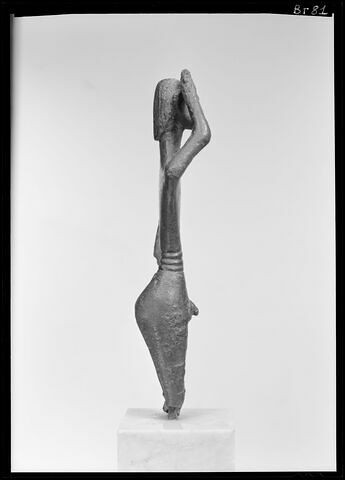 statuette ; anse de trépied
Epoque / période : géométrique récent

Date de création/fabrication : 4e quart VIIIe s. av. J.-C. ; 1e quart VIIe s. av. J.-C. (vers -700)
Lieu de création : Béotie
Lieu de découverte : Thèbes
Actuellement visible au Louvre
Inventory number
Numéro catalogue : Br 81
Numéro d'entrée : MNC 2312
Description
Object name/Title
Dénomination : statuette ; anse de trépied (fragment)
Typologie : trépied à cuve clouée
Description/Features
écuyer (cheveux, court, barbe, nu, ceinture, levant, bras, droit)

Etat de l'oeuvre : incomplet : il manque les jambes sous les genoux et les éléments rapportés (lance ?, rênes) ; décorait avec un cheval le sommet d'une anse verticale de trépied.
Physical characteristics
Dimensions
Hauteur antique : 12,1 cm
Materials and techniques
Matériau : bronze
Technique : fonte pleine (coulé = fondu = fonte), incisé = incision (cercles pointés pour les mamelons)
Précision technique : trous dans les 2 mains
Places and dates
Date
Epoque / période : géométrique récent

Date de création/fabrication : 4e quart VIIIe s. av. J.-C. ; 1e quart VIIe s. av. J.-C. (vers -700)
Place of discovery
Thèbes
History
Collector / Previous owner / Commissioner / Archaeologist / Dedicatee
Acquisition details
achat
Acquisition date
Date : 1898
Held by
Musée du Louvre, Département des Antiquités grecques, étrusques et romaines
Location of object
Current location
Denon, [AGER] Salle 170 - Grèce préclassique, Vitrine 21
Bibliography
- Martinez, Jean-Luc, La Grèce au Louvre, Paris, Somogy / Louvre éditions, 2010, p. 43
- Charbonneaux, Jean, Les bronzes grecs, Paris, Presses Universitaires de France, 1958, p. 62
- De Ridder, André, Les bronzes antiques du Louvre, I, Les figurines, Paris, E.Leroux, 1913, Disponible sur : http://bibliotheque-numerique.inha.fr/collection/8610-les-bronzes-antiques-du-musee-du-louvre/?n=5 , p. 18, pl. 10, n° 81
Comparative literature
- Coldstream, John Nicolas, Geometric Greece, New York, Methuen, 1977, p. 202-206
Last updated on 20.11.2019
The contents of this entry do not necessarily take account of the latest data.